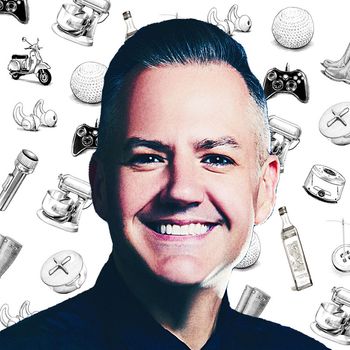 Photo-Illustration: The Strategist; Photo: Matt Monath
If you're like us, you've probably wondered what famous people add to their carts. Not the JAR brooch and Louis XV chair but the hair spray and the electric toothbrush. We asked television personality, comedian, and author Ross Mathews — who recently became an official brand ambassador for Egglife Foods — about his everyday coffee order, the candle he keeps in his dressing room, and the only light bulbs he uses in his home.
Oh my God. This and my Listerine spray are literally the combo that is always in my pocket. My friends always get that combo for me for Christmas and my birthdays, too. I only use the original formula. Don't even come at me with a flavored Burt's Bees. One time, a friend gave me a flavored pack, and I was like, Well, that's a cute diversion. Eye roll. I don't do it. I don't play with it. It truly is a different formula and doesn't moisturize the same way. And what I love about Burt's Bees is there's a little tingle. It's like the punishment, you know what I mean? It's like, Your lips were chapped and now we're medicating them. The tingle tells me it's working.
When you talk to as many people as I do, you have to be fresh and smell nice. I don't want to come up smelling like lunch, you know? I'm using this constantly: before an interview, during commercials, every time I have to go talk to somebody. I just make sure that I'm ready to interact with other humans.
I hate overhead lighting and just prefer a soft glow. I love that the new LED lightbulbs last forever, but they kind of look like lights beaming down from a spaceship. It's just not pretty lighting. These Edison bulbs have the best, warmest glow. They're $5 a bulb, which is a lot of money, but they last years and are just beautiful and cozy. Every lamp in every room has these. It sounds insane as I'm saying it out loud, but if one's different, it totally throws you into a different world. When people come over, they don't know specifically what's going on, but they're like, "Oh, it looks so good in here." And I know in my heart of hearts the lighting is a big part of it.
I get bored with interior design, but I can't be swapping out couches or beds, right? So I take throw pillows very seriously. I find switching out throw pillows can totally change the mood. I'm not talking necessarily about cheesy holiday ones — even though, side note, I do have those — I'm talking about color scheme. Sometimes I'm like, This living room needs pops of yellow. So I'll bring some out from my closet of throw pillows (which, yes, I do have) and spruce up the living room. It changes the energy of the room. Currently, I've been going for textures, so I have a lot of soft fuzzy ones, big furry ones, and some knit ones. HomeGoods is always my go-to. I'll browse the fancy furniture stores, and I'm like, Oh, that's cute. But where I'm really buying my throw pillows is at the end of the aisle at HomeGoods where they're on clearance.
My husband and I love entertaining our friends in Palm Springs with a happy hour. I do a very simple martini with just good-quality vodka and a straight-up lemon twist. The key to a great martini is a good shaker, because it should be ice cold. This one's great, and I like a matching set. I don't want a strainer from this set or the shaker from this set. It should be cohesive because I like displaying it on our little bar cart in the dining room.
I don't know what I would do without this. I've had my Tempur-Pedic pillow for years, and it really has changed how my neck and my back and how my whole posture feels. It's all about head support. Now, when I stay at hotels, I have to fold what I call those tissue-paper pillows two or three times just to get my neck straight when I sleep. These retail for, like, over $200, but I wouldn't suggest something at this price point if I didn't really think that it was worth it. When it comes to your quality of life and quality of sleep, this will make a difference.
One of the best things about being gay is we can just buy one gender of colognes and share everything. My husband and I actually got the idea from staying at my friend Carson Kressley's house. In his guest bathroom, he had this big tray of all of his colognes. So now we have a little credenza with a nice tray with all of our colognes for me and my husband or any guests staying with us. I find myself going back to Le Labo over and over and over again. Their products last throughout the entire day, and I love their selection. Right now, I'm wearing Santal 33, but on the regular I wear AnOther 13. It's bright but right. Light but warm. It's the kind of smell where you wanna hug the person wearing it. It's the scent I get most complimented on when I wear it.
I was in Columbus, Ohio, once in the part of town called Short North. It's so cute. I went into this candle shop where they had all these scents, like fresh rain, lilac — just every scent you can imagine. I picked up a candle called Old Books, and it really smelled like when you open an old book from a used bookstore. It is so warm and smells like you've walked into a well-loved den in somebody's house, almost like someone had been smoking a cigar and drinking a whiskey there. It's so lovely. I just keep buying it online now. It's always burning in my dressing room on The Drew Barrymore Show. People hang with me in my dressing room, and they always say, "God, it smells so good in here."
I'm a perky person by nature, but I really kick it into overdrive with my coffee. This has been my morning routine for 20 years. I already calculated how much I spend, and I've come to terms with it, you know? I figured, I don't have children, so this is what I would've spent on the college fund. But I just love Starbucks, and nothing compares to the cold brew. I order it in a very specific way every time: A nitro cold brew with two pumps of sugar-free vanilla and a splash of nonfat milk over ice. If I go to a new Starbucks, I'm like, "I'm so sorry. I know it's a complicated, overly specific order." They know me at my neighborhood Starbucks, so I don't have to apologize to them anymore. My sweet baristas got it down, and they don't judge me.
I try to stay hydrated, since I live in the desert part time. I've also been on this health journey, so staying hydrated is a big part of flushing your system, and it's great for your skin. I drink probably a gallon a day, but at some point I got so bored of just drinking water. I'd be like, Oh, God, I have to finish this big thing of water. Then, my brother introduced me to these. Now, when I make my big jug of water, I squeeze in a little bit and look forward to drinking it. It's about trying to find a way to make the things that are good for you fun for you.
As I said, I'm on a health journey. I'm down 60 pounds over the past almost-three years and holding strong. A main part of it is making my own food. I call it my "Rossipes." I try to crack the code on delicious food that won't sabotage my health journey. I refuse to believe you have to give up delicious flavor and great texture if you're on a weight loss plan. When I found egglife at my grocery, it changed everything. They do everything tortillas do, but because they're made with egg whites, there's zero carbs and low calories. They have all these flavors, and they're so versatile. I do wraps, like turkey and cheese wraps, and quesadillas, and I even broil them for pizzas. Just recently, I posted a "Rossipe" on TikTok that's a vegetarian Mediterranean wrap. It's in an everything bagel egglife egg white wrap, which is 35 calories and no carbs. I do a little low-fat cream cheese, some jarred artichoke hearts, some capers, tomatoes, Persian cucumbers, arugula, and lemon. It is so bright and fresh. And it's portable. You can grab it in your egglife wrap and go.
The Strategist is designed to surface the most useful, expert recommendations for things to buy across the vast e-commerce landscape. Some of our latest conquests include the best acne treatments, rolling luggage, pillows for side sleepers, natural anxiety remedies, and bath towels. We update links when possible, but note that deals can expire and all prices are subject to change.