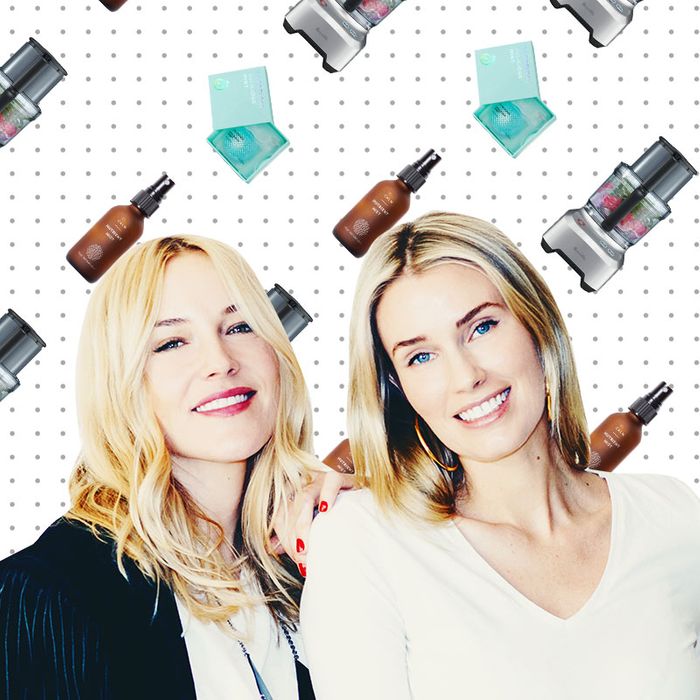 Photo: Courtesy Retailers
If you're like us, you've probably wondered what famous people add to their carts. Not the JAR brooch and Louis XV chair, but the hand sanitizer and the electric toothbrush. We asked Danielle Duboise and Whitney Tingle, founders of Sakara Life and authors of the cookbook Eat Clean, Play Dirty: Recipes for a Body and Life You Love by the Founders of Sakara Life, about the food processor, infrared blanket, and leopard-print duster they can't live without.
Danielle's Picks
Love the way this tastes and it's PFAS-free, unlike [some] standard dental floss. PFAS is a group of man-made chemicals that have been linked to everything from thyroid and immune conditions to cancer. The scary fact is that chemicals and toxins are lurking almost everywhere, and floss is one of the last places people think they'd be. Even that familiar minty flavor in traditional floss is likely coming from a chemical, versus something natural like peppermint oil. I keep one in every bag — the classic flavor!
This dry shampoo is a must-have essential in my desk drawer for going from day to night. It smells divine, with a hint of palo santo, and it uses all clean ingredients and doesn't leave white residue. It feels more like a ritual when you apply it and less of an "I forgot to wash my hair" moment.
Photo: PADRE
For me, I love a good duster. I pile on a duster just on top of everything. It's something I feel like, if I add [it] to an outfit, it automatically looks a little chicer, a little nicer, and I don't have to think about it. I actually have it on my coat rack as I'm leaving the house; it's not even in my closet, it's that much of a staple. We love LPA, the label, it's another amazing female founder. LPA's really created beautiful stuff that makes me feel sophisticated, but still with edge.
This mist from True Botanicals gives you that kind of dewy look. You can put it on under other makeup or your moisturizer. Whitney and I don't wear a ton of makeup most days, so it's nice to have fresh, moisturized-looking skin. And it also soothes inflammation, if you have any redness. I just had a baby, so sometimes I don't get all the sleep I'd like to, so it helps give me that awake look.
Whitney's Picks
I love having a food processor. I think [it] is a great way to do things in a quicker way. One of our favorite recipes [in our cookbook, Eat Clean, Play Dirty] is our youth and beauty salad, and it has a lot of different types of vegetables that are thinly sliced, either into matchsticks or you can just put it through the food processor and shred them. And it makes it so quick and easy to make a really healthy and delicious salad. So I love using the food processor as a quick hack.
This is one of my new favorite products. It gives me that summery glow without sun exposure or harmful chemicals. It's a very subtle spray that layers on. It doesn't streak or get messy and unlike a lotion it quick absorbs so you don't get "zebra stripes." I use it a few times a week to keep up my glow but with a natural look.
Hill House Home is mostly known for their sheets, I'd say, but they just came out with towels, and they were started by another great female founder, Nell Diamond, and she just knows quality. If you follow her on Instagram, she has amazing fashion sense, and she wears bows in her hair, and she really just knows how to make a great home, and I feel like it's sometimes those