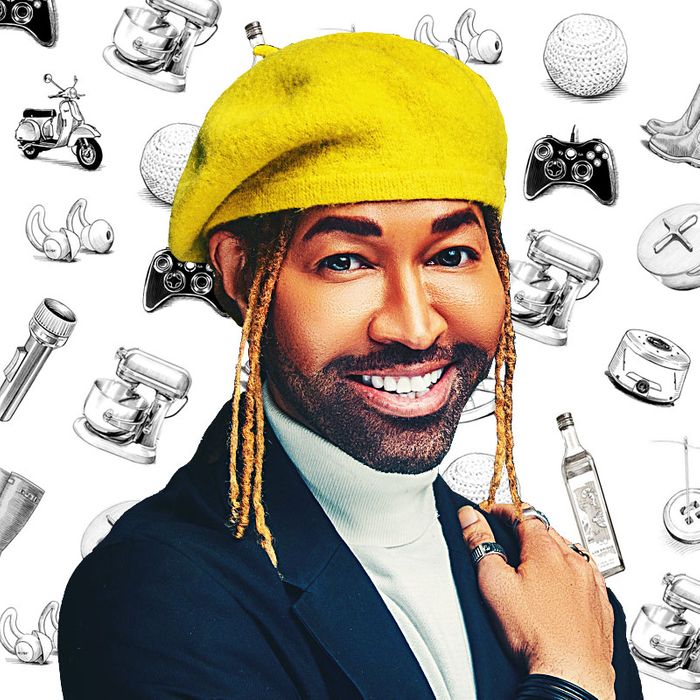 Photo-Illustration: The Strategist; Photo: Ricky Day Studio; Illustration: Joe McKendry
If you're like us, you've probably wondered what famous people add to their carts. Not the JAR brooch and Louis XV chair but the hair spray and the electric toothbrush. We asked celebrity stylist Ty Hunter — whose clientele has included Beyoncé and Billy Porter and who just released his memoir, Makeover From Within: Lessons in Hardship, Acceptance, and Self-Discovery — about the lung trainer, cleansing sage, and lip mask he can't live without. 
I used to wear a lot of gold and diamonds, and when my grandmother passed away, I had her ruby ring. That's the only thing I took from her. One day, I went to Miami for a job with Beyoncé, and when I got back to my house, the ruby was missing from the ring. So everything that I had that was valuable, I just didn't even want to wear it. I took all my expensive stuff off and switched to these jelly bracelets. Whenever somebody gives me a compliment or they like them, I give them four and restock them. It's so cool to see a friend in Paris with a Rolex on and my jelly bracelets. It's just a way of giving a piece of me to friends and loved ones or anybody who impacts me. They're my signature now; I never take them off. But I took them off for Beyoncé's album-release party in New York. For that, I was like, It's messing up my outfit. And my wrists were so white. It looked like I had on a white wristband.
With Laneige, it gives your lips this soft, subtle lushness and stays on for a long time. Perfect for kissers. It's a bougie little thing — the packaging and the wand to put it on your lips. It's so sexy. After I do the moisturizer, brush my teeth, do all the facial stuff, and I'm about to walk out, I'll put it on and pop, pop, pop my lips together and start my day. It's very smooth and silky. It's not heavy like most, which feel like you're applying a layer to your lip. This one is so light and airy. I can't describe it. It just melts into your lips. You can tell that it's more of a moisturizer with more of a healing aspect versus a cover-up. It's good even to sleep. You wake up feeling a little bit better about yourself in the morning. You might still have a little funky breath, but your lips aren't crusty.
I'm just very, very spiritual, and I believe in higher powers and energy. So when I move into a place, move out of a place, or come back from vacation, I do sage. When you have different energies come in your place, like a repairman or somebody coming to exterminate, I'm like, Let me sage and get this energy out of here. Sometimes you just feel a shift in your home that doesn't feel right. So I like to be saged up and keep the energy flow in my house positive.
Once I had a bottle of Essentia, I tasted the difference when I drank other waters. I've noticed the benefits in my skin, mood, and respiratory system altogether. And I may be wrong, but when I drink alkaline water, I have less problems internally. I feel better. I feel more balanced. When I'm not able to drink it, I feel it. It's weird. I will drink other water when I have to, but after a certain point, I have to have Essentia.
I don't drink anything but water. I gave up juices. I gave up my favorite lemonades. Whenever I get that urge to have some flavor, I have these bars. I don't even have a favorite flavor anymore because I love all of them. It just depends on the mood of the day. And it's just a good snack, especially on a hot day in New York. I'm a popsicle fanatic. Back in the day, anything with a cartoon on the box, that's what I wanted. But this is a little more upscale with flavor than rockets and Fla-Vor-Ice. The little bits of real fruit and the texture — it's just so tasty. I actually want one after we get off the phone.
A friend of mine is a singer, and I heard that this device was good for singers, helping their voices and helping them be able to hold long notes. So for their birthday, I bought it for them. Then as time went on, I started reading all the reviews on Amazon, and I was like, Well, hell, I have some of these problems. I have a problem sometimes with anxiety, especially when I'm about to do speeches or even calls like this. I kid you not, it has changed my life so much. It has settings from 1 to 6, and you start at level 1 and work your way up, and you just inhale, exhale — that's it, inhale, exhale. When you do long walks upstairs, you'll notice a change. Or when you have to work out, it helps you to go longer because you don't get as short-winded. And I will do the commercial for them because it has changed my life tremendously.
Sometimes I wake up and my eyes are bloodshot, bright-red, because I'm a contact wearer. I'll drop some Lumify in, and it lasts so long. When I lived in L.A., I was a cannabis intaker — I'm no longer a cannabis intaker — but when I was, it just makes you feel so much better about yourself when you look in the mirror and see these bright, pearly-white eyes. It's not irritating. With some of the other brands of eye drops, you feel the weirdness going in. But this, I don't know if it's the pH balance; it's just teardrops. You don't feel anything. I live by them because they really upped my selfie game. They have upped my red-carpet game. They have upped my pictures in general. To have that brightness of healthy eyes, it just looks better. I believe in getting Lumified up.
Since COVID happened, I found myself on Zooms all the time. So the whole right light system, it really helps and makes it seem like you really care and that you put some effort into it. At one point, you're just doing Zoom, laying in the bed and it's like, Ty, get up, go put the light on, dress yourself up from the waist up. Still have on underwear at the bottom, but it's okay. It makes you not feel so bad about yourself when you're on, and everybody's looking cute with their backgrounds. A good ring light makes you feel like you're at least attempting to be part of the Zoom-meeting presence. No lighting just brings you down. If you're not able to be in the flesh, it's good to have a ring light.
My first two computers, I ended up giving them to my daughter. And then another time, I ended up giving one away. I ended up losing the next one. And then I was like, I'll just do everything from my phone. I had two phones for a couple of years, and then I just got tired of carrying all of that weight. So I just want to make my life as simple as possible. I do everything on my phone.
The Strategist is designed to surface the most useful, expert recommendations for things to buy across the vast e-commerce landscape. Some of our latest conquests include the best acne treatments, rolling luggage, pillows for side sleepers, natural anxiety remedies, and bath towels. We update links when possible, but note that deals can expire and all prices are subject to change.