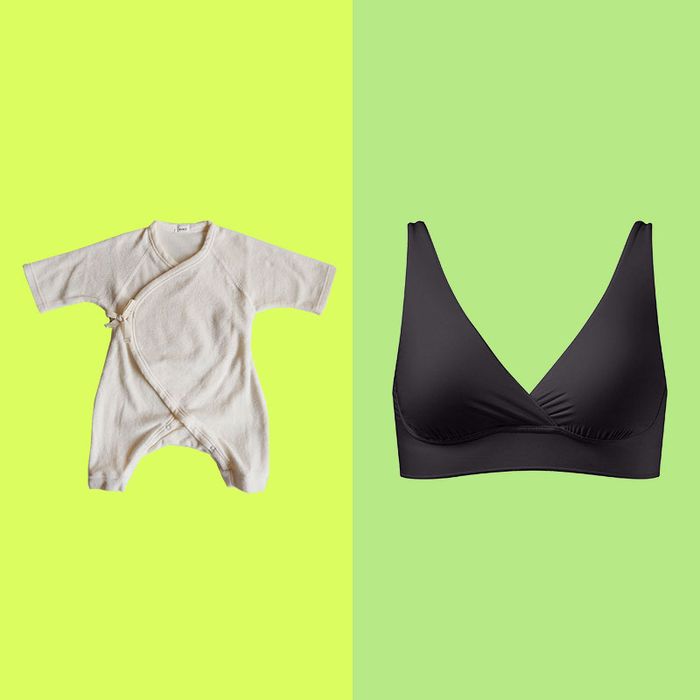 Photo-Illustration: The Strategist; Photos: Retailers
Registries are often wasted on soon-to-be-parents. In this series, cool new(ish) moms and dads tell us about the stuff that's actually worked for them in the time since they had a kid. In other words: If they could do their baby registry all over again, here are the items that would top the list.
Moon Juice founder Amanda Chantal Bacon had eight years between the births of her two children, which meant that with the 2019 arrival of baby No. 2, she was in some ways starting from scratch. "I was a single mom for so long," she says. "I didn't know if I was going to have a second child. I wound up getting rid of everything." But this time and distance also allowed her to honestly reflect on what worked and what didn't: Turns out she didn't need a special nursing pillow like the Breast Friend. "Just stack some pillows up." Or a smart bassinet. "Here's a tip on the Snoo: It really works for some people, and it does not for others. I wanted to co-sleep with my baby, but then a month into it, I was like, Fuck, I will do anything to sleep for just like five hours. My recommendation would be to rent one for the minimal amount of time and make sure it works for you. My baby hated it."
But it wasn't just a pared-down list of products that she fine-tuned the second time around. It was knowing that if the mom is feeling supported, then she can care for the baby, and that's really all the baby needs in those first few months, she says. This included taking the first 40 days postpartum to heal, something she didn't do with her first kid. "It can be as simple as focusing on eating and resting," says Chantal Bacon. So naturally the stuff she did need was mom-leaning: "A lot of it is centered around your boobs and breastfeeding. Even if you only breastfeed for three months, there's a lot of action in those three months." Read on for her essentials, among them a milk-saving manual pump and easy-access nursing bras.
With my first child, it took me a couple of weeks to find my way to this belly band. And it was so nice and so helpful with my second child. I put it on probably a few hours after my daughter was born and after I birthed the placenta. It felt so good to have immediate support. Your abdominal muscles are so separated and your skin is so stretched out. Your organs move when you're pregnant; your uterus is huge. I wore this for pretty much six weeks; that's the amount of time it took for my uterus to shrink back down and for everything to feel like it found its place. The band is advertised as shapewear, but I don't think of it as shapewear; it just feels like it's keeping everything contained. We take it for granted that these muscles are holding our guts in, and when you don't have them, this acts as a support to hold it all in.
You need this for the engorgement phase, which happens the first week. This is when your milk comes in. It can be uncomfortable, and you will not believe how big your boobs are. Just take a picture so you can look back and remember it. It's crazy — there's going to be one night in your life where it's really peaking and you're going to look in the mirror and think, This is like an '80s porn star. With the ballet bra, you'll want to size up because they will stay huge for a couple of weeks. This one is the easiest one for nursing, and it accommodates for fluctuations in breast size. If you're nursing on demand, those bras with the hooks and the flaps are way too much fuss. You just want to whip it out. There's a crying baby, there's a lot going on, there's no time for fiddling with a thing. Oh and I don't know why, but if you take cabbage leaves and put them in your bra, it softens your boobs and makes them feel a lot more comfortable. It really works. Then at a certain point, you'll happily give or throw that ballet bra away and never want to see it again.
This is like phase two as you move out of the ballet bra. The nursing tank is great because you can also put the belly band on top of it, which can sometimes pinch your skin. Then put a T-shirt on top. I found the nursing tanks to be great for the first six months of nursing life. The boob comes out easily. Once you're out in public, you're not fully exposing your body. It felt good to have some coverage. If you can wear a button-down shirt for six months straight, bless you, but at a certain point, you just want to get back into your T-shirts and sweaters. When you stop using the belly band, the tank fits like compression wear, so it feels nice to have some light tummy support.
In the first months, if you are trying to bank and freeze a bunch of milk, this is your ally. I put it on the breast that wasn't being nursed and wound up catching cups of milk that would have just been absorbed into a nursing pad. When you nurse on one side, the fountain starts on the other side. You can also use the Haakaa as a quick manual pump for the car or travel. You drink so much water to make it, and the amount of milk I ended up saving — you'll see.
I tried them all. This is the best infant baby carrier and the most minimal way to keep a baby happy, like it's back in your body! It has just the right amount of stretch and spring to it. Baby carriers like the Artipoppe or the Ergobaby — you'll live your whole life in one of those backpacks, but in the infant days, those are too big for them. And you don't want to splay their legs out; you just want them in fetal position. What I love about the Boba is you can get them really tight. You can do anything with an infant that feels really secure, just hearing your heartbeat and being skin to skin. If you have your baby in warmer months, you can just have them in there with just a diaper on. And this is when your tank comes in! You are going to hate this outfit — but sweats, that nursing tank; the Boba becomes the back and sleeves to the tank, and I'd wear my husband's button-down shirt on top. And you can nurse in the Boba; you really don't have to take the baby out much.
People will want to buy your baby cute things, but they're not going to wear anything for a long time. I just had a few of these in rotation for months. It's the only thing your baby needs to wear. They're organic-terry cloth, and there aren't a bunch of snaps to deal with. It quickly becomes about what's cute to look at and what's easy. Makié checks those boxes. You will see the amount of diapers you have to change in a day, and doing any kind of snaps or buttons is exhausting. Makié is just so easy to close 25 times.
Your baby goes through this crazy peeling phase. And the other thing that happens is their little chub starts to come in. They have these little fat rolls on their neck and their legs. Sweat and skin build up in the rolls; they're like little cheese monsters. I would do this ritual at the end of the day: Get into the bath with them, hold them in the warm water, and afterward, give them a full-body coconut-oil rubdown. I don't see any reason to use soap on a baby truly until they start eating food and having real-people poops and running around. Water baths and coconut-oil rubdowns are all you need, especially with the whole-body peeling-skin phase and cradle cap. It helps with the little cheesy corners. Doing that little rubdown is also really relaxing for the baby, and there's some anti-bacterial properties in coconut oil.
Not everyone has the postpartum shed, but a lot of people do. For me, it came around month two or three. I went through it heavily with my first pregnancy. I didn't know what was happening; I was silently losing fistfuls of hair and freaked out. I thought it was stress; then I realized postpartum hair shedding is a whole thing. I was just opening Moon Juice at the time, and I had really long hair. There I was talking to people about green juice and smoothies and my hair was falling out. I ended up having a friend giving me a bob in the back alley of Moon Juice, but it never grew back past my shoulders. That's why I formulated Super Hair, which helped it grow back in thick like it was pre-baby. I tried other reputable clean formulas, but I couldn't say, Wow, this really works. This big test was, Okay, will this make my hair grow when I have my second baby? Second time around, I had some hair shedding, but it was nowhere near what I experienced the first time.
The Strategist is designed to surface the most useful, expert recommendations for things to buy across the vast e-commerce landscape. Some of our latest conquests include the best acne treatments, rolling luggage, pillows for side sleepers, natural anxiety remedies, and bath towels. We update links when possible, but note that deals can expire and all prices are subject to change.