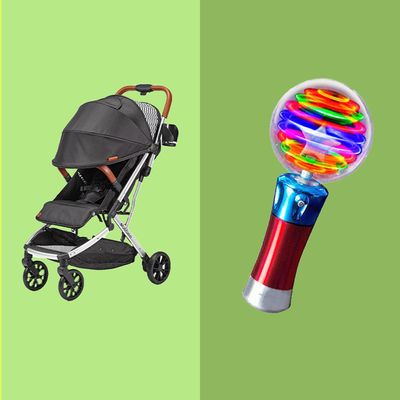 Photo-Illustration: The Strategist; Photos: Retailers
Registries are often wasted on soon-to-be parents. In this series, cool new(ish) moms and dads tell us about the stuff that has actually worked for them in the time since they had a kid. In other words, if they could do their baby registry all over again, here are the items that would top the list.
If you're like me and keep your pregnancy largely secret for 8.5 months, you can avoid all sorts of unsolicited advice from well-meaning friends and colleagues. The trade-off, of course, is that nobody showers you with registry gifts and you'll devote a good chunk of your early parenting months operating in a trial-and-error vacuum.
As a former editor of the Strategist and someone who has put together gift guides and retail stories for decades, you'd think I'd know something about shopping for kid stuff. Nope. It's always been a black hole in my repertoire — up there with computer gadgets and automotive gear. Plus my husband, Andrew, and I are only children, so we had no nieces or nephews to practice on, and most of our friends don't have children, either.
But seeing as I now make my living as a travel writer and editor, I did have some extra motivation in finding actually useful (and fairly portable) products for baby Julian. Although the first year of his life has been marked by some regrettable purchases, for every overpriced organic infant lounger that only the dog used, there have been numerous revelations — like this weird UFO toy for babies prone to hair pulling, or the silky, avocado-infused baby bath gel from France that I often steal for myself.
If I could redo my registry, I'd start by creating one in the first place — and then I'd put the following items at the very top of the list.
We call this Julian's break-in-case-of-emergency toy. It's a light-up wand, not dissimilar from the kind I begged my parents for at the Ringling Bros. and Barnum & Bailey circus 30 years ago. We first encountered it at the office of an orthotist who was fitting Julian for a helmet; she uses it to keep squirmy babies mesmerized during the head-measuring process. Though we ultimately ditched the helmet (his flat spot disappeared on its own), we bought a wand that afternoon; it's paid for itself a hundred times over. If Julian starts fussing in a restaurant or other public space, we break it out. If he's flipping around like a fish during diaper changes, we break it out. If he's screaming his fool head off on a road trip, we break it out. This thing is like instant drugs for babies — an LSD trip in snow-globe form — and we never leave home without it.
Julian is a great eater. At 11 months of age, my husband and I were still being fed a steady diet of applesauce. Julian, on the other hand, likes everything from smoked salmon to saag paneer. Maybe adventurous eaters are born that way, but I'd like to think these petite silicone spoons played some role in shaping his impressive appetite. My reason for buying them was superficial — I liked the coral color (and they had reviews) — and the gamble paid off. Perfectly sized for baby-led weaning, they're chubby enough for Jules to grasp with his bumbling baby hands but small enough to fit in our diaper bag and go where we go — making it easy for Jules to sample whatever mom and dad are eating in restaurants (or at the Minnesota State Fair).
We originally bought this foam play mat because we couldn't stand the idea of Julian tummy timing on our rental house's God-knows-how-old carpeting. It turned out to be a total workhorse, providing a soft landing when he was learning how to sit up, then crawl, and now walk (or attempt to). The mat is about 0.6 inches thick — just the right squishiness to cushion his frequent face plants — and the minimalist prints are neutral enough to match any nursery décor but not so neutral that they tread in Sad Beige Baby territory. Most importantly, the foam cleans up real nice when Julian spits up, pukes, or pees on it — a not uncommon occurrence.
Before Julian was born, I spent a stupid amount of money on precious kids clothes from Japan and Europe when all he really needed those first three months were basic white onesies he could soil with impunity. I'd like to say I learned my lesson and now dress him only in James Dean–simple tees with baby jeggings, but I still blow money on clothes he's quick to outgrow. Now, at least, I've found a happy medium with Lou Lou, a brand advertised to me via Instagram when Jules was 10 weeks old. Nothing else beats the quality, softness, and fit of their matching top-and-bottom sets, available in a billion fun prints such as terrazzo, tie-dye, and this delightfully '80s Memphis Milano number. The four-button tops are easy to pull over Jules's ginormous head, while the ultrawide, fold-over waistband on the pants yanks up to his nipples and doesn't roll down, turning his shirt into a crop top any time we pick him up. The stretchy rayon-spandex blend fits like a glove too: The look is very glam rock, and we couldn't love it more.
Our original stroller, the Baby Jogger City Mini 2, is a fine product but a little chunky in the hips and not the easiest thing to collapse and store on the go. More annoyingly, its safety harness is a headache to clip together — and experience has taught us that the longer it takes to buckle Julian in, the crankier he gets. So around the four-month mark, we started investigating other options. The Bēbee from Bombi came across our radar via — what else? — social media. A fraction of the City Mini's size, it folds down fast and pops back out with the push of a button. (I can even do it one-handed like they show in the videos.) The design is narrow, making it a cinch to navigate tight spaces, and the wheels are super-maneuverable on any paved or flat surface (though admittedly not so great in the snow). Unlike cheapo umbrella strollers, this one offers multiple reclining positions with an adjustable footrest, peek-a-boo window and deep awning, decent undercarriage storage, and a smartly placed zippered pocket for stashing phones. But our No. 1 reason for bringing this on trips where we're stopping frequently to pull the baby out for photo ops is the intuitive safety harness that snaps on and off in a flash. The City Mini harness looks like something out of a BDSM club by comparison.
Julian has been teething like a madman since he was six months old. Yet here we are, nearing his first birthday, with nothing to show for it but a gummy, drooly smile. We've tried everything to mediate the pain: teething necklaces, teething bibs, teething biscuits, frozen teethers, even those little mesh pouches you stick cut-up fruit inside and let them gnaw. The most effective teething tool we've found to date are these hollow rubber tubes from Fu Store. The BPA-free, food-grade silicone straws are easy for Jules to grip and pliable enough to bend, with textured ends that encourage rabid gumming. Cleaning them is simple: We boil them, stick them in the dishwasher, or wash them by hand with the pipe cleaner–style brush included in the set and dry them on a bottle rack. If the baby is being extra grumpy, they also make convincing drumsticks: Pretending we're Neil Peart and performing a drum solo on his high chair and head always gets a laugh.
Guest pick
Andy insists I include his other wife, Windi, in this roundup. "That thing saved my life," he tells me, referring to the time when Julian was around 4.5 months old and I had to travel to Ecuador for work, leaving him to parent solo for the week. Three days before I was scheduled to fly home, Julian was wrecked with constipation and crying inconsolably. After frantic internet sleuthing, my bleary-eyed husband placed a desperate 3 a.m. Amazon order for Windi the Gaspasser. It showed up at dawn and within 15 minutes of sticking this magical tube up the baby's bum, Julian was finally able to relieve himself (and Andy). A box of ten lasted us for many months. It's not something we need to use often, but when we do — oh boy, we're sure glad we have it.
The Strategist is designed to surface the most useful, expert recommendations for things to buy across the vast e-commerce landscape. Some of our latest conquests include the best acne treatments, rolling luggage, pillows for side sleepers, natural anxiety remedies, and bath towels. We update links when possible, but note that deals can expire and all prices are subject to change.