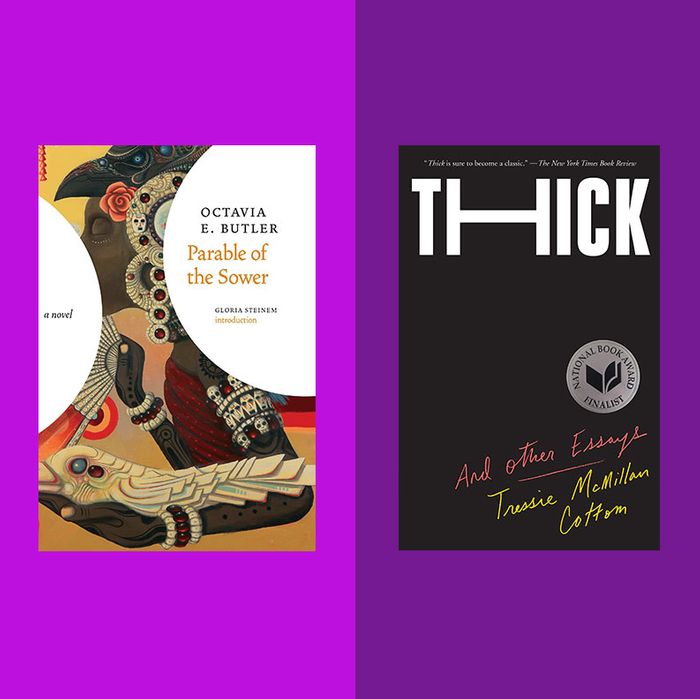 Photo: Courtesy of the publishers
There is no single definition of Black feminism. Many of the experts we spoke to while compiling this list of books spoke about the subject from their own particular lens. Chelsea Frazier, a Black feminist ecocritic, for instance, talked about the importance of using Black feminist texts as a way to find solutions to the current environmental crisis. "Black feminist ecological ethics offer an alternative understanding of environmentalism," she said. Treva Ellison, assistant professor of Gender and Women's studies at Pomona College, on the other hand, focuses on Blackness and how it relates to gender and sexuality. While both are navigating similar spaces (and agree that Parable of the Sower is a necessary read), their specialties often pull them in completely different directions, leading to diverse ideas of what the Black feminist canon includes. Which is to say, there could be dozens — hundreds! thousands! — of "Black feminism" book lists. For this one, though, we tried to keep it simple and stick to the best books for the burgeoning Black feminist.
As always, each of the books mentioned on this list have been recommended by at least two people (many have been recommended by as many as six). Among the (many) experts consulted are Shanté Smalls, Black Studies associate professor at St. John's University; Chelsea Mikael Frazier, faculty fellow at Cornell University and founder and chief creative officer of Ask an Amazon; Nicole Dennis-Benn, author of Here Comes the Sun and Patsy; Treva Ellison, assistant professor of Gender and Women's studies at Pomona College; and Pulitzer Prize finalist Evie Shockley, professor of English at Rutgers University and author of the new black and semiautomatic.
Theory and Criticsm
Best for anyone who wants a broad overview of Black feminist scholarship (Patricia Hill Collins touches on everyone from Angela Davis to bell hooks), this text does just that. Collins interprets the intellectual theories of pioneers like bell hooks, Audre Lorde, and Angela Davis in the book, offering the first comprehensive overview of Black feminist thought. Four of our experts mentioned it, calling it an ideal introductory text. "Whenever someone I know is looking for an introduction to Black feminist thought, I send them to two resources: the #CiteBlackWomen hashtag and this book," says Bianca C. Williams, an associate professor of Anthropology, Women & Gender Studies, and Critical Psychology at the Graduate Center, CUNY, and author of The Pursuit of Happiness: Black Women, Diasporic Dreams, and the Politics of Emotional Transnationalism. Tara Conley, assistant professor of communication and media at Montclair State University, says it's "canon defining" as a who's who of Black feminist thinkers, and calls Collins the Sade of Black feminist scholarship: "She's one of very few who drop a work every decade or so, and it remain timeless."
In this anthology, recommended by five of our experts, Toni Cade Bambara compiles the early work of Black writers who would later go on to become cultural forces, like Alice Walker, Nikki Giovanni, Audre Lorde, and musician Abbey Lincoln. "It gives a necessary understanding of the intersections of racism and sexism," says Kaila Story, associate professor of Women's & Gender Studies and Pan African Studies at the University of Louisville. Ellison is particularly drawn to Francis Beal's "Triple Jeopardy," originally published in the Third World Women's Alliance zine, which draws attention to the oppressive relationship between Blackness and capitalism, and the use of gender roles as a divisive tool to distract from solidarity against racism. "The works in this collection emphasize the ways that Black women's lives and insights illuminate disjunctures between capitalism and the nation-state," they say. It offers a great snapshot of the competing demands of the Black Power and feminist movements, says Shockley, and offers a clear picture of Black women's complex position within the conversation.
Four of our experts chose Words of Fire, an anthology of essays by Black women spanning the 19th and 20th centuries. The collection includes an essay written 30 years before the end of U.S. chattel slavery, about Black womanhood and citizenship, as well as an essay by Alice Walker on the criticism of her seminal work The Color Purple. "Just about every Black feminist thinker has a piece in there," says Anwar Uhuru, assistant professor of English at Monmouth University, "from Audre Lorde to Amy Jacques Garvey to Claudia Jones." Story uses it as the basis for her Black Feminism in Action course at University of Louisville, and calls it a "a must-read for anyone who is interested in Black Feminism and how it manifested before that term was even invented."
"Playing in the Dark is one of the best applications of how Blackness is positioned in the white imagination," says Smalls, summing up the general sentiment of the three experts who recommended this book. The book, which is divided into three separate lectures, is a master class in understanding Black character construction. For Uhuru, it shaped his way of seeing people, both in real life and on the page. "Oftentimes when we think of a protagonist, we think white male or white female," he says, "and then we think of a villain we think of them as darker. Black women are labeled as loud and aggressive, while white women are labeled as delicate, polite, or genteel."
This collection of works written by Alice Walker from 1966 to 1982 charts a path for womanism, an expansion of Black feminism which encompasses a wide variety of Black expression — mother to child, between two women (both sexually and non-sexually), and people who appreciate women's culture and are committed to the survival and wholeness of others. It's a radically inclusive ideology, which is specific in its aim: liberation. Two of our experts called this a must-read. "She provides a lens through which we can see what our miseducations had hidden and what racism combined with misogyny has often erased," says Shockley, "which is the legacy of creative work that Black women in previous generations had left for us."
All five of our experts who mentioned hooks said her work is important, but can be dense reads. Yaba Blay, activist and founder of Professional Black Girl, noted that hooks' work helped her to understand feminism as a political identity and movement. Two of our experts mentioned that Sisters of the Yam, a foundational text, which, they agreed, illuminates the way Black women's emotional health is shaped by racism and sexism. "This book helped me deeply understand how my own physical, emotional, and mental health was deeply shaped by the compounding structures of racism, sexism, and capitalism," Bianca Baldridge, an assistant professor of Afro-American Studies and Sociology at University of Wisconsin says. "It helped me think through how my relationships with my family and other Black women were structured by these forces."
Published in 1999, Joan Morgan's When Chickenheads Come Home to Roost coined the phrase "hip-hop feminism," a concept that would inform the work of many of our experts. A hip-hop feminist is someone born after 1964 who approaches politics through the lens of hip-hop. Four of our experts called the work foundational. LaToya Sawyer, an assistant professor at St. John's University, says it expanded the field of Black feminism to include hip-hop culture, and to this day helps readers understand how to navigate the space where Black feminism and hip-hop meet. "The book places Black women's sexual agency and autonomy at the center of conversations on Black feminism," says Regina Duthely, an assistant professor of English at University of Puget Sound.
Fiction
Five of our experts mentioned Audre Lorde's Zami, which fictionalizes her own life story into an epic tale of growing up as a lesbian in working-class Brooklyn. "Lorde decides the traditional conventions of autobiography are insufficient and really innovates," says Randi Gill-Sadler, an assistant professor of English at Lafayette College. "Zami created the genre of biomythography (a combination of myth, history, and biography)." The book was also innovative in its use of narrative as a site for wider Black feminist critique. "She uses her own life to talk about Blackness, Caribbeaness, lesbianism, and the reality of the Black working class, which has made it one of my go-to texts," says Smalls.