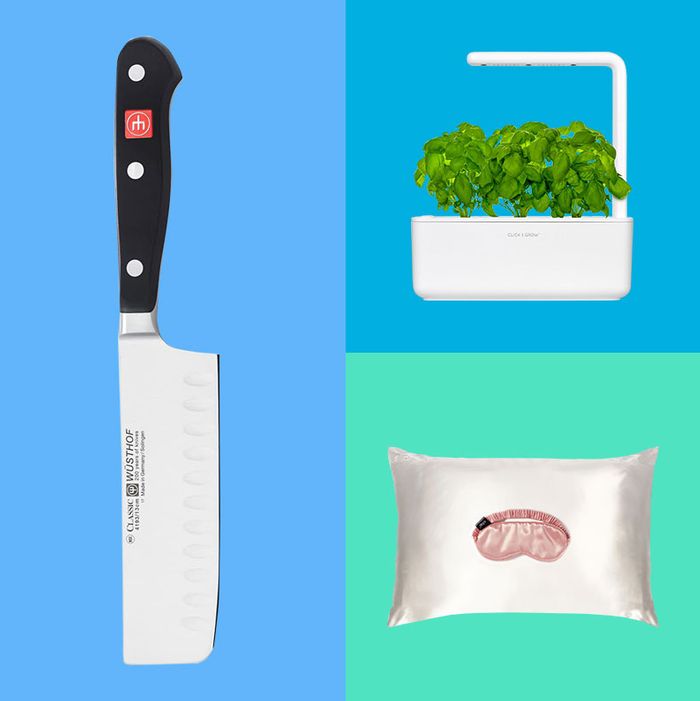 Photo: courtesy of the retailer
Experienced holiday shoppers know that buying most of your gifts from one or two retailers has its benefits. Importantly, you save time and money on shipping, while also cutting down (even if just a little) on the amount of packaging you rip open then throw out. Finding a way to buy a gift for every single person on your list from one place, though, would truly make you a shopping MVP. That may sound like a Herculean effort, but it actually isn't if you know where to look (and what to look for). To help you streamline your gift shopping this year, we dug through the offerings at Nordstrom — a Strategist favorite for everything from cast-iron cookware and handsome wine decanters to cult-y face masks and baby clothes — to put together a curated list of Strategist-approved gifts for every person on your list. We've even added a few great deals on Strategist favorites from Nordstrom's holiday pop-in shop.
For the roommate who lives on ramen
If your roommate eats their own weight in instant ramen, this impeccably designed spork will change their life. Writer Jesse David Fox called it the "definition of luxury in your everyday," so when we saw it pop up in Nordstrom's holiday pop-in — for $9 less than you'll spend on Amazon — we had to let everyone know.
For the daughter who's a parent to a dog-fluencer
Many trendy dog owners in New York and L.A. carry their pups in a Love Thy Beast tote bag. So many, in fact, that we launched a status dog bag investigation after seeing lots of the L.L.Bean-inspired bags on the subway. This brand-new Snoopy and Woodstock-adorned tote is basically the status tote among the brand's other status totes — and therefore a can't-fail gift for dog parents in the know.
For the sister who's trying natural deodorants
The search for a natural deodorant that actually works can be terrible and stinky. Help her skip the worst of it with this Strategist-approved pit stick. If Rio stands by this all-natural rose deodorant, you know it's going to be good.
For the niece who lives in a dorm
When we talked to college students about the coolest stuff to pack for school, they overwhelmingly cited Hydro flask as the "it" water bottle on college campuses. But the insulated water bottles aren't just popular among students. Strategist managing editor Maxine Builder swears by hers for daily hydration.
For the bald dad whose head is always cold
When you don't have any hair, chilly weather is even chillier. Which is why we suggest this Patagonia fisherman beanie in vibrant blue as a can't-fail gift for your follicle-challenged pa. Over the years, we have written a ton about hats and beanies, and Patagonia consistently wins out for quality and price.
For the uncle who prides himself on wearing fun socks
This pair of Egyptian cotton floral socks came recommended by men's fashion writer Jordan Mixson in a recent roundup of the best men's best socks. Mixson is a big fan of Bugatchi socks for their wide variety of patterns, but, in his opinion, it's the florals they really excel at. "Nobody does floral socks like them. NO ONE!"
For the office white elephant
Boy Smells candles were named the new status candle, making them a gift trendy coworkers will covet. But they also actually smell and look really good, which will make them a hot-ticket item among the other white-elephant gifts.
For the best friend who works in fashion
According to our friends over at the Cut, we are experiencing a puffy-headband moment. With this gift, you'll show your friend you know what's up.
For the brother who's taking up cooking
For the jet-setting aunt with great hair
We've written a ton about silk pillowcases because the fabric is gentle on hair. We've also heard from several successful women, including designer Karen Walker and contributor Bridget Arsenault, who say they won't leave home without their Slip silk eye mask. This set has both.
For the cool sibling who hates headphones
For the significant other who always makes dinner
It's impossible to count the number of times we've written about Le Creuset cast-iron cookware. But it's A LOT. This braiser, which is shallower than a traditional dutch oven, is on sale at the moment. Giving it will show your S.O. how much you appreciate their cooking.