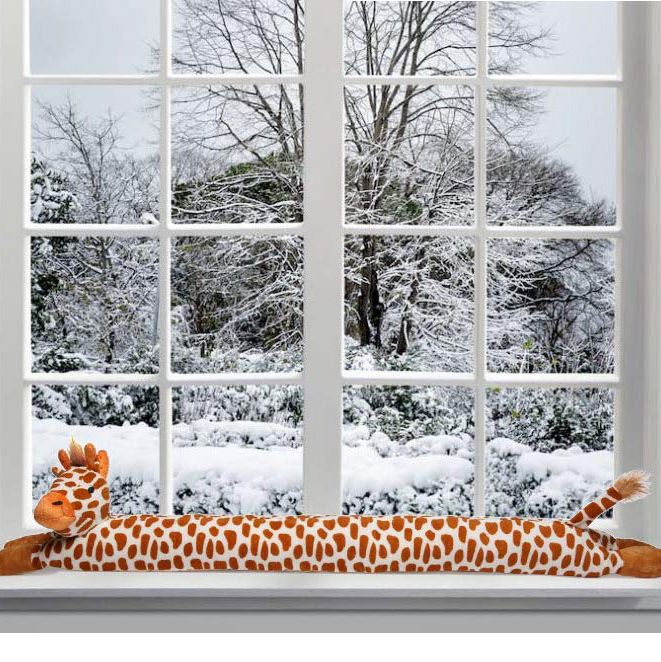 Photo: Courtesy of the retailer
Here at the Strategist, we like to think of ourselves as crazy (in the good way) about the stuff we buy, but as much as we'd like to, we can't try everything. Which is why we have People's Choice, in which we find the best-reviewed products and single out the most convincing ones. (You can learn more about our rating system and how we pick each item here.)
And while we've written about lots of ways to improve your home — including the best home upgrades for under $100, the best cheap but expensive-looking décor, and the best plugs for turning your home into a smart house — here we've rounded up the best door draft stoppers, as praised by the most enthusiastic reviewers on Amazon. 
Best-rated (and least expensive) door draft stopper
Over 70 percent of reviewers gave this door draft stopper five-star reviews, with many calling it a "must-have," because it securely adheres to doors and keeps out the cold or heat. It's such a good fit that it also blocks out unwanted light and noise. "I was skeptical about it's stability and durability," writes one shopper who stuck this to their hollowed out wood door. "Now here it is, a month later and it's still there…Great product!" Another reviewer writes, "Strong, Durable and easy to install…I immediately noticed a difference in the temperature in the room, keeping cold air in during hot summer days." Shoppers also said this stopper kept out bugs. "I have a sticky trap for bugs under my desk. In a months time it is usually full," writes one. "Well, I got this [stopper], put a new sticky trap down and there wasn't one bug in it after a full month…IT WORKS." And the low price was a draw for shoppers, as well. "Good item for the price and very easy to install," writes one reviewer. Another says, "Easy installation, great draft protection, reasonable price. Simple yet effective."
And now for some micro-picks for every type of door draft stopper you might be looking for.
Best fabric door draft stopper
Those who prefer a fabric door stopper to a plastic one said that this one was "excellent quality" and that the fabric was "much nicer" than they had expected. "It is heavy, keeps the draft out and is attractive at the same time," writes one shopper. Another says, "Attractive brown fabric. Practically fell into place along the lower edge of my front door which was allowing winter's cold wind to pass. Highly recommended." Shoppers also found that this stopper worked particularly well for cutting out unwanted noise. "This is a very well made product it is a little heavy which keeps noise out," writes one. Another reviewer, who suffers from chronic migraines, said that this helped muffle the noise of other people in their house. "I was pleasantly surprised by the fabric they used to make this item, much nicer than I expected," they write. "It does work to keep noise down. I'm very happy with this purchase and would recommend it to anyone who asks."
Best Velcro door draft stopper
This door stopper adheres with a Velcro strip, which reviewers thought was a practical way to make sure the stopper was at the right height. One reviewer points out, "Velcro allows for being able to take this on and off if needed, plus adjust if you don't get it lined up perfectly." Another says, "The good part is that because you install the Velcro strip on the door first, you can then adjust the height of the draft stopper if you kind of miss the mark the first time. I would recommend for its versatility and ease of installation and cutting." And shoppers found that the Velcro didn't make it any less sturdy than other adhesives. "This product is great because it Velcros on along the bottom and adjusts/moves as you open the door. It's made of waterproof/heavy duty martial and heavy duty Velcro," writes one.
Best two-pack of door draft stoppers
Shoppers who wanted to secure screen doors, bedroom doors, and any other doors, in addition to their front doors appreciated this two-pack. "This comes in a two- pack and are great for putting on the outside doors to keep cold drafts out in the winter and keeping the heat out in the summer using the A/C," writes one shopper, adding,. "I like them and they work so well I ordered two more!" Another says, "It is heavy rubber with a very strong adhesive. I bought two packs so I could do my screen doors too. Stink bug season. It's been about a week since I installed these and haven't seen a stink bug in days. They're still sticking. Money well spent." Another shopper, who says that they ordered the two-pack to cover their front door and oven door, writes, "It took a matter of minutes to install, both were easy to trim to fit and adhered beautifully."
Best brown and black door draft stopper
Those who are looking for a draft stopper to match doors in darker shades were satisfied with this option, which comes in black and brown. "This is the best product to close the gap under your door," writes one shopper. "It took me two minutes to install. It blends with my decor and colors." And other reviewers said it fit in with their decor, as well. "Great product, works well, looks great and blends in nicely with the rest of the trim in the room," writes one. Another says, "I was surprised by how well this draft stopper works. I honestly can't feel any cold air coming in under our back door, and it blends in enough that it's not noticeable or distracting." Others reported that this draft stopper was sturdy and reliable. One says, "Rubber is sturdy and thick. The adhesive strip alone holds really well on the door and adding the tacks secured the strip even more." Another writes, "There is a little drag when I open the door; I was really worried that it would cause the strip to loosen and fall off, but it hasn't — that's how strong the adhesive is."
Best white door draft stopper
This door draft stopper comes in white, which appealed to those looking to match lighter colored doors. One shopper calls it, "Good quality for the price. Easy to cut to size and install. Looks great on the inside of my white back-door. I highly recommend this door sweep." Another says it's, "Easy to install, white but doesn't allow light through, and thick yet flexible. It blends right in with my white door." And plenty of shoppers raved about the adhesive on these strips. "Strong adhesion…PERFECT," says one. Another comments, "They're easily trimmable and the adhesive holds tight, but still is easy to reposition if needed."
Best door draft stopper for kids' rooms
This stopper — which can come as a giraffe, unicorn, or zebra — is a much more playful option, but according to reviewer, it's still practical. "My kids enjoy the fun design. It works well to keep the draft out. Easy to put back into place after opening the door, but heavy enough to stay put," writes one shopper. Another satisfied reviewer says, "The kids get a laugh out of it. They keep the room so much warmer!" And you don't have to have kids to enjoy this one. "Super cute, even with no kids around," writes one shopper. "Love it at the front door. Lowers draft and noise and adds a smile to visitors leaving."