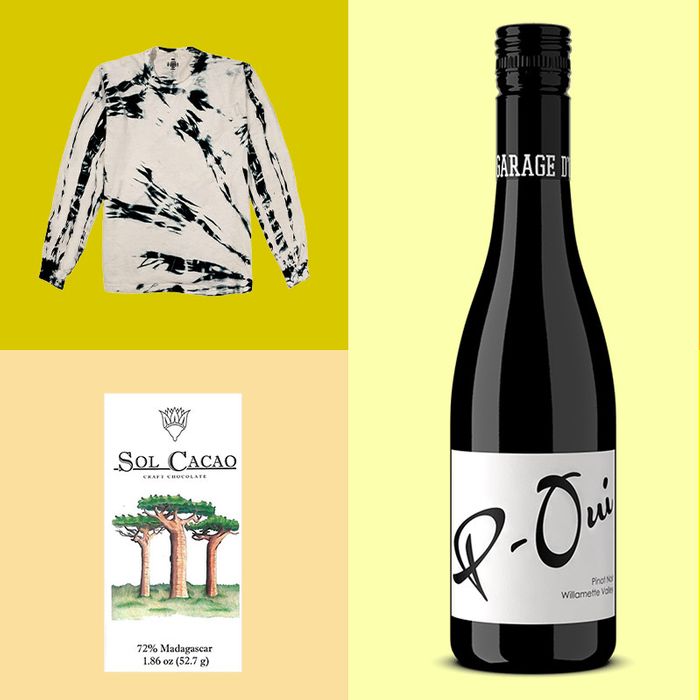 Father's Day may be less than a week away, but it would be understandable if more pressing matters have prolonged your search for the right gift. In addition to our guides to gifts for beer-loving dads, bird-watching dads, techie dads, and other types of dads, you might have noticed we also put together a list of gifts (that do good, too) for those who want any purchase they make on behalf of their old man to go a bit further this year. In that same vein, we put together the following list of gifts from Black-owned businesses for conscious shoppers who want to delight dad with something that supports a small, Black-owned company. Read on for a range of dad-worthy gifts we found while combing the virtual shelves of the brands and shops on our ever-growing list of Black-owned businesses, from a simple three-step skin-care system to a funky Pinot Noir.
These gifts are all in stock, and at the time of publication, most can get to dad by the big day (that's Sunday, June 21) — but some will require expedited shipping to do that. Other shops are experiencing high demand, and say their products may arrive a few days after Father's Day. (Though given those more pressing matters and the fact that you're supporting a small business, we think dad wouldn't mind waiting.)
Dana Jackson founded Beneath Your Mask after a lupus diagnosis required her to incorporate all-natural products into her skin-care routine. While the brand has plenty of dad-friendly options, Rio calls this cream a "kind of a fix-it-all solution to any type of cracked, dry, or irritated skin." The formula includes powerhouse ingredients like shea butter, grape-seed oil, avocado oil, almond oil, lemongrass oil, and tea tree oil, "all of which work together to hydrate, heal, and calm the skin," Rio adds. Credo Beauty offers free standard shipping on orders over $50, but for an extra $24, you can get expedited three-day shipping.
If your dad is in need of a more comprehensive skin-care overhaul, this (still simple) three-step system from Haus Urban may be just the ticket. The company was founded by Hassan Sayyed, a former performer who started his business after an accident abruptly ended his entertainment career. The brand says its products are catered to "the grueling demands" of performers, promising they're easy to use and effective. The system includes an all-natural cleanser, toner, and moisturizer to keep skin clear and hydrated, and the products are formulated with nourishing ingredients, like shea and hyaluronic acid, that should work for most skin types. Orders will be shipped as soon as possible, according to Haus Urban, which says they typically take three days to arrive once shipped.
Photo: Retailer
For the dad with a sweet tooth, we love the illustrated packaging (and single-origin sourcing) of these chocolate bars from family-owned business Sol Cacao, which makes each bar in the Port Morris neighborhood of the Bronx. The company's standard shipping option costs $5 and takes three to five business days.
If your dad is a "boat guy," Chris Black suggests this shirt, which he says is "just as wearable as his Tommy Bahamas, but slightly more elevated." It is designed by Grace Wales Bonner, who won the LVMH Prize for Young Fashion Designers in 2016, and sold by one of Chris's favorite Black-owned boutiques, the L.A.-based Union. The shop offers free UPS Express two-day shipping on orders over $100.
For a dad who loves to cook but is short on time, this coconut cilantro chutney "makes everything taste better and brighter," according to Cherry Bombe editorial director Kerry Diamond. BasBaas Sauce was founded by chef Hawa Hassan, who has been featured everywhere from Food52 to Eater to Grub Street.
For a dad who loves to cook but is short on inspiration, consider Whetstone Magazine, which was co-founded by food writer Stephen Satterfield and chef Melissa Shi. The print journal focuses on global food culture, covering everything from Canto-Western diners in Hong Kong to the origins of peanuts in Bolivia. A $90 annual subscription will send the next four issues directly to your dad's door.
Photo: Retailer
Maison Noir Wines was founded by Per Se alum André Hueston Mack, who works with small Oregon vineyards to produce his distinctive blends. The company describes this Pinot Noir from the Willamette Valley as a cross between "Franken Berry jam session with Parliament-Funkadelic" — in other words, fruity and funky. According to Maison Noir Wines, standard shipping typically takes around five days.
Photo: Retailer
If it's time that dad started waking up with something other than Folger's in his cup, we suggest this special blend from Red Bay Coffee, a community-focused, Oakland, California–based company. Red Bay describes the blend, which is produced by a women's cooperative in Burundi, as having notes of pomelo, brown sugar, and dark chocolate. Red Bay custom roasts each order on demand, so it can take the company up to five business days to ship out your beans. If you're worried about the timing of a delivery, the company also sells e-gift cards that can be gifted immediately.
Should dad be more of a tea guy, try this gift box from Bedford-Stuyvesant's Brooklyn Tea. The shop is a favorite of Strategist senior editor Peter Martin, who says the couple that runs it does a great job of making tea accessible to everyone, including "clueless skeptics" such as himself. The gift box comes with an infuser and four kinds of tea that are curated based on types (green, black, oolong, white) or themes ("new to tea," "relaxing"). Due to high demand, the shop says to expect a five-to-seven-day delay for orders to ship. But it also sells e-gift cards that can be delivered right away.
Photo: Retailer
If dad has a green thumb and you (or he) live in New York City, Natty Garden, a Brooklyn-based nursery owned by Joel Mahfood, has lots of cool plants for sale. This dragon plant, for instance, has a braided trunk and burst of leaves that make it look more visually interesting than your average pothos or succulent. It would make a more unexpected gift for a plant dad — and because it's pretty hardy, it's as good for beginners as it is for more experienced gardeners. Note that Natty Garden only offers products via pickup unless you or dad live within its delivery range of Brooklyn and lower Manhattan.
Photo: Retailer
Add this carved planter from designer Justina Blakeney's home-décor line to complete the gift. Or give it on its own to a dad who doesn't need any more green things, but does need more nice vessels to put his plant babies in. Jungalow is known for its colorful, bohemian wares and, for each purchase, has pledged to plant two trees through its partnership with Trees for the Future. The company charges $27 for standard shipping, which takes seven to 10 days, according to Jungalow.
Actually cool-looking bedding is something that most dads might not ever buy for themselves, being the practical species that they are. This indigo quilt set from Jungalow (which comes with two shams in addition to the quilt itself, all of which are 100-percent cotton) is stylish without being loud, and is inspired by "the repeating sounds and patterns found in music and nature," according to the brand.
Photo: Retailer
Speaking of nature, this oakmoss-and-amber scented candle is perfect for outdoorsy dads who want to bring the smell of their preferred habitat inside. The company, which hand-pours and packages its products in Baltimore, uses all-natural soy wax, braided-cotton wicks, and scented oils with no other additives or dyes. Two-day shipping costs $8, and should get this to dad by Father's Day.
For the dad who loves the Big Apple but doesn't need another I Love New York shirt. BedStuyFly is a Black-owned boutique founded by Stephen Usenbor, with storefronts in both Bedford-Stuyvesant and Williamsburg. Standard shipping costs $8, according to the shop, and typically takes two to three days.
Photo: Retailer
Tulsa-based Fulton Street Books and Coffee has plenty of books to choose from on Bookshop, one of which is this recently published history book from The Smithsonian National Museum of African American History and Culture. It focuses on African-American soldiers in World War I and seems perfect for those dads who are always looking for new ways to brush up on their history. Bookshop offers $11 UPS Ground shipping, which takes one to five days to arrive.
We think that a trendy dad looking to dip his toe into tie-dye would love to unwrap this hand-dyed long-sleeve shirt made from recycled cotton. The Los Angeles–based CBAAF was founded by designer Esper, who counts A$AP Rocky as a loyal customer. CBAAF offers free domestic shipping, but you can upgrade to priority (one-to-three day) shipping for $15, or overnight shipping for $35.