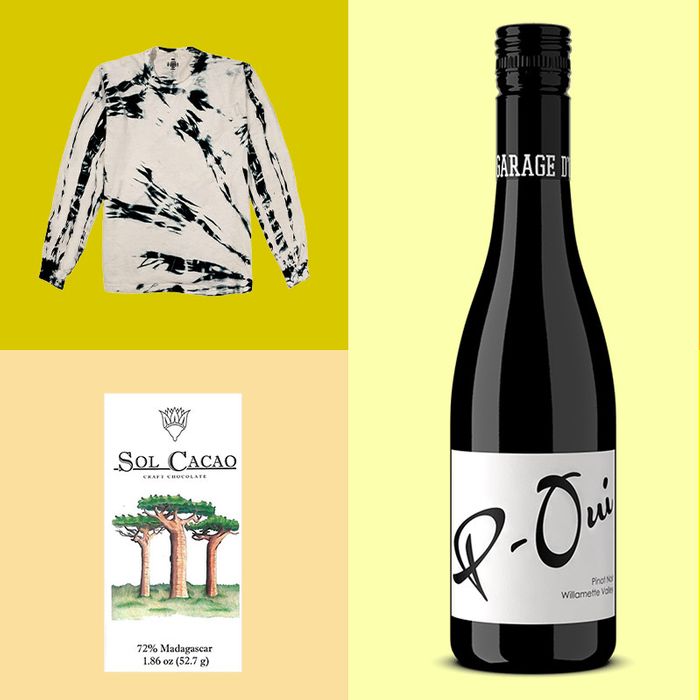 Father's Day may be less than a week away, but it would be understandable if more pressing matters have prolonged your search for the right gift. In addition to our guides to gifts for beer-loving dads, bird-watching dads, techie dads, and other types of dads, you might have noticed we also put together a list of gifts (that do good, too) for those who want any purchase they make on behalf of their old man to go a bit further this year. In that same vein, we put together the following list of gifts from Black-owned businesses for conscious shoppers who want to delight dad with something that supports a small, Black-owned company. Read on for a range of dad-worthy gifts we found while combing the virtual shelves of the brands and shops on our ever-growing list of Black-owned businesses, from a simple three-step skin-care system to a funky Pinot Noir.
These gifts are all in stock, and at the time of publication, most can get to dad by the big day (that's Sunday, June 21) — but some will require expedited shipping to do that. Other shops are experiencing high demand, and say their products may arrive a few days after Father's Day. (Though given those more pressing matters and the fact that you're supporting a small business, we think dad wouldn't mind waiting.)
Dana Jackson founded Beneath Your Mask after a lupus diagnosis required her to incorporate all-natural products into her skin-care routine. While the brand has plenty of dad-friendly options, Rio calls this cream a "kind of a fix-it-all solution to any type of cracked, dry, or irritated skin." The formula includes powerhouse ingredients like shea butter, grape-seed oil, avocado oil, almond oil, lemongrass oil, and tea tree oil, "all of which work together to hydrate, heal, and calm the skin," Rio adds. Credo Beauty offers free standard shipping on orders over $50, but for an extra $24, you can get expedited three-day shipping.
If your dad is in need of a more comprehensive skin-care overhaul, this (still simple) three-step system from Haus Urban may be just the ticket. The company was founded by Hassan Sayyed, a former performer who started his business after an accident abruptly ended his entertainment career. The brand says its products are catered to "the grueling demands" of performers, promising they're easy to use and effective. The system includes an all-natural cleanser, toner, and moisturizer to keep skin clear and hydrated, and the products are formulated with nourishing ingredients, like shea and hyaluronic acid, that should work for most skin types. Orders will be shipped as soon as possible, according to Haus Urban, which says they typically take three days to arrive once shipped.
Photo: Retailer
For the dad with a sweet tooth, we love the illustrated packaging (and single-origin sourcing) of these chocolate bars from family-owned business Sol Cacao, which makes each bar in the Port Morris neighborhood of the Bronx. The company's standard shipping option costs $5 and takes three to five business days.
If your dad is a "boat guy," Chris Black suggests this shirt, which he says is "just as wearable as his Tommy Bahamas, but slightly more elevated." It is designed by Grace Wales Bonner, who won the LVMH Prize for Young Fashion Designers in 2016, and sold by one of Chris's favorite Black-owned boutiques, the L.A.-based Union. The shop offers free UPS Express two-day shipping on orders over $100.
For a dad who loves to cook but is short on time, this coconut cilantro chutney "makes everything taste better and brighter," according to Cherry Bombe editorial director Kerry Diamond. BasBaas Sauce was founded by chef Hawa Hassan, who has been featured everywhere from Food52 to Eater to Grub Street.
For a dad who loves to cook but is short on inspiration, consider Whetstone Magazine, which was co-founded by food writer Stephen Satterfield and chef Melissa Shi. The print journal focuses on global food culture, covering everything from Canto-Western diners in Hong Kong to the origins of peanuts in Bolivia. A $90 annual subscription will send the next four issues directly to your dad's door.