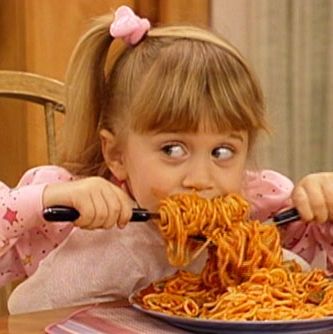 Photo: Jeff Franklin Productions
For all the reasons it can be a special kind of torment to be stuck in the house with your kids during a pandemic, dealing with their finicky palates is chief among them. Which is why a number of our mom and dad writers and editors decided to test out a range of kid-specific meal-delivery services — from those containing freshly puréed carrots for a baby's first solids to those offering substantial toddler fare like chicken marinara. The price points among the different options vary; some cost about the same as the veggie pouches you might pick up at Whole Foods, while others run you more like $8 per meal.
As with our coverage of the adult versions of such services, we evaluated things like ease of preparation and quality of ingredients. In some cases, our discerning little guinea pigs probably didn't get to give their sample feasts a truly fair shake, considering that conventional wisdom suggests children must try a new food as many as ten to 15 times before they'll enjoy it. But we did find a number of options that they gobbled right up. Whether you're using them in a lockdown or not (and let's hope none of us ever have to do this again), these services do indeed make mealtimes less stressful, with no bullet blenders or steaming baskets required.
For babies just starting on solids
Prices start at $24.50 per week for one meal a day ($3.50/meal) of organic baby-food blends including Sweet Apple Blueberry Flax, and Kale White Bean Pear Basil Quinoa Avocado Oil. Meals are delivered every two weeks. The company also offers small plates for toddlers and kids starting at $26 for four meals per week ($6.49/meal).
Our tester: Yvette Johns, mom to a 9-month-old (at the time of testing)
"Starting our baby on solids felt both simple and complicated, especially as we began to move her onto more and more complex blends and my mom paranoia over allergies or discovering a picky eater kicked into overdrive. Little Spoon made the entire affair less like a circus.
"The baby-food delivery service provides simple, single-ingredient purées and multi-ingredient blends for your growing baby's diet. You decide how many meals you want to feed your child per day and then pick from Little Spoon's available blends. The variety is great; they rotate regularly and include a number of seasonal additions. In our case, our daughter is already familiar enough with the most common fruits and vegetables, but with Little Spoon, we've been able to introduce her to foods we don't stock as often in our home, like beets, spirulina, buckwheat, and dates. It's also nice to see her readily eat blends of foods that I never would have thought to put together, like their Strawberry Basil Beet Pear Chia mix.
"Each delivery comes packed in ice, and each purée comes in a single-serving-size tub with its own, ahem, little spoon attached. That makes it superconvenient to take food with you on trips without having to worry about packing baby utensils. Also convenient are the boosters they offer, which come in packets of different vitamin, mineral, and probiotic blends that you can mix into your child's food or drinks for an added dose of nutrition. But take heed: They do alter the taste of whatever you add them to. I learned this the hard way by making a spinach dish taste ten times more like spinach."
For babies getting more adventurous with solids
Weekly subscription prices start at $35 for one meal a day ($4.30 per meal) of organic (and vegan, kosher, dairy-free, and gluten-free) baby food and finger food. Options include single-ingredient purées of things like beets and kidney beans and, for older babies, small pieces of foods, including black beans and sweet potatoes, or larger bites, including beet burgers and banana bread.
Our (first) tester: Strategist writer Lauren Ro, mom to a 6-month-old (at the time of testing)
"My son ate up most of the fruit and vegetable jars (except the spinach). He liked the beets, mango, purple sweet potatoes, carrots, apple, and peaches. And I liked the fact that everything comes frozen and packed in ice and is made fresh weekly."
Our (second) tester: Fritzie Andrade, mom to an 11-month-old (at the time of testing)
"Pre-pandemic it never seemed that hard for me to prepare my daughter's food, but with the nonstop cooking that came with quarantine, I was excited for a break. We tried Yumi's stage 4 and 5 pinchables and finger foods, which are for babies 10 months and older. The ratatouille, for example, has a texture that's a little chunkier and is made with pear, sweet potato, zucchini, tomato, basil, red pepper, kale, yellow squash, and white beans. That's a hell of a combination that I would honestly never bother to make myself. "
For babies whose parents prefer pouches
This pouch subscription service was created by a neurosurgeon and ships every two weeks. You can build your own box or take a quiz about your child's developmental milestones and let Cerebelly create the box for you. Pricing starts at $2.89 per pouch when you buy at least seven pouches, but the more you buy, the cheaper it gets (as low as $2.17 per pouch).
Our tester: Felicia Shivakumar, mom to a 9-month-old (at the time of testing)
"This is a tempting option for parents looking for nutritious baby food that won't take up any fridge space. The food arrives in colorful, sturdy pouches that have roughly a year's shelf life. With ingredients like mango, chickpeas, pumpkin, and peas, the combinations are interesting but simple. Each pouch has an 'organic nutrient blend' added in, which is where I think the real value lies. I would never think to add kelp or squash seeds to the smoothies I make for my son and certainly not nutrients like DHA. It makes me feel a little less guilty about giving my baby a pouch instead of fresh food.
"Cerebelly's savory flavors also stand out compared with other baby-food brands. The purées aren't sweet, and some flavors have an umami or peppery taste to them. The consistency of the purée is on the thicker side, not watery or runny, which my son prefers. For the variety pack I received, calories average around 60 to 80 for each pouch, and the total carbohydrates were in the ten-to-15 range, which is lower than other pouches we've tried. With less than a dozen flavor options, after a while it may feel a bit repetitive, especially if you're feeding with pouches more than once a day. But at $2 to $3 per pouch, Cerebelly costs roughly the same as other organic options at your local grocery. And unlike many of those other brands, their pouches are recyclable, which is another big plus."
For kids in organic-centric households
These subscription boxes provide organic solid-food meals for kids 8 months and older. Prices start at $5.49 per meal and drop to $4.69 if you order two dozen or more. Orders can be shipped every week, every two weeks, or every three weeks. Tiny Organics lets you select each meal from vegetarian options including everything from coconut curry to bananas Foster.
Our tester: Strategist writer Lauren Ro, mom to a 14-month-old (at the time of testing)
"My son got picky about food when he became a toddler. Because veggies are what's lacking the most in his diet, I was excited (but nervous) about his trying Tiny Organics, whose meals are all 100 percent organic, non-GMO, and plant based. Its philosophy was also very appealing. The brand focuses on introducing your children to 100 different flavors so they're exposed to a variety of different foods, textures, and shapes 'to reduce picky eating later in life.' Exactly the issue I was hoping to tackle.
"The company sent me a dozen different meals to try, including breakfast-type items, like blueberry oatmeal, and veggie bowls full of things like broccoli, sweet potatoes, chickpeas, and beets, seasoned with a bunch of spices and herbs. It all seemed quite delicious and thoughtfully prepared, not to mention convenient. Everything comes frozen in a 3.5-ounce container, and all you have to do is heat it up before serving. I wish I could say my son loved the dishes he tried, but … he did not. He ate some of it, but it was a struggle. Experts say it takes between ten and 20 exposures to a new food before your child might decide to eat it. I'm clinging to the fact that there's still time for him to learn to love a kale-and-quinoa bowl — which, to be honest, seems like a pretty advanced choice for a 14-month-old! In the meantime, I'm stashing the rest of his Tiny Organics delivery in the freezer for when he (and I) are ready to duke it out again."
For kids whose parents are less organic focused
These healthy(ish), ready-made meals for kids are delivered once a week. At six meals per week, the price is $7.99 per meal; eight meals are $6.99 each; and if you order 16, the price drops to $5.99 per meal. Each week, you choose from a menu of rotating options — or you can have Yumble pick for you.
Our tester: Strategist editor Alexis Swerdloff, mom to a 20-month-old (at the time of testing)
"My son is a rather picky eater. He hates anything green, loves anything in a red sauce. I am a pretty poor cook and mainly make him meals that involve some combination of pasta, eggs, meatballs, and chicken, with various vegetables snuck in. Which is why the concept of Yumble appealed to me. Ordering was easy: You can either go with the weekly menu or hand-pick the meals you'd like. (I chose a hodgepodge of 'top-rated' dishes, which included a cheesy fusilli pasta with a side of broccoli, chicken marinara Alfredo, and a pizza pocket and broccoli parm.) There are also slightly less basic options that I knew my son would flat-out reject, like a 'Brock n Roll' veggie chili bowl and Asian-fusion quinoa and meatballs.
"It showed up on time at my door in a kickily designed box full of meals packed in TV-dinner-looking trays with a rubber placemat thrown in as a gift. Throughout the week, there were clear winners (the cheesy fusilli and chicken marinara, which he gobbled up in minutes), and the rest he could sort of take or leave. (But that's truly more on him than on the meals; I tried them, and they were all very tasty.) My main concern was really just how healthy any of it was. The FAQs say Yumble uses organic 'whenever possible, and, 'when available,' they 'strive for humanely raised antibiotic- and hormone-free meats,' but it's not obvious that they do this across the board. Each meal has a little sticker with nutritional information (that you practically need a magnifying glass to decipher). Upon inspection, there's a lot of salt in this food (690 mg in the chicken marinara, for instance). But if healthyish is okay and ease and yumminess are key, I can totally see Yumble being a relatively inexpensive convenience for busy parents."
For little kids who eat like big kids
Nurture life offers food for all ages (including adults, in case you want to treat the whole family). Toddler meals typically cost $7.99, and if you buy enough meals in your subscription that you hit $59 per order, shipping is free. There are about two-dozen options to choose from — everything from pesto-and-cheese ravioli to chicken-and-vegetable dumplings with edamame — that Nurture Life says focus on organic, antibiotic-free foods and whole grains.
Our tester: Strategist senior editor Peter Martin, dad to a 23-month-old (at the time of testing)
"Meal planning for our daughter is easy for me, mostly because my wife does it. It stresses her out less to pick out lunch every day, and I like to think I make up for it by doing the laundry and dealing with alternate-side parking. With the pandemic, the opportunity to have prepared and healthy food shipped to us for a time was a relief in that she had one fewer thing to worry about each day.
"The meals come in cute little Lunchables-style containers in refrigerated packaging, so you can either put them to your fridge and eat them within a week or freeze them for use later. Our daughter, who is generally a good eater, enjoyed all of it, whether the container came from the fridge or was one of the ones we stored in the freezer. She tore through the mashed potatoes that came with her turkey meatloaf and loved the egg with diced sweet potato and pancakes. What brought her the most joy, though, was the macaroni and cheese with cauliflower. (This particular meal is no longer available, but Nurture Life currently has a similar setup with butternut squash.) The serving size of each dish is big enough that she often had leftovers, basically providing twice as many lunches as we had expected. On the second day of the mac 'n' cheese, she heard us talking about it and screamed her approval: 'Macaroni, macaroni, macaroni! Me macaroni!' From the delicious smell in the kitchen after we microwaved it, her response felt appropriate.
"My only complaint was that one of her meals had 80 percent of her recommended saturated fat for the day. That seemed excessive to me, and apparently Nurture Life agreed, because that item is no longer on the menu and all of the current toddler offerings look to have very reasonable nutritional value."
For little kids who eat like their parents
Not subscription based, this service lets you choose from a limited number of kids' meals ($5.75 each) or 75 adult options, which range from a $7.45 broccoli-and-sharp-cheddar frittata to an $18.95 beef Wellington with mashed Yukon potatoes and Brussels sprouts. Every meal is flash frozen and shipped to you. (Delivery is $20, but if you order ten items, shipping is free.)
Our tester: Strategist senior editor Jessica Silvester, mom to a 3-year-old (at the time of testing)
"I'll start with what my son said about these meals: 'Mmmm.' Because we're in quarantine, he's less active these days and therefore generally less hungry. So I found it especially impressive to see him finish everything on his plate, whether it was the gluten-free pancakes with pork bacon, the chicken parm, or the Belgian waffles with turkey sausage. Little Dan happens to have a frat-guy palate, I should mention, so I stuck with only the most basic options, which happened to come from the adult side of the menu. (He ate half-portions.) Both the adult meals and the children's options — which include things like chicken sticks with sweet-and-sour jam, and ham-and-cheese pockets with a side of string beans — are said to use ingredients sourced mainly from local farms in New York and New Jersey, though they are not exclusively organic.
"The fact that there's no subscription or commitment involved is great. I had to break up with a kid-food delivery service in the past, and they really made me work for it. Each flash-frozen meal can be microwaved for about 90 seconds or warmed in the oven for 15 minutes. And the heating phase is when you can actually smell the difference between a breakfast or dinner from your Whole Foods freezer aisle (sadly, the main source of my son's diet) and one that was prepared fresh. They may not be my Aunt Anna's meatballs, but they still taste homemade."
The Strategist is designed to surface the most useful, expert recommendations for things to buy across the vast e-commerce landscape. Some of our latest conquests include the best acne treatments, rolling luggage, pillows for side sleepers, natural anxiety remedies, and bath towels. We update links when possible, but note that deals can expire and all prices are subject to change.