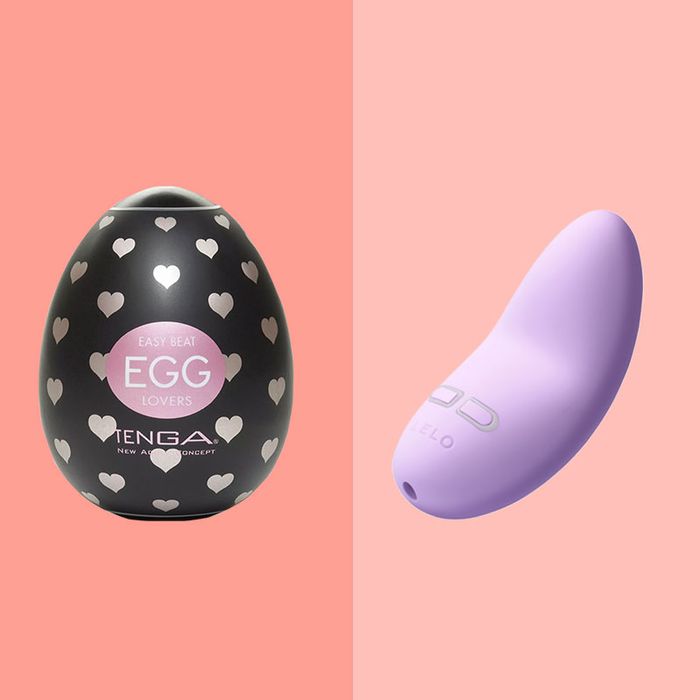 Photo-Illustration: retailers
Whether you're traveling for business or pleasure, you might be looking for a way to, well, pleasure yourself while on the road. Just as they can in your own bedroom, sex toys can make nights (or days) at a hotel or rental even more enjoyable, no matter if you're checking in alone or with a partner. But if your trip involves passing through an airport or any other place that might want to peek in your bag, you might prefer traveling with a toy that won't make people look twice — or worse, ask what it is — if they come across it. Those looking to maximize every inch of luggage space might also want something smaller that doesn't sacrifice power when it comes to stimulation.
To find the best travel-friendly sex toys, we asked six experts — including sex therapists, educators, and shop owners — about the ones they'd recommend. (Then we checked our archives for any others we've written about that seem particularly suited for travel.) Discreet toys, or ones that don't obviously look like a sex toy, came up a lot, suggesting this is a most important factor when choosing something travel-friendly. Size can help when it comes to discretion, according to several of our experts who pointed us to tinier toys that deliver just-as-strong sensations as larger models. Another general tip? Look for single-use toys that, while not better for the environment, typically cost less and can be easily tossed so you don't have to worry about bringing them back. No matter what toy you choose to travel with, Samantha Bard, a co-owner of Williamsburg's Shag, has some advice: "Don't check your toys! I hear time after time from clients that their toys go missing from their checked luggage and this has also happened multiple times to a personal friend of mine who is a sex educator," she says. Bard adds to store any toys in a "lint-free bag apart from each other" — we've got lots of expert-recommended sex-toy storage here, if you're looking — and to remember to "turn on a toy's travel lock if there is one."
Below, Bard and our other experts' favorite travel-friendly sex toys, which take many forms, from bullet vibrators to wand vibrators to palm vibrators and air-suction toys, to rings, strokers, and plugs. If you know the type of toy you seek (or want to learn more about), you can click on any of the links in the previous sentence to jump to that section. Where applicable, we begin each category with any travel-friendly sex toys we heard about the most.
Best travel-friendly bullet vibrators
In reporting our story on the best bullet vibrators, Zoe Ligon, the owner of Spectrum Boutique in Detroit, told us that the style is "great for travel" because they tend to be smaller by design. Plus, as we wrote, while bullet vibrators are typically thought of as being designed for clitoral stimulation, they can actually be used to stimulate many different body parts in solo or couple's play, and this versatility also makes them more travel-friendly. So it might not be surprising to hear that Crave's wearable Vesper bullet vibrator, which looks like a necklace, was by far the most recommended sex toy by the experts we spoke to for this story, all six of whom mentioned it.
Bard says it's great "because it is so discreet — you can literally wear it as a necklace, just put it in the X-ray bin with your other jewelry, and no one will be the wiser." Sex and confidence coach Jennifer Doan agrees, calling the vibrator easy to transport because of its design. Certified clinical sexologist Gigi Engle, the author of All the F*cking Mistakes: A Guide to Sex, Love, and Life, says she's successfully worn it through airport security and that the toy doesn't just look nice, but "offers intense pinpoint clitoral stimulation." Sex therapist Megan Fleming seconds that, saying this toy "packs a lot of punch." Sex educator Jacq Jones, the owner of Baltimore's Sugar shop, also told us that this vibrator is way more intense that it looks. As Sid Azmi, the owner of Please in Brooklyn, explains, that's due to its four different speeds. Shown in silver, it's also available in gold and rose gold.
When we asked Azmi about the best bullet vibrators, she told us that We-Vibe's Tango made a splash when it was released because it was the first bullet vibrator to deliver really strong vibrations in such a small package. Dalychia Saah and Rafaella Fiallo, the creators of Afrosexology, say this is why it makes a great travel-friendly sex toy, calling the Tango, which has eight different vibration settings, "small but powerful" and easy to pack.
Here's another travel-friendly sex toy that doesn't look like one. As sex educator Lola Jean notes, the lipstick-shaped Tenga Iroha "looks like it could be just another cosmetic in my makeup bag." It has another fan in intimacy coach Davia Frost. The toy's tip delivers precise vibration to the clitoris and there's a dial at the bottom of the tube you can use to increase its intensity.
"As an erotic educator, pre-COVID, I was traveling up to 11 times a year," says Organic Loven founder Taylor Sparks. "And traveling with my own personal sex toys is a must." Sparks calls the Femme Funn bullet vibrator her favorite travel-friendly toy. "It's my go-to because of its slim design and 20 vibration modes" she says, adding that it's also great for couples because its thinner profile means it "doesn't get in the way during oral or penetrative sex."
Best travel-friendly palm vibrators and air-suction toys
This next batch of toys all share one travel-friendly feature: They're tiny enough to fit in the palm of your hand (and therefore very easy to pack). "This vibe looks like a mouse for your computer," Bard says of Lelo's Lily, which she notes has one of the "widest ranges of intensities on the market." That range, as she puts it, "goes from barely a whisper of vibration to full on whoa, including multiple pulse modes and patterns." Bard also told us this has a particularly travel-friendly feature that will never have you worrying about it turning on in your bag. "Hold down both buttons at once to engage the travel lock," she instructs. "Problem solved!"
Sparks says the Mimic is a "palm-sized vibrator" that also "has its own travel lock, amazing rumbly vibrations, and is waterproof." While compact, she says the toy is quite ingeniously designed: "It is curved to fit in the palm of your hand, but lays so nicely on the vulva, and the tip can be used on the clitoris." Flexible wings make it even easier to get the toy, which has eight vibration patterns, right where you need it.
The Touch X from We-Vibe is another ergonomically designed vibrator with a slightly curvy shape that fits easily into the palm of your hand. It has eight intensity levels and seven different vibration patterns. When we tested it out, we wrote that "one cool feature is the travel lock: Just hold down the plus and minus buttons and the vibrator won't accidentally turn on in your bag and kill the battery — or get you into an awkward TSA situation."
Sparks told us that this air-suction toy — a category we dive deeper into here — is her "newest travel companion." The clitoral stimulator, like the others in this group, is "small enough to fit in the palm of your hand" and has "11 whisper-quiet programs," she says. Plus, there's a "travel cap that keeps it very discreet" — so discreet, in fact, you might be able to use it before you get where you're going. "It's perfect for long flights when a bathroom pick-me-up is needed," Sparks says.