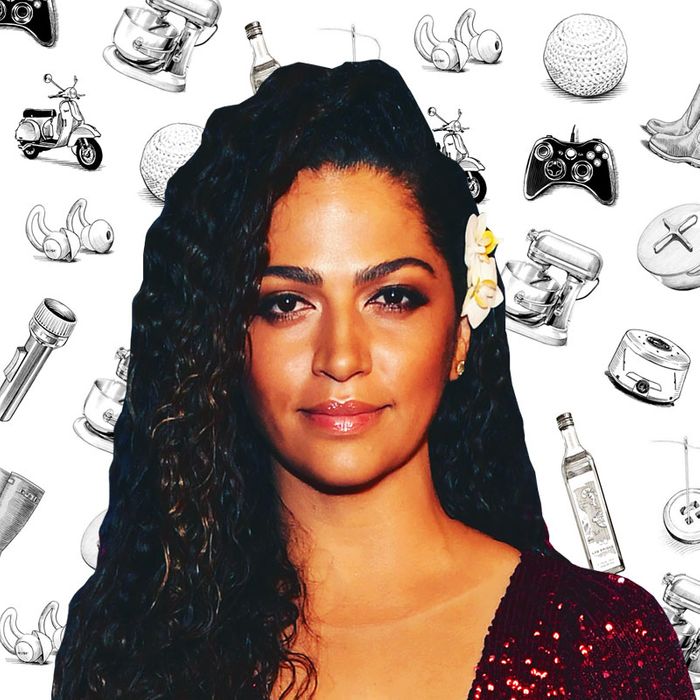 Illustration: Joe McKendry, Photo: Emma McIntyre/Getty Images for WCRF
If you're like us, you've probably wondered what famous people add to their carts. Not the JAR brooch and Louis XV chair but the hairspray and the electric toothbrush. We asked entrepreneur Camila Alves McConaughey — the founder of lifestyle website Women of Today — about the jeans, scrunchies, and cocktails she can't live without.
I have turned so many people onto these — like probably more than a hundred people at this point. I'm not exaggerating. I keep one on my wrist, so people will see it and ask about it. And when I see somebody I don't know who has these, we look in each other's direction and have an instant bond, like, "Okay, you get it. You know." I got Matthew to wear them, too, because he has long hair now. My hair is really thick, but Matt's is really fine, and these don't damage any hair. They're super gentle and, when you take your hair out, they don't leave any marks. It's like magic. They are a little bit pricey, but trust me, they're worth it. I've given them as gifts tons of times, too.
I use this on my body, not my face. I have very sensitive skin. If I use the wrong product, my skin reacts quickly, so I'm very picky. I used to pay all this money to get seaweed scrubs at spas, but this is just as good as what the spas use and I can do it myself. I add water and whatever oils I feel like my skin needs at the time. It doesn't have a nice scent because, you know, it's seaweed, so I add things like olive oil or coconut oil to give it a better smell.
I actually never wore a sleep mask before I got this one. I didn't like them because that little strap that goes around your hair always bugged me at night. But this one is unlike others I've seen. It's really thick and it doesn't have that elastic that goes around your ears. It's kind of silly looking because it's this pillow-like mask that goes down to your nose. But it covers a really large part of your face, so it really keeps the light out. And it's silk, too, so it's very comfortable.
I was on a job once and the makeup artist cleaned my face with just a damp, warm rag. That one rag wiped everything off and I was shocked. So I found these to use instead of makeup remover, and they really work. I put a little bit of oil on my skin, then put hot water on these rags and just start wiping my face with them. They're also eco-friendly, too, because you can put them in the wash and reuse them. It's a great alternative for anyone with sensitive skin. I can't use makeup-remover wipes because my skin completely breaks out after using them, no matter what the brand is.
In Brazil, hair masks and oils and things like that are a big part of our culture because a lot of people have curly hair and they're so good for that. The founder of this oil is an amazing hairstylist. She told me about the product and it sounded so good that I was like, "I have to have it." It's been one my greatest finds in the last year. It's all natural and doesn't have anything bad in it. I have really kinky hair and sometimes it just goes crazy — it has a life of its own and does what it wants to do if I don't take care of it. This oil changed my hair but in a natural way. Now I get an even texture and more of a nice wave instead of puffy hair. You do have to apply it in a very specific way, though, or it won't work. Because my hair is very thick, I use more than they recommend. I divide my wet hair into layers, then apply it layer by layer and comb it through.
I've been a fan of Ellen, the brand's founder, for so long. I love all the work she does with aprons — they're truly the best aprons out there. Then I heard that she started making masks for people at her factory. I love that she went out of her way to help find solutions for the PPE shortage; I'll support anyone who does amazing things like that. They're really comfortable, too. I actually just did a huge order with her. This fire department in Austin, Texas was looking to get fabric face masks to have around the station, so I ordered these masks and donated them to the department.
I didn't grow up drinking tea, but this tea does have a Brazilian influence to it. I got into it as an adult; I can't do coffee, so this tea is my caffeine. We have these big Yeti containers, which are fantastic, and we put three of these bags in one. We steep the tea throughout the night and then when I wake up in the morning, it's the perfect temperature to drink.
A flare cut just works better for my body. I'm not a skinny-jeans person; I think they make me look frumpy. A flare style makes me look longer, especially if I'm wearing high heels. It gives me a better shape. Frame makes flares every season. Some brands make them once and then they stop, but Frame always comes out with new ones. These ones are very stretchy, so they're super comfortable. They're also high-waisted — after having three kids, that low waist style gets tricky. These keep everything in, but they don't dig into my stomach when I sit down. You have to be kind of tall or have super long legs for them, though.
A chiropractor in L.A. told us about these a long, long time ago. Matthew and I wore them before they were the hot thing that everyone had. Seriously, I think we were some of the first people in the industry to be seen walking around in them, which tells you how long we've been wearing them because now they're a really big company. They're just an everyday walking shoe, but they're the closest thing to being barefoot that I've found. I try not to be in workout clothes all day, and these are comfortable sneaker that doesn't look like a workout shoe. They're fantastic for traveling, too.
They're so easy — you don't have to do any mixing yourself and they are really great quality. They don't have all the added artificial sugars or anything like that, which is big for me. I have a sensitive body that reacts poorly to a lot of additives. I also could never drink vodka before; you do not want to meet me on regular vodka. My drink of choice used to be tequila, but when I tried these cocktails, I was really impressed. They're literally the only vodka drink that doesn't give me a hangover or make me go sideways. I don't know if I should tell people how often I have a drink, I might get in trouble on that one, but let's just say these are light enough where I don't feel guilty if I have them.
The Strategist is designed to surface the most useful, expert recommendations for things to buy across the vast e-commerce landscape. Some of our latest conquests include the best acne treatments, rolling luggage, pillows for side sleepers, natural anxiety remedies, and bath towels. We update links when possible, but note that deals can expire and all prices are subject to change.