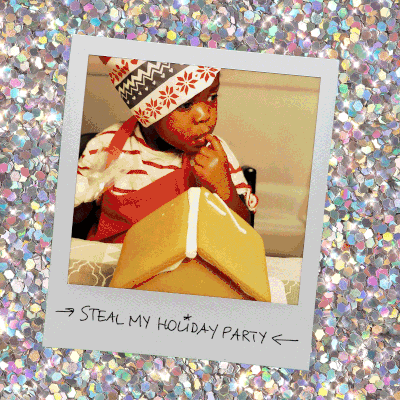 Photo-Illustration: The Strategist
The holiday season is much more fun when there are parties to attend, but actually hosting a holiday gathering is another story (especially if you've forgotten how to entertain after a year of sitting at home alone). In this series, we ask veteran party-throwers to walk us through their process for a foolproof celebration — from baking cookies two weeks in advance, to greeting their guests with tarot cards, to, finally, hitting the Hanukkah-themed shotski.
The best gingerbread-house-making parties are the ones that don't involve any "house-making" at all, according to Eunice Kindred, a mom of two and creative director of the marketing agency Neon. After hosting these events ever since her now-6- and 7-year-old daughters were toddlers, Kindred has learned "I don't want to be building houses in the middle of the party" — as most young kids will inevitably require the grown-ups to do. Instead, she opts to buy the kits that "you literally take it out of the box and it's already a house, all put together," so that guests can skip ahead to the decorating. The goal is less about creating something delicious (or edible even) and more about having fun.
Last year, because of COVID, the annual get-together had to be held over Zoom, but it was such a hit among the children — whose ages ranged from 2 to 10 — that she wants to stick with the virtual route. She's fine-tuned the camera setup in her Battery Park City apartment, and will once again showcase a professional decorating tutorial from Freshmade, a Soho cooking school for kids. And it's a lot easier cleaning up after two children instead of a dozen. Kindred walks us through her party planning below.
Order the main supplies
I suggest limiting the guest list to a dozen families because you don't want to have to scroll through two pages of Zoom grids. Plus you start to lose intimacy, the more people you have.
I send an email out to all guests with a list of stuff to buy, including the premade kits, assorted candy, and a simple tutorial with illustrations that I found on Pinterest. If you have the time and your kid really wants to build their own house ahead of time rather than using a kit, it's good to do so at least three hours before decorating so the frosting has time to set, making it more structurally sound. That way you don't have collapses happening as you're decorating. I recommend using the Betty Crocker frosting that comes in a tub because it sets faster than other frostings.
I buy a whole wide range of candy for decorating (even though the kits do include some candy) and suggest setting it up like a little buffet for kids to grab from. I feel like extra candy gets the creative juices flowing. Whether it's for landscaping (extra sugar-gumdrop bushes) or focusing on details like house shingles (Cinnamon Toast Crunch cereal), having options gives them the opportunity to really use their imagination when it comes to decorating.
I usually get regular and mini size M&Ms, little candy canes that are good for fences, gum drops for shingles, pretzel squares for windows, marshmallows for bushes, peppermints because they have such a nice holiday feel, Dots, Junior Mints, Sprinkles, and Tic-Tacs in different colors. I also like to add food coloring to the frosting for grass and piping decorations onto the houses.
One year I got really fancy and bought holiday themed kid-sized chef's aprons and hats at Ikea. They were like $4 each so I bought one for every kid and a couple of extra. I actually just unearthed the remainder of them last night. When I did this party in person, I put the apron and hat at each kid's place setting on our dining room table with little name cards. But if you were organized enough you could easily send them out to each guest's house before the virtual party. You could also get blank aprons and chefs hats at Michaels or on Amazon and mail those out with a pack of fabric markers and let the kids decorate them.
I will cover the table in butcher paper and use that as a type of table cloth that kids can draw on as well.
Book your hosts
We chose Freshmade because the girls have been taking classes there forever, but since COVID there are a lot of other businesses that now do virtual party hosting. Taste Buds Kitchen in Chelsea is another option, as is the Dynamite Shop in Brooklyn.
(Note: This price is for one hour and up to ten families.)
One
week
before:
Pick
up
last-minute
grocery-store
supplies
Sparkling apple cider is fun for a kid's toast. It makes the event feel even more special and the kids feel "grown-up" because it looks like Champagne yet has a taste they are familiar with. I'll grab this at the grocery store along with extra candy. I also make sure I have Ziploc bags to use as makeshift piping bags. Using a knife or a spatula isn't as easy, especially when putting frosting on the narrow edge of a graham cracker, and it gets really messy. Just fill a Ziploc bag with your frosting and snip a tiny bit of the corner off to use. Some of the kits come with piping bags, but I would still suggest using Ziploc bags to pipe your frosting, both for constructing your gingerbread house and for decorating. Not only is it easier for little kids to hold and control, but it also lets you control the size of the nozzle. To keep the icing from falling out the back, seal the Ziploc and then push all the icing to one corner, before snipping.
The
night
before:
Set
everything
out
on
the
table
You want to set up all the candy and icing in a way that is easy to grab. Kind of like when you see cooking segments on TV, they already have everything set out and ready to go. Target has these plastic bowls for kids that are multicolored. Those are a good size for this. I do all the setting up on the dining room table the night before; I take the kits out of their boxes leaving the plastic wrap on and put them on the table. Then I'll put bowls out where I want the candy buffet. I put all the candy out, but I don't unwrap it until probably an hour before the party to keep my kids from eating it. If I fill the bowls with candy any earlier they will totally go and swipe stuff.
The premade gingerbread house kits come with a little cardboard base but I suggest putting down plastic cutting mats for each workstation as well. They're much bigger than a regular place mat and you can just wipe them clean when you're done. The ones we have happened to come in red and green, so they are perfect.
5:30 p.m.: Set up laptops and ring light
I use two laptops, one to run the party on Zoom and then one that is basically just the camera on my girls so that they can see and talk to people (and so I'm not reaching over them and trying to scroll around.) You definitely don't need to do that, but it makes it easier on me. If you are going to do two laptops, remember to mute one of them so you don't get crazy feedback sounds.
We go with a kind of fancy setup. I use a ring light just so the picture is very clear. I feel like it's important as the host that everyone can see you well. The one we have is great and costs about $20 bucks. It came with a little bag, a tripod, and a remote.
7 p.m.: Guests "arrive"
We limit the party to an hour, 90 minutes max, because people get Zoom fatigue. We ask the kids to introduce themselves, like "Hi, I'm Carter, and this is my brother, Danny and Alden from Atlanta." Then Freshmade will do a quick explanation of how to build a house for anybody who's interested, and they'll go on to give prompts and ask questions throughout, so it isn't just them lecturing; they'll call out certain kids and be like, "Oh great, Alden. Love what you're doing with your windows," making sure that people were all engaged.
7:45 p.m.: Gingerbread show and tell
Toward the end of the party everybody does a little show and tell, giving a sort of MTV Cribs–style tour of their gingerbread homes. All the kids end up being really proud of what they made. Most people get more creative with the landscaping than with the house, just because of the options of candies and materials that they can use. My niece, Brighter, who lives in Atlanta, did this really interesting technique of stacking her graham crackers for the roof, which made it look like a log cabin roof. Some people go all out and make multilevel homes. It's hard to do supertall structures with graham crackers and icing, but it can be done.
8 p.m.: Hang out on Zoom a little longer and clean up
An hour goes by really quickly, but ending a Zoom call can be awkward, so it helps if you have a set end time. That way you can say something like, "Hey everyone, we have two minutes left on this call; everyone say their last good-byes." We actually ended up keeping the line open for another 30 minutes or so chatting.
The butcher paper and plastic cutting mats makes cleanup really easy. Any leftover candies or icing packets just get scooped up in the butcher paper or wiped off the mats, into the trash.
The Strategist is designed to surface the most useful, expert recommendations for things to buy across the vast e-commerce landscape. Some of our latest conquests include the best acne treatments, rolling luggage, pillows for side sleepers, natural anxiety remedies, and bath towels. We update links when possible, but note that deals can expire and all prices are subject to change.