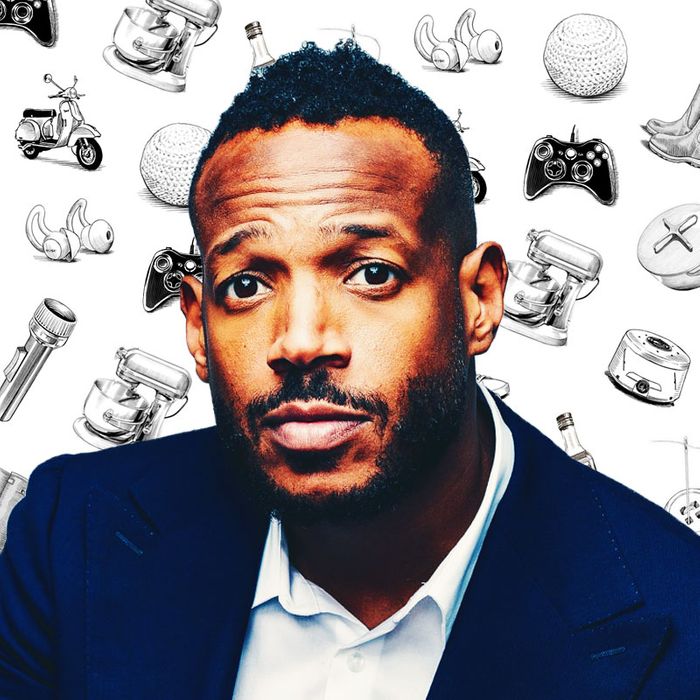 Photo-Illustration: The Strategist; Photo: Taylor Miller
If you're like us, you've probably wondered what famous people add to their carts. Not the JAR brooch and Louis XV chair but the hair spray and electric toothbrush. We asked actor and comedian Marlon Wayans — who's hosting the Daily Show from March 6 to 9 and whose HBO Max comedy special, God Loves Me, just came out — about his go-to snack, signature scent, and favorite sneakers he wears while performing.
I'm a big fan of John Elliott. It's simple and understated but still cool. Just grown-man clothes. I do some of my stand-up in these because they're lightweight and comfortable. I have a young face, but I'm 50, so I just want to feel comfortable. I don't want to think about what I'm wearing. I can go anywhere, from the airport to dinner, in a really nice John Elliott sweatsuit.
I've loved Jordans since I was a kid. I always told myself I'd work hard enough to afford a pair. Now, I own about 1,200 pairs of sneakers. Out of all of them, the OG Jordan 1s in black and red — or "bred" — are my favorite shoes. I've been performing in them since I started. No matter how sick or tired I am during a show (because sometimes I do three shows a night), I'll look down at my Jordans on my feet and feel like I can be the best version of me. Like Michael Jordan once scored 38 points with the flu against Utah, there are no excuses out there. I give it my all.
I've been wearing Jordans since The Wayans Bros. in 1995. Almost every episode I wore a different pair. They won't credit me with building the brand, but I was part of the building of that brand quietly, along with Will Smith on The Fresh Prince of Bel-Air and Martin Lawrence on Martin. When it came to television comedy, we were on the front lines representing. We did something right in terms of the culture.
I'm a Calvin man. I don't know how I went all these years without having an ad. It's in my rider. I perform in these T-shirts because they're soft without being too soft, formfitting yet loose, and durable — and they soak up sweat so I'm not looking crazy onstage. They're perfect. I wear them on tour, at the gym, and as an undershirt.
Like I said, I have to have my Calvins. I've been wearing these for the last 20 years. They fit well and keep me and my fellas cool. It's nice, clean cotton. I think almost all men should wear black underwear, because they don't know how to clean themselves. Some of these men wear white underwear, and their wives pick up behind them and are like, "This is a nasty ass." I don't have that problem. I wear white ones because I know how to clean myself like a grown-ass man.
I can wear white Calvins because I always have a washcloth on me. When I shower, I make sure I'm all clean. And even when I'm not showering, I keep them around because I sweat a lot. I'll use them throughout the day and throw them in the wash after. In my house, I have a bunch of them rolled up in the guest bathroom for people to wipe their hands. Once they get a couple uses, I toss them out and restock.
My mother always said, "Women don't like stank men. Make sure you smell good." So I make that a priority. This is my signature scent that I've been wearing since I was 17, I think. My whole family wears it too. It smells like a really dope spa — really clean. I'm not a big perfume guy, but I mix this with Byredo Rodeo because that's my favorite masculine scent. They actually discontinued this recently, so I bought up the rest of the bottles. It feels vital to my being.
[Editor's note: This product is discontinued, but we found it being resold on eBay.]
I'm not the only Black guy with cocoa butter on his list. This goes back all the way to my childhood. I mix this with some Vaseline and pop the Aveda on top of it. It's all a process to start my day smelling good and feeling moisturized. As the day progresses, I have to reapply — I think because of my eczema — but it works and keeps me pretty. Without this and Vaseline, I'd look like beef jerky.
Like I said, I'm a clean dude. I want to feel good, smell good, and that's breath included. Bad breath just makes people go, "I don't wanna do business with that guy." Or when you're on a date, it makes you second-guess a person, like something's stinking about him. So I make sure to always have this on me.
Some people like potato chips, but I like dry seaweed. It's healthier, and I've just gotten really accustomed to the taste. I think these are the best ones. I like their flavors, like chipotle and wasabi. But I'll also eat the regular ones with olive oil and salt and dip it in some Frank's RedHot sauce. I always have my pantry stocked with them, and it's in my rider.
The same thing goes with my sugar-free Runa. Before I do a show, I have to have my SeaSnax and this as part of my routine. This is like a really strong green tea. It's like a Red Bull, but all natural since it's made with guayusa leaves. It doesn't have ingredients that you can't pronounce. It gives me a nice kick of clean, sustained energy.
This is the microphone I use for every show and special I've ever done. If I don't have a Shure, I don't feel too sure about my performance. I know those microphones in and out. I know the mic grille and what kind of beat they could take. And I like the one with the wire because it's part of my animation. I use the entire microphone.
I have a HBO Max subscription because The Wayans Bros. and three of my specials are on there. I love watching my progression as a comedian and an artist. This new special, God Loves Me, is about how everything in your life is a catalyst for your growth and your own personal journey. I felt that way about the Chris Rock and Will Smith slap, and I talk about this in my special. I know all three of them — Jada, Will, and Chris — so well over the years. When I saw that, I remembered my experiences with each of them and how they affected me in some way. It's kind of a roast and a toast to my friends, reminding them that we all make mistakes, to find humor in this situation, and, most of all, for everyone to heal. That's one part of it, but the special is a reflection and kind of like a one-man play. It's all over the place. My brothers, my hardest critics who hate everything I've done for the past 30 years, were even like, this is brilliant. Keenen was like, "You changed the game. That's what makes a great comedy special. You did something no one ever did."
The Strategist is designed to surface the most useful, expert recommendations for things to buy across the vast e-commerce landscape. Some of our latest conquests include the best acne treatments, rolling luggage, pillows for side sleepers, natural anxiety remedies, and bath towels. We update links when possible, but note that deals can expire and all prices are subject to change.