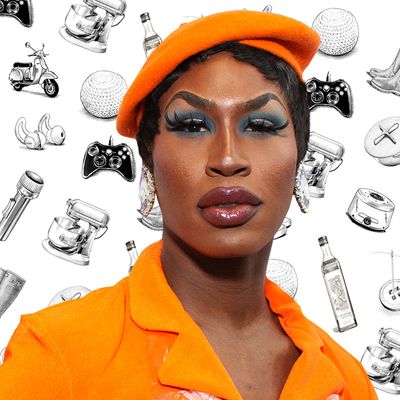 Photo-Illustration: Getty
If you're like us, you've probably wondered what famous people add to their carts. Not the JAR brooch and the Louis XV chair but the hair spray and the electric toothbrush. We asked drag queen Shea Couleé — who recently partnered with the Quiet Girl Shoppe to launch a bar soap — about the all-purpose surface cleaner, fragrance, and sunscreen she can't live without.
I use this for the SPF in it. I have a darker complexion, and most sunscreens leave a noticeable light-bluish cast on my skin. This is the first product I've used that just blends in without leaving a cast or having to vigorously rub in. It also has a high enough SPF for proper protection, so I don't have to compromise. It hydrates my skin well, too, but what's really cool about this is it's so lightweight that I actually use it as a primer. It smooths out the surface of my skin and evens my tone, so my makeup glides right over it and sits on top without issue.
I've been using this for a while. There are refill packets for it so you can save money and not buy another plastic bottle. A refill has lasted me up to eight weeks. The Citrus & Basil scent is intoxicating, and it cleans so well. My mom has even noticed. Her standards are very high when it comes to cleaning. When she comes over, I go absolutely crazy scrubbing the floorboards and moldings and countertops like they've never been scrubbed before. If you saw my childhood home, nothing is out of place. One time, my mom came over and asked me to heat up the coffee she just picked up in the microwave. I didn't know that my roommate's tomato soup had exploded all over inside. When my mom opened the microwave to put her coffee in, I saw this look of horror on her face. I pulled out my Everspring cleaner and wiped that mess up until it was Mom-level spotless. The next time she visited, she gave us a microwave-safe cover to put on top of bowls so soup wouldn't explode again.
This is very strong. I started off using it maybe twice a week, but after about six months, my sensitive skin built up a tolerance. It's been a few years now, and I use it almost every day. We all need an exfoliation moment in our routine. This is going to tingle. It's going to burn a little. But that is just the price we have to pay to get rid of those dead skin cells and have brighter, fresher skin. It really helps with the aftermath of breakouts, too. I read a lot about skin care from beauty blogs, but the best resource is my drag sister Farrah Moan. She knows so much about skin care that you can ask her about any product and she'll be able to tell you all about it. She put me on to Good Genes. Actually, I think Farrah single-handedly got the entire cast of RuPaul's Drag Race season nine into Good Genes. Someone needs to write that girl a check.
Baths are when I meditate. I try to take one every other day, at least. I'm a big bath-bomb girl, and this is the one I always come back to. It smells amazing — sort of smoky but floral all at once. And I come out of the bath so soft. I don't know what exact oil is in it, but whatever it is hydrates my skin like no other bath bomb. It makes this beautiful purple swirl in the water. I feel like Ariana Grande in her "God is a woman" music video every time I step into a bath. To be fair, that video actually inspired the bath bomb. But regardless, it's amazing stepping into a twinkly purple swirl in the tub.
I got an Oster immersion blender first. It was a little cheaper, and I wanted to see if I would use it a lot. After a couple months of consistent use, it burned out. So I was like, Might as well upgrade. I trust KitchenAid and love its products. This is so powerful. An immersion blender is great because you don't have to take out this gigantic, bulky blender to make soups or sauce or shakes. You just plug this in, drop it in whatever container you have your cream or sauce in, and whip that baby up. This makes the creamiest tomato soup ever, and I use it for protein shakes after the gym. It's so quick and easy and a lot less work to clean than a big blender.
I use this every night after I shower. I towel-dry my body and slather it in Bio-Oil. It's so nourishing and keeps my skin really hydrated. I was recently in Los Angeles for two months and probably went through a bottle every two weeks because it's so dry out there. But when I'm in Chicago, I typically use a bottle a month. I first found it in Target about a year ago. They had a buy-one-get-one-free sale, and I was like, This looks nice! I read the reviews on my phone right there, and people seemed to really like it. Plus, I love a good sale.
Like I said, I'm in love with KitchenAid. I would buy anything it makes. This is more powerful than a regular Nespresso machine. It can make espresso after espresso after espresso. Its motor is so strong, and it has the capacity to hold a lot of water. I host a lot at my home. We have Noodle Wednesdays, where I'll make a pasta dish or an Asian-inspired noodle dish — I use my immersion blender on these nights, too. After dinner, everyone typically wants a little espresso while we sit and talk. This is so fast and powerful that I can make them quickly for everybody without having to stand by the machine all night. And it has never burned out.
This fragrance smells like fresh linen. There are tons of fragrances out there that smell like fresh linen, but there's something different about this one. Maison Margiela fragrances tend to go back and forth between masculine and feminine, but this one feels very neutral. It's not gendered. I get so many compliments on it. People are always telling me, "You smell amazing!" And they ask me what I wear. The coolest person to ever compliment me on it has to be RuPaul. RuPaul always smells amazing herself, so she really knows her stuff when it comes to fragrance. When I told her it was Maison Margiela — I was actually wearing Maison Margiela shoes at the time, too — she told me that she loves John Galliano and watches a lot of his early-2000s Dior shows in the mornings to start her day. I told her that I too like to watch early-2000s John Galliano Dior fashion shows when I start my day. I couldn't believe that RuPaul and I had that in common and that she was impressed by my fragrance choice. It was one of those conversations I will never forget.
People always say, "Girl, you are so shiny and always moisturizing yourself." But it's so important. Our skin is our largest organ and first line of defense, so I always make sure it's moisturized and supple and strong. When I first decided to partner with The Quiet Girl Shoppe, I loved the idea of a shea-butter soap because of how moisturizing it is. But I wanted it to smell amazing too. This has a lovely, bright scent that's citrusy and floral. It's made from all-natural ingredients. There are jojoba beads in there for a little bit of exfoliation and extra moisture. Pink and orange are my power colors. I love them together; they just make me happy. So when I was thinking about what colors I wanted to make the soap, I instantly thought orange and pink. It's just so Shea Couleé.
The Strategist is designed to surface the most useful, expert recommendations for things to buy across the vast e-commerce landscape. Some of our latest conquests include the best acne treatments, rolling luggage, pillows for side sleepers, natural anxiety remedies, and bath towels. We update links when possible, but note that deals can expire and all prices are subject to change.