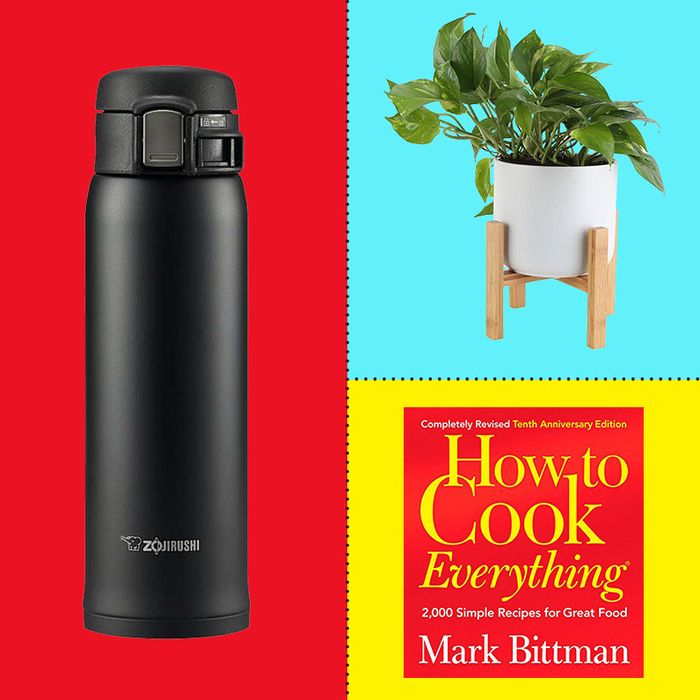 Photo: Courtesy of retailers
Dads are a tough crowd to shop for. In fact, if we may be so bold, they might even be tougher than moms. But have no fear, if you still haven't found the right gift in one of our guides, we're here to help with our personal suggestions. Below, what the Strategist editors are gifting this Father's Day. (Strategist dads, please look away.)
Anthony Rotunno, senior editor
My parents have a summer cottage in Delaware near the beach. They (particularly my dad) have put a lot of work into the house, and like to share the fruits of that labor with friends and family by inviting them to stay when they're not using it. For years, they've kept a guest book for visitors to jot notes and favorite memories from their stays in. To enhance that tradition, I want to give my dad one of these instant cameras, so that he and my mom can encourage loved ones to supplement their written memories of the house with visual ones.
I'm thinking I'll include this value pack of film, which should cover at least one summer's worth of memory capturing.
Maxine Builder, managing editor
I have a stack of books that I've been meaning to give my dad for months, so that's going to be his gift this Father's Day. (I realize this sounds somewhat thoughtless, but the reason I have so many books I've been meaning to give my dad is because I see books he'd like everywhere, all of the time, and I like to grab them for him as I go. If anything, take this as proof that I'm a great daughter who's always considering what he might be interested in reading.) The pile includes a Moby Dick pop-up book because the Melville epic is one of his favorite books and he appreciates a good illustration, and this book of photographs taken by Dennis Hopper in the 1960s, published by Taschen last year. I'm also getting him a copy of this book about the early days of the Haystack Mountain School of Crafts because he spends much of the year in Maine, not too far from where the seminal American school is located. (You see? Thoughtful!)
Alexis Swerdloff, editor
Just the other weekend, I was hanging out with my dad. He had spent the good part of the day on his bike. I asked, "Dad, have you had any water today?" To which he replied no, with a shrug. "Does a root beer count?" No, and it's time for my dad to have a water bottle. He is a yard-sale fanatic, and while he could definitely find a used water bottle at some point this summer, maybe I'll just splurge on his behalf and get him a new one. He will be getting a black Zojirushi, the unofficial Water Bottle of the Strategist (a lot of us own them). They're handsome, fun to drink out of (the lock is fun to click open and closed, and he's a futzer like his daughter), and keeps cold water very, very cold.
David Notis, writer
Okay, so I know a plant may seem like a lame Father's Day gift, especially when it's the humble pothos, but there is some context here! As I've started writing more about all things houseplant, I've learned that my dad actually is quite a plant expert, and it's a side of him I hadn't seen before. Apparently, he was really into plants in college; one thing that doesn't get much coverage is that houseplants were huge in the 1970s. It's kind of wild — whenever I talk about plants with my dad and mention ones I've bought or am thinking about buying, he is on it. He knows all the names. The proper names. I tell him about my snake plant and he's like, "Oh yeah, sansevieria are great." (That's not the best example; there are much more obscure ones he knows by their Latin names, too, but I can't remember which exactly. When I sent him a picture of my fiddle-leaf fig, he said, "That's a great ficus.") Basically, all the plants that are big now were big in the '70s, as far as I can tell. And it makes sense: tie-dye, beards, Birkenstocks, patterns and prints, Watergate. We're definitely reaching back to the late '60s and early '70s right now.
But I digress. So my dad and I have been talking about plants a lot, and I love hearing about his "plant dad" days before he was a dad dad. I've been encouraging him to get back in touch with his green thumb, but I think he's a little overwhelmed because he's not sure where to start. That's where the pothos comes in. It's one of the most resilient and easy plants, and it has a patently 1970s vibe, in my humble opinion. There's a wall shelf by a window in the front of the house, and I think this would do great there and look nice once the vines start hanging down. I love neon pothos right now, but I think that's a little too hypebeasty for him. I just bought myself a marble pothos, but that's a little trendy for his taste. He's a classic guy with some flair, so golden pothos felt like the one. I'm secretly hoping he gets really into plants again and then next year I can buy him a copper Haws watering can.
Chloe Anello, junior writer
My dad reads cookbooks every night before he goes to bed. Regardless if he actually uses the recipes, he says he reads them for the "technique tips." This year, I want to get him a simple book about building up technique. This one from Mark Bittman is intended just for that purpose and is apparently a classic. Although it's fairly simple and my father is a relatively advanced cook, he'll flip through it and find it relaxing, making it the perfect nighttime read. I can save the complicated French pastry books for another gift.
Dominique Pariso, writer
My dad has a pretty strict "I want you to save your money" policy when it comes to receiving gifts. Which is why, when I asked him what he wanted for Father's Day, he said he just wanted me to come home for the weekend (cue awwwws). With my Long Island Rail Road ticket bought and my (guilt) trip scheduled, I was a bit stumped on what to get him for his actual gift. But then I remembered that every time I go home, my dad is always grumbling that someone keeps stealing his phone charger. And while it is unclear at this juncture who the culprit is, this lock will keep them from striking again.
And I'll throw in this lightning cable since the charger he currently has will have to stay locked into one outlet.
Hilary Reid, writer
My parents love touring historic homes, and their most recent visit was to the Frederick Law Olmsted house and studio in Brookline, Massachusetts. After visiting the house, my dad became interested in Olmsted, who designed Central Park and the Emerald Necklace in Boston — and when my dad gets into a new historical topic, he reads everything he can about it. So, I'll be giving him Tony Horwitz's new book Spying on the South, which is about the time Olmsted spent as an undercover correspondent for the New York Times in the South in the years leading up to the Civil War. I'm looking forward to hearing all the highlights from him.
The Strategist is designed to surface the most useful, expert recommendations for things to buy across the vast e-commerce landscape. Some of our latest conquests include the best acne treatments, rolling luggage, pillows for side sleepers, natural anxiety remedies, and bath towels. We update links when possible, but note that deals can expire and all prices are subject to change.