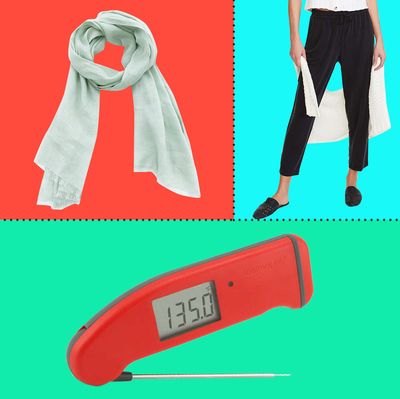 Some of our picks.
Photo: Courtesy of retailers
To be a Strategist editor means there's always a little bit of pressure to find the perfect gift for each and every loved one on any given occasion. But we carry that mantle with pride. Below, find the gifts we're planning on giving this Mother's Day. (Strategist moms, avert your eyes.)
Alexis Swerdloff, editor
My mother — like her daughter — loves an elastic-waisted black pant. Two holidays in a row I've gotten her various iterations of the L.L. Bean "Perfect Fit Pants," which she adores, and this year I thought I'd get her something a little more modern-feeling: Lou & Gray's Fluid Cupro Joggers. One of my best friends told me about them, and they are essentially pajama pants that you can wear to work. The silky (but machine-washable!) fabric is extremely pleasant-feeling, and the taper is elegant without feeling trendy. Plus, she can wear them to a "conference," which for her is always the ultimate goal when it comes to anything she buys. She would kill me if I paid $98 on her, so I might wait till they go on sale to pull the trigger.
Jason Chen, deputy editor
Years ago, I got these readers with U-shaped lenses sent to the office that I immediately gave to my mom. She's told me that every time she whips them out, she gets questions about them, and for the life of me I can't remember what they're called (internet, help!). Until I find those, I've heard really good things about these ThinOptics glasses, and the fact that they have no temples mean she'll get lots of her coveted "oohs," too.
Months ago, Bearaby was kind enough to send me their new napper weighted blanket to try, and while I thought it was fine, my mom wouldn't stop talking about it after coming over to visit ("I like that the weight doesn't shift! Do you think 15 or 20 pounds for me?"). She's brought it up so many times that at this point, I just want to shut it down.
I'm going to preface this by saying these are not my taste AT ALL, but my mom was so enamored of these "forever roses" one of her friends was gifted that I know they'd at least be a total home run. If I go with a $400 box, though (and really, this is no place to skimp), she's not getting any other presents.
Anthony Rotunno, senior editor
This summer, my mom and dad are going to walk the Camino de Santiago, a 500 mile trail that begins in France and ends in Spain. They're not doing the whole route, but they'll still be walking as many as 20 miles a day for about a week. Socks may not scream Mother's Day, but soft and lightweight things do, and these ankle socks by Strategist-approved brand Bombas are both (I know from experience — the calf-length Bombas I got for Christmas quickly became my go to pairs, because they feel so good — and stay in place — even after a day of running around). Plus, the eight-pack means she'll have a fresh pair for each day of her journey.
David Notis, writer
I was home for Passover a couple weeks ago, baking with my mom who is an incredible baker. She was whisking some sugar over double-boiler, tracking the temperature with some old thermometer, and made a comment that she really needs to get a new one. I made a mental note. I've actually thought of getting her a Thermapen MK4 for a few years now, but could never manage to spring for it, but this year I think it's finally time. My mom definitely knows about it — she's been a Cooks Illustrated subscriber for like 20 years, so she knows what's up — but it's the type of thing that's a little overboard so she'll probably never get it for herself. Also, this way I get to try it out next time I'm home.
Photo: © 2015 Products On White Photography
I learned about this company, Choiselle, when I wrote an article about hand models' favorite products. (One model told me about using Choiselle's face serum every night on her hands). The company sent me a candle as a gift, and I completely love it. I usually don't like scented candles, because when I use them in my small bedroom, the smell quickly gets overpowering and can give me a headache. My mom is even more sensitive than I am to that sort of thing, and I'm very cautious about giving her anything scented. I know about the storage cabinet that holds all the beautifully wrapped things that "just smelled too strong," never to be seen again.
Maybe these are famous last words, but I think she would actually use this candle. It's not that the scent is completely minimal, but it's just so natural. It's the first scented candle I've used that I can actually let burn for a few hours and really enjoy. It's made with coconut wax instead of soy wax, and I think that makes a difference. The fragrance comes from lavender essential oil, that's it. The scent fills the room but in a light way. It also has a wooden wick instead of a cotton one, so it makes a soft crackle as it burns. It's really relaxing, and I think she'll like it. Fingers crossed.
Maxine Builder, managing editor
My mom is still taking all of her photos on her phone, though she's upgraded to a Samsung Galaxy S10 since last year, and over the last few months, she's been asking for prints of her new, high-quality images. So my plan is to get her a gift certificate to Keepsake, then download their fairly easy-to-use app onto her phone. This way, she can go through her Instagram and photo library and pick the images she wants to print and frame. (Of course, I'll be sitting next to her the entire time, playing the role of her personal IT concierge.)
Lori Keong, writer
Moms love linen, this we know, so when I got my hands on some homespun linen from a brand called Rough Linen earlier this year, I felt like she would enjoy it, too. I gave her this mint scarf a little early when I visited for Easter and she wore it pretty much immediately to church, so I know it will be useful for layering during A/C season in Georgia. She already remarked on how it's big enough to wear as a shawl, so it's not just decorative, and the mint-green color looks very fresh for spring.
The first and last time my mom got a pedicure was last summer, when I paid for both of us to get our nails done. She loved it (the pumice portion was a revelation for her) and always talks about going back, but confoundingly NEVER does, so I'm going to make it happen again for Mother's Day this year. My sister, who's a new mom, deserves one, too, so it'll be a family affair — pedicures for everyone. I generally prefer to let the professionals do it, but I recently stumbled upon a collapsible version of those pedicure foot baths for home, which feels like a nice at-home addition, even if she's only throwing in some Epsom salts in there after a long day.
Karen Adelson, writer
My mom got a Peloton bike in October and has already done an insane number of rides (I think 200 as of her last update). She's really not one for getting gifts, but I figure anything that feeds into her current obsession will be a hit. I like that the logo on this hoodie is fairly subtle, and it looks very cozy, too.
Liza Corsillo, writer
For as long as I can remember my mother has juggled work, family, and her fine-art practice. Her studio spaces over the years were magical and mysterious and a great source of inspiration for me. I think she already has Mason Currey's first book, Daily Rituals: Artists at Work. But the sequel, which focuses solely on women artists, writers, dancers, and more, is a reassuring meditation on devoting oneself to a creative process — and how to recover from distractions. It's also my favorite kind of book to give, the kind you can open to any page and read ten minutes at a time.
Dominique Pariso, writer
While my mom has a collection of houseplants to rival that of most plantfluencers, she is seriously lacking in gear. The last time I was home, she was watering them using a giant novelty Slurpee cup. It was … hard to watch. But as luck would have it, my dedicated colleagues and I just spend a whole week dedicated to plants. So, I've decided to get her a Haws watering can which, as my colleague David wrote, has "a distinct heritage, a price tag that's high but not prohibitive, and an immediately recognizable shape to those in the know." My mother cares about exactly none of these things, but the Haws copper finish elevates this from a purely practical gift into something a little more special.
The Strategist is designed to surface the most useful, expert recommendations for things to buy across the vast e-commerce landscape. Some of our latest conquests include the best acne treatments, rolling luggage, pillows for side sleepers, natural anxiety remedies, and bath towels. We update links when possible, but note that deals can expire and all prices are subject to change.