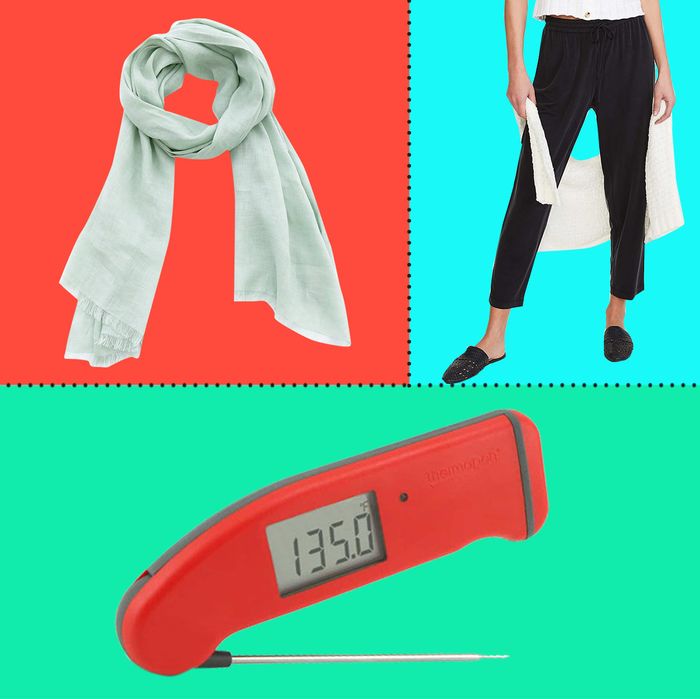 Some of our picks.
Photo: Courtesy of retailers
To be a Strategist editor means there's always a little bit of pressure to find the perfect gift for each and every loved one on any given occasion. But we carry that mantle with pride. Below, find the gifts we're planning on giving this Mother's Day. (Strategist moms, avert your eyes.)
Alexis Swerdloff, editor
My mother — like her daughter — loves an elastic-waisted black pant. Two holidays in a row I've gotten her various iterations of the L.L. Bean "Perfect Fit Pants," which she adores, and this year I thought I'd get her something a little more modern-feeling: Lou & Gray's Fluid Cupro Joggers. One of my best friends told me about them, and they are essentially pajama pants that you can wear to work. The silky (but machine-washable!) fabric is extremely pleasant-feeling, and the taper is elegant without feeling trendy. Plus, she can wear them to a "conference," which for her is always the ultimate goal when it comes to anything she buys. She would kill me if I paid $98 on her, so I might wait till they go on sale to pull the trigger.
Jason Chen, deputy editor
Years ago, I got these readers with U-shaped lenses sent to the office that I immediately gave to my mom. She's told me that every time she whips them out, she gets questions about them, and for the life of me I can't remember what they're called (internet, help!). Until I find those, I've heard really good things about these ThinOptics glasses, and the fact that they have no temples mean she'll get lots of her coveted "oohs," too.
Months ago, Bearaby was kind enough to send me their new napper weighted blanket to try, and while I thought it was fine, my mom wouldn't stop talking about it after coming over to visit ("I like that the weight doesn't shift! Do you think 15 or 20 pounds for me?"). She's brought it up so many times that at this point, I just want to shut it down.
I'm going to preface this by saying these are not my taste AT ALL, but my mom was so enamored of these "forever roses" one of her friends was gifted that I know they'd at least be a total home run. If I go with a $400 box, though (and really, this is no place to skimp), she's not getting any other presents.
Anthony Rotunno, senior editor
This summer, my mom and dad are going to walk the Camino de Santiago, a 500 mile trail that begins in France and ends in Spain. They're not doing the whole route, but they'll still be walking as many as 20 miles a day for about a week. Socks may not scream Mother's Day, but soft and lightweight things do, and these ankle socks by Strategist-approved brand Bombas are both (I know from experience — the calf-length Bombas I got for Christmas quickly became my go to pairs, because they feel so good — and stay in place — even after a day of running around). Plus, the eight-pack means she'll have a fresh pair for each day of her journey.
David Notis, writer