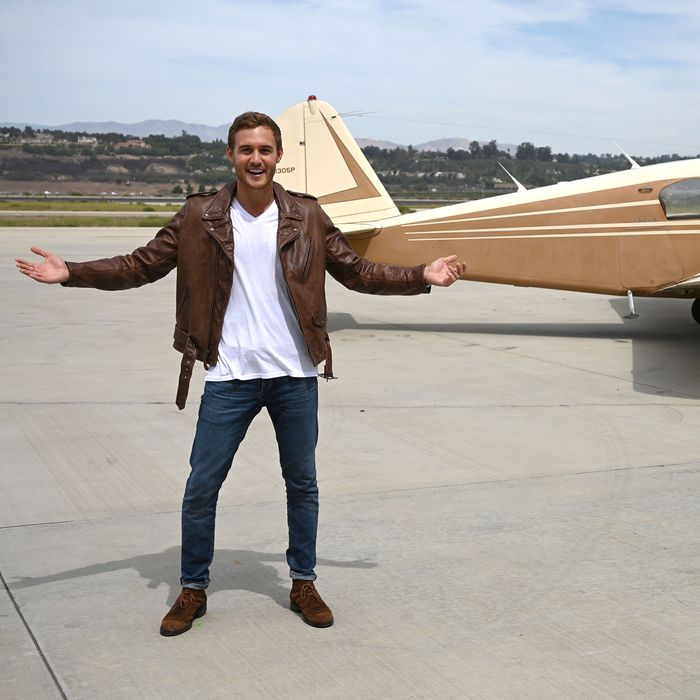 Photo: John Fleenor/ABC via Getty Images
It's kind of obvious, but pilots travel … all the time. And often, even when they're not in-flight, they're away from home, living out of a suitcase in need of a lot of the same travel essentials any other jet-setter would need. However, there are a number of specific things they need in-flight, on the ground, and even outside the airport to both relax and do their job, which usually happens at 30,000 feet. So to find the best gifts for this very particular group of people, we talked to airline pilots, solo pilots, and flight instructors about the on- and off-duty gifts they really want, including headphones, a coffee-maker (that they can use in-flight), and a fighter jet plane flying experience.
This portable coffee-maker was recommended by more than one of the pilots we spoke to, because according to Andreea Litescu, a pilot for Wizz Air, "There is no life before coffee and there is nothing more beautiful than enjoying a Nespresso coffee in the best office in the world, our cockpit at 12,000 meters in an Airbus 321, traveling at 800 kilometers per hour during a sunrise or a sunset." This machine is perfect for in-flight use because it doesn't require batteries or electricity. According to the product description, you just add coffee grounds to the filter basket, add hot water to the water tank, and use the piston to pump out your cup of joe. Justin Siems, a corporate pilot and host of the podcast Pilot to Pilot, also thinks this coffee-maker makes a great gift. He adds, "Make sure to get the Nespresso attachment, serious life changer."
Just like passengers, pilots are concerned with their ears. And for flight instructor Laurel Davis, this Bose headset is one of the things that makes her job a little more pleasant. "I have the set with bluetooth so I can listen to music or podcasts on long cross-countries," she says. "I think all pilots should own a pair. They're expensive but definitely worth it." Boeing 737 airline pilot Maria Pettersson likes these too — especially since they are noise-canceling, which she says is a "must when sitting in a loud cockpit all day." While most airlines will provide aviation headsets for their pilots, if you want to bring your own or fly solo, these were the favorite among the pilots we talked to.
"Every pilot must have one; however, its size is sometimes debatable," says Danielle Jackson, an airline transport pilot. "The best would be a medium size with an excellent beam length, as we need to be able to see to the top of the aircraft's fin," she says, but notes, "Keychain flashlights may be cute but not practical, and you don't want to haul around in a flight bag something the size and weight of a rolling pin." This mini Maglite is just the right size, in her eyes. It's about six inches long, and even when loaded with batteries, it only weighs four ounces. We've written about this brand before, and writer Steven John says, "They're nothing if not dependable."
If you're shopping for a flight instructor, Davis says this book is helpful in teaching maneuvers because "it shows examples of what I should include when drawing things out on the white board."
Unlike cars, planes don't have a built-in outlet for charging phones, so a backup battery is essential for many pilots. This one was made specifically with pilots in mind and won't interfere with the radios when brought into the cockpit. Davis appreciates this one because it can charge your phone and iPad at the same time, which she needs to use some of her apps.
Airline captain Jake Nelson prefers this battery. "I keep a portable power bank fully charged in my flight bag 'just in case,'" he says. "In addition to keeping my cell phone charged, I can also top off my wireless headphones and iPad." This one is compatible with all phones and has two USB ports, too.
"Pilot or not, we all need to charge our devices, and as pilots, traveling between different countries is part of daily life so a multi-way travel adapter, even two, can be really useful and avoids the worry of trying to charge a phone at 3 a.m. in an unknown destination with unknown sockets," says Jackson. This one has two USB ports, accommodates two- and three-prong cords, and works in over 150 countries.
Pilots don't live off of premade airplane food and Biscoff. Some, like Nelson, prefer to bring their own food. "These bags are fantastic for those of us who try to bring home-cooked food on our trips," he explains. "They are reusable silicone food bags that are durable, microwave-safe, oven-safe and dishwasher-safe. I try to avoid eating out on trips since I follow the Keto diet, and these bags allow me to keep my meal-prepped food." We've written about these Stasher bags before on the Strategist, but one perk of the silicone that we've never realized is that they're oven-safe, "so they can be used in the on-board ovens," says Nelson.
Jackson also thinks a reusable insulated water bottle is a great gift. As a pilot based in Europe, her recommendation is this 500-milliliter flask from a U.K.-based company called Clim8. She likes it because "not only are they leak-proof but they keep drinks hot for 12 hours or cold for 24." It also helps her live more sustainably because it "saves so many single-use plastics you get on the aircraft, and you can carry it around easily in a flight bag." If you don't want to wait for it to ship overseas, this Strategist-approved S'Well water bottle has a similar style and specs.
Ruben Garay, a first officer at American Airlines, finds that this card holder is another great organizational tool for pilots. "I like this to hold my crew ID and licenses," he says. "It's made of top-quality materials and has tons of extra pockets in the back to hold additional cards. Some people just use the ID and attach it with a tiny clamp to their shirt, but I find this to be more protective against the elements. It's got a Velcro side so you can remove the back if you want it lighter. It's got a pen holder as well, which always comes handy in the cockpit."
Five pilots recommended gifting Ray-Ban sunglasses. As pilot Petra Lorenz, a flight instructor and examiner on Embraer 195 for Austrian Airlines, points out, "High-quality sunglasses are a must for the eyes being exposed to harmful rays in the air much more than on-ground," and aviators apparently prefer this aptly named style. "The Ray-Ban Aviator Classic sunglasses are a must-have for any pilot that wants to enjoy the beauty of nature from sunrise to sunset and have the best sun protection so needed during different flying phases," says Litescu. Nelson, who admittedly prefers the Wayfarer style thinks that no matter which one you go with, they should be non-polarized because "polarized lenses can interfere with our Electronic Flight Bags (aka iPads with our charts and company documents) as well as our digital flight instruments in the flight deck."
Both Litescu and Anna Genevieve Nguyen, a solo pilot currently training for her private-pilot certificate, says your pilot friend could use a nice pen. "As pilots, we have to sign a lot of documents and fill in the flight details, so it is important to always have a pen around," Litescu says. Her recommendation is this fancy Montblanc option with a cosmic, space exploration motif. Airline pilots aren't exactly flying that high up, but the sentiment is there. For Litescu, the pen serves as more of a reminder of Mont Blanc, the mountain: "StarWalker is a constant reminder of how beautiful nature is, and I'm always impressed about the Mont Blanc greatness when I fly inbound Torino Airport or Geneva Airport and cross the summit at around 18,000 feet next to it."
"Pilots are notorious for carrying a lot of gear, and pilot bags are also notorious for being outdated and chunky," Siems says, and this bag is a good place to store all of the tech gadgets and travel accessories they cart around. "The Travel Pack 2 Small is perfect for storing your headset, camera, and other pilot essentials." This version also has three exterior zip pockets, an exterior slip pocket, interior laptop sleeve, two interior compartments, five interior slip pockets, two interior pen sleeves, and even a zip shoe compartment at the bottom of the bag.