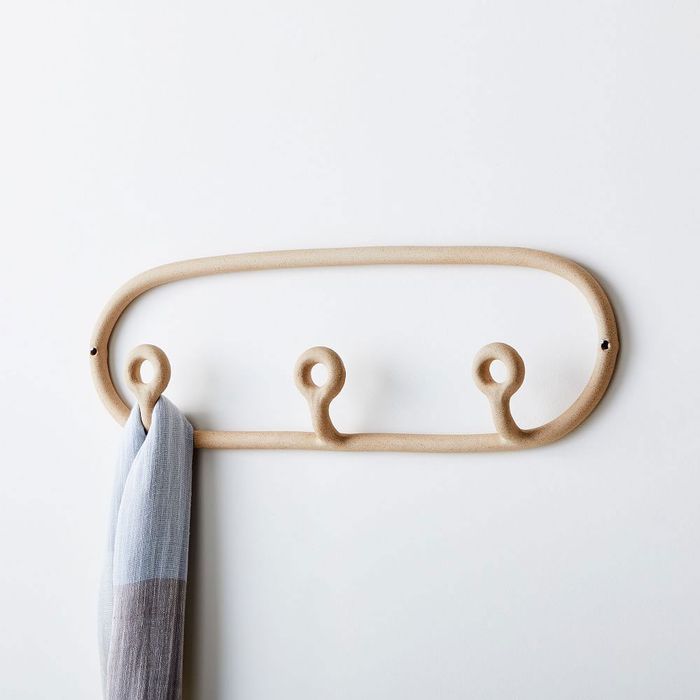 In our advice column, Ask the Strategist, we take your most burning shopping questions and survey friends, call up experts, and draw on our own personal experience to answer them. As always, please email any online-shopping-related queries to strategist@nymag.com with the subject Ask the Strategist — we're here to help.
Can you round up some cute hooks or pegs to hang masks on by a door?
Whether we like it or not, face masks have become a staple in our daily lives (and wardrobes). Which means, like any other wardrobe staple, we now not only have to think about how best to take care of them, but where to store them when we're not wearing them. Because they're an essential on par with our wallets, phones, and keys, it makes sense that you'd want to hang them somewhere impossible to miss as you leave the house, not far from the dog leashes, umbrellas, or reusable grocery totes you may also stash by your front door. But wall hooks can quickly give a space a college-dorm feel, so it's understandable you want something a bit nicer to look at. Below, I've rounded up several hook and peg options for hanging masks (or dog leashes, umbrellas, or reusable grocery totes) that are as good-looking as they are practical.
A single row of hooks on a wall-mounted rack makes the most sense from an organizational perspective, especially since you don't want your masks to be touching anything else (for sanitary reasons). I love the scalloped design on this sculptural six-hook piece made from resin that feels a bit earthy and primitive. And it's easy enough to install as it just takes two screws to attach it to a wall.
With its handcrafted, stoneware design, this three-hook piece is more like a functional work of art. (I see it as the more sophisticated older sister of the above set of hooks.) Also available in black, it's made by Brooklyn-based designer Virginia Sin, who is known for her brutalist, coiled designs, and also installs with two screws (the mounting hardware is included).
If you prefer individual hooks to a row of them, consider this pair from Fundamental Berlin. I love that the crystal hooks, which come with screws for mounting, double as tiny mirrors. They're coated with a chromatic film that also refracts the light, creating a lovely effect on your walls.
If you're short on wall space, this elegant cast-iron hook won't take up much and still has multiple arms (complete with tiny ceramic knobs) for hanging. The mounting hardware does not come with it, though.
For a more industrial look, you can try one (or a couple) of these matte black hooks with brass bolt accents.
If walls (or the hooks on them) could talk, we imagine this one would say, "Stop! Did you remember your mask?" Made of cast brass, it has several fingers to hang things from, but requires mounting hardware to be bought separately. It's also available for preorder and will ship in October, according to the retailer.
While they're not exactly cute, these adhesive hooks from 3M's Command line are small enough to be unobtrusive, so your fun printed masks will stand out more than the hooks themselves. The slim wire hooks can hold up to half a pound in weight; this set comes with 16 hooks an 24 adhesive slips that pull off cleanly. (Tim Gunn told us he always uses Command's adhesive products for his hanging projects because " they don't leave any holes in my walls.")
For an even more minimalist look, these Command hooks have a clear base, making them virtually invisible except for the hook and mask hanging from it.
This sleek and simple four-hook piece with a matte-black finish and rounded corners will give an entryway a bit more contemporary flair. Bonus: Mounting screws are included.
A farmhouse-style rack of five hooks would look good in just about any space (including any of Nancy Meyers's kitchen sets). This one from AmazonBasics has a wooden base (the mounting hardware is included) and its double metal hooks hold up to five pounds each, which means you can hang coats, bags, and other larger items in addition to your masks.
These affordable geometric bamboo pegs look less like hooks than they do wooden sculptures thanks to each one's angled design and hidden mounting hardware (fasteners are included but you need your own screws). They'd look right at home in a Scandinavian-inspired home — or make any space look a little more like a Scandinavian-inspired home.