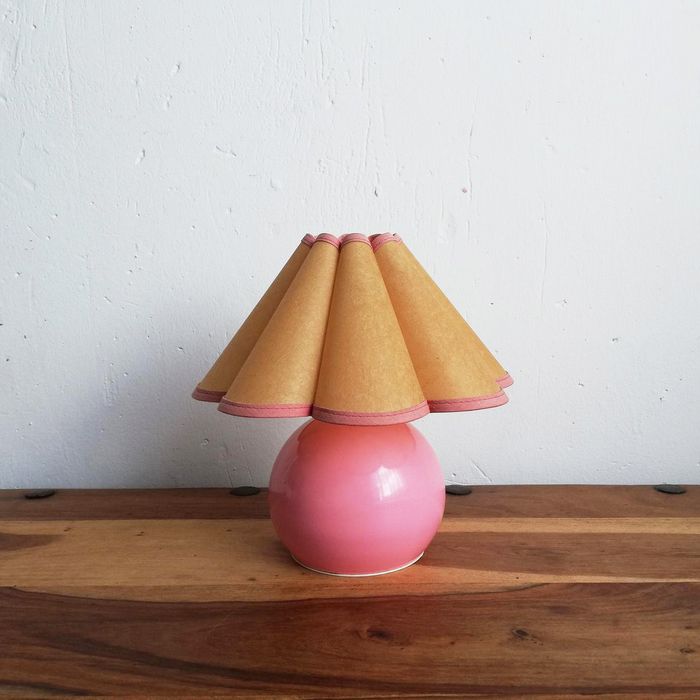 Now that the sun sets at approximately 4 p.m., there has never been a better time to add a new lamp or three to your home. And while there's certainly no shortage of options out there, that Tolomeo floor lamp or brass Art Deco sconce will easily set you back hundreds, if not thousands, of dollars. Fortunately, we have unearthed a haven for (relatively) affordable lamps on Etsy. The shop is called the LampMuseum, and, inside it's pages, one can find everything from a brown marbled Murano mushroom to a vintage Ikea sconce (that easily passes for a Design Within Reach piece) to a Hans-Agne Jakobsson pendant for a fraction of the price you'd pay at an antique shop. The LampMuseum doesn't specialize in a single style — its wares run the gamut from architect-worthy task lamps to chintzy gingham shades — but it does have a particularly large selection of pleated options, many of which remind us of the extremely popular (and generally over $1,000) Mads Caprani lamps that vintage shops like Bi-Rite Studio and Home Union generally can't keep in stock for more than a few minutes. Below, some of our favorites — just note that these are one of a kind, so if you see one that really lights you up (sorry), hop to it.
One of the first lamps to catch our eye on LampMuseum: this cherry-red vintage Ikea number that will cast a rosy glow in any room and calls to mind this (three times as expensive) mushroom lamp.
A pleasingly bubblegum-colored ceramic lamp with a tan fluted lampshade that will give off warm light.
You'll have to buy a shade for this one separately, but we're charmed by this lamp's decidedly kindercore wood block base.
The glass mushroom lamp has reigned supreme on our Instagram feeds over the past year, and if you've yet to find the mushroom that's right for you, perhaps this charming brown and white lamp is the one.
A vintage Ikea sconce that looks like something from Design Within Reach for about half the price, with a gray metal shade that will go with any number of décor schemes.
If traditional is more your style, we like the blue and white flor