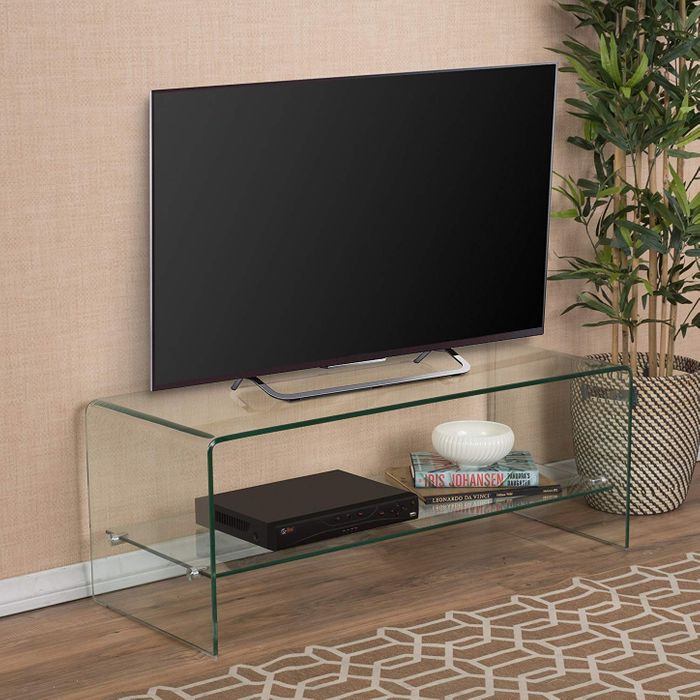 Photo: Courtesy of the Retailer
If you just moved into a new apartment or recently bought a new TV, you might find yourself needing one very specific piece of furniture: a media stand. We know it might not feel strictly necessary because it's easy enough to sub in a random end table or item you already own, but a decent media stand can really make a big difference in terms of design. Plus it provides a stable base for your TV and gives you some storage space to tidy up all those cords and wires.
You generally want to look for something low to the ground so the center of the TV is comfortable within your eyeline when you're seated, and you want it to be wide enough to fully encompass the width of your TV (but this rule of thumb is more about aesthetics than structural integrity). And though there are a lot of great media stands online, we found some that are a little more interesting than that standard rectangular wood-veneer one you see everywhere. We also found a bunch of other things that would actually make great media stands even though they weren't designed with that intention. The good thing about these is they're just as functional as a traditional media stand but they free you up a bit design-wise.
Actual media stands
If you want to work the angles, this Z-shaped stand is unique.
Buying artisan-made furniture built from repurposed wood and hardware is great, but it's also really expensive. This gives you a similar look for a more reasonable price. Plus it seems super-sturdy and is wide enough for pretty much any TV.
A mid-century-modern dupe of sorts. The semi-open slatted design gives you the best of both worlds: When closed, it hides all your media components and wires, but it should be open enough not to interfere with your remote control.
The product description says this can accommodate up to 43-inch TVs, and the price is good.
Materials for media stands in this price range tend to be pretty limited: You're looking at metal, particleboard, plastic, or hardwood at best. This tempered-glass model is something a little different.
This media console is clean, modern, eye-pleasing, and, dare we say it, even a little chubby.
A large stand with a Scandi-modern vibe.
Other nice-looking things that would make great media stands
The difference between shoe racks and media stands mostly comes down to semantics. Shoe racks like this don't have a solid backing, so the wires are more exposed, but the benefit of open shelving is that it's a lot easier to access components when necessary and the overall feel is just "lighter" in the room.
We like that this one is a little asymmetrical, with the middle shelf set off to one side. It's about 34 inches wide, so it should work for any TV around 36 inches and under. And one bonus of using a shoe rack as a media stand: It's easy to repurpose for organization or, of course, as a shoe rack.
This red metal stand looks a bit like a school locker on the outside, but it's the perfect height and size for a large TV. At 48 inches wide, it should work well for any TV screen of about 50 inches or under. With the doors closed, it has a nice clean, minimalist look.
This storage unit is designed to be used in an office, but it would actually make a handy media stand, especially if you're short on storage space. You could use the file-cabinet drawers to organize documents (and that TV instruction manual you've probably never looked at) with some hanging folders.
This storage cabinet designed for children's classrooms would make for a sturdy media stand, and since it's made to endure the wear and tear of an elementary-school setting, it can probably handle some moves every few years.
This simple metal-and-wood bench would make for a sturdy media stand — as many benches do. It would be an especially good choice for larger TVs because it's low to the ground, and at 63-inches wide it should be able to accommodate pretty much any reasonably sized TV.
A distressed, industrial-looking metal bench.