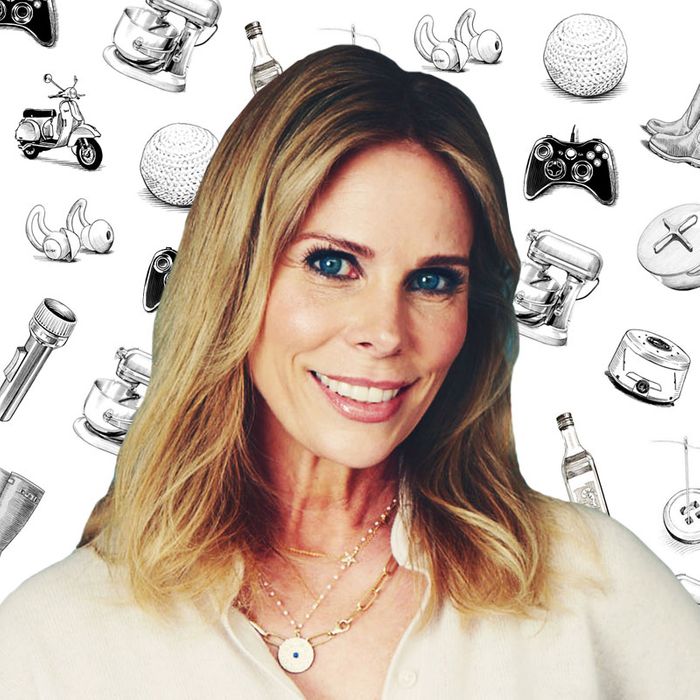 Illustration: Joe McKendry, Photo: Courtesy of NAKEDCASHMERE
If you're like us, you've probably wondered what famous people add to their carts. Not the JAR brooch and Louis XV chair but the hair spray and the electric toothbrush. We asked actress Cheryl Hines — who recently partnered with Naked Cashmere for its "Love" collection campaign — about the vacuum, razors, and lip balm she can't live without.
Larry David actually introduced me to peppermint oil. Everyone is vigilant about fresh breath on the set of Curb Your Enthusiasm. There are many ways to keep your breath fresh, but I really like using peppermint oil. I used to always see Larry put a little bit on the back of his hand then lick it off. Keep in mind, the show has been on for 20 years, so he's probably been doing this for that long or longer. I told him I wanted to try it and I became addicted. When you lick it off your hand, it wakes you up and gives you fresh breath. It's almost like doing a shot of tequila, when you put the salt on your hand, lick it, then take the shot. But can you imagine licking your hand now? Absolutely not. We'll have to find a COVID-friendly way to use peppermint oil, like rubbing it into your palms then breathing it in. I've been using the oil from Plant Therapy. I like how little the bottles are, because I can just throw one in my purse.
I've been using this for probably ten years or more. I use it all day and at night before I go to bed. I love that it has a little SPF in it and how it makes my lips look healthy. The balm brings out your lips' natural color, you don't even have to apply lipstick or gloss after using it. I prefer the tin because sticks can be a little too thick and waxy for me. This has a really nice texture.
When I bought my house, there was a rack in the kitchen that I think was intended for cookbooks. But I don't really use cookbooks, so I thought about other ways I could use the rack. I realized mason jars would fit perfectly, so I started putting them in it. The rack is next to a water dispenser and having the jars near it helps prevent my family from using plastic water bottles. My family takes the jars everywhere, but they don't fit in a cup holder, so I often find them on the floor of my car when I get in. I also use the jars to store things like nuts, popcorn, chocolate chips, dried pineapple, marshmallows, and other stuff. I even use them to make salads. If I'm going to work, the night before I'll put some dressing at the bottom of a jar, then a layer of carrots and garbanzo beans, then lettuce on top. I stick it in the fridge and grab it the next day.
I can spend a lot of time in Bed Bath & Beyond — hours, honestly. I try to go every two months — if I went any more, I would be very broke. That's where I saw this vacuum. I'm not much of a housekeeper, but I needed a new one and this seemed easy to use. The vacuum doesn't have a cord or a bag, you charge it and then empty the canister when you're done. Now I say it's the best thing I've ever bought from Bed Bath & Beyond, and I buy a lot of stuff there. My husband takes the dogs for a hike every morning and they track in a lot of dirt. The dogs also sleep in the kitchen and shed a lot, so I try to at least vacuum in there. I don't do the whole house. Are you kidding me?
I started using Retrouvé products a few years ago. My whole routine, except for my lip balm, is Retrouvé. The whole line is beautiful, but I really, really love this moisturizer. It comes in a glass jar and it's made from clean ingredients. It's not cheap, so I only use a little bit, but honestly that's all you need. A jar lasts a long time. My skin is very dry, so I like the thickness of it. I put it on at night, let it soak in, then my skin glows in the morning. It's really worth the price.
I chew a lot of gum. It puts me in a good mood. Sometimes I'll go through an entire pack while I sit in traffic. I just sit there and chew a piece of gum until I get bored with that piece, then spit it out and start chewing a new one. The first few chews of this gum are the best. It has this coating, so when you bite into a piece, it cracks. Oh, it's so delicious. The flavor lasts a long time, but I chew it for that little crunch in the beginning. It reminds me of Double Bubble gum from my childhood. I chew it so much that I have to be super disciplined about spitting it out before I walk into a meeting. Sometimes I forget. There's nothing more obnoxious than somebody chomping away at a piece of gum during a meeting.
Somebody recommended the Airwrap to me, but I resisted for a long time because it's so expensive. I just felt like there's no way it could be worth it. I mean, it's just a blow-dry brush, right? But I kept thinking about it. Sometimes when I get a new job, I will buy myself a present. That's how I decided I'd finally try this. It was very indulgent and I wouldn't have bought it for any other reason, but I have to tell you, it is so worth the money. It made a huge difference in my morning routine. I can read emails while I'm brushing the dryer through my hair — I don't have to look at the back of my head while I brush it. It smooths my hair out so beautifully that sometimes I think it looks like I got it professionally done. I used to go to the blow-dry bar once a week, but now I haven't been in a really long time. So even though it was more money upfront, it has probably saved me money overall. It has saved me time, too, which is the best part.
These were another step away from single-use plastic. I found them in an online search. I have a big family that seems to go through a lot of razors, so I was looking for ones made from recycled plastic. These are exactly that: They're made from recycled ocean plastic and even arrive in a little brown bag, instead of plastic. I think they last as long, if not longer, than bigger brands' razors.
Cashmere is my uniform. I wear it almost every day. I know I have a problem. It's always 75 degrees in L.A., but when the sun goes down it gets a little colder and cashmere helps me easily adjust to the changes in temperature. It's not too heavy and feels really cozy. I'll wear this wrap with a cute summer dress or pair it with the brand's cashmere tank top. What's amazing about this wrap, too, is that for every one sold, the company promises to donate $50 to the Breast Cancer Research Foundation.
The Strategist is designed to surface the most useful, expert recommendations for things to buy across the vast e-commerce landscape. Some of our latest conquests include the best acne treatments, rolling luggage, pillows for side sleepers, natural anxiety remedies, and bath towels. We update links when possible, but note that deals can expire and all prices are subject to change.