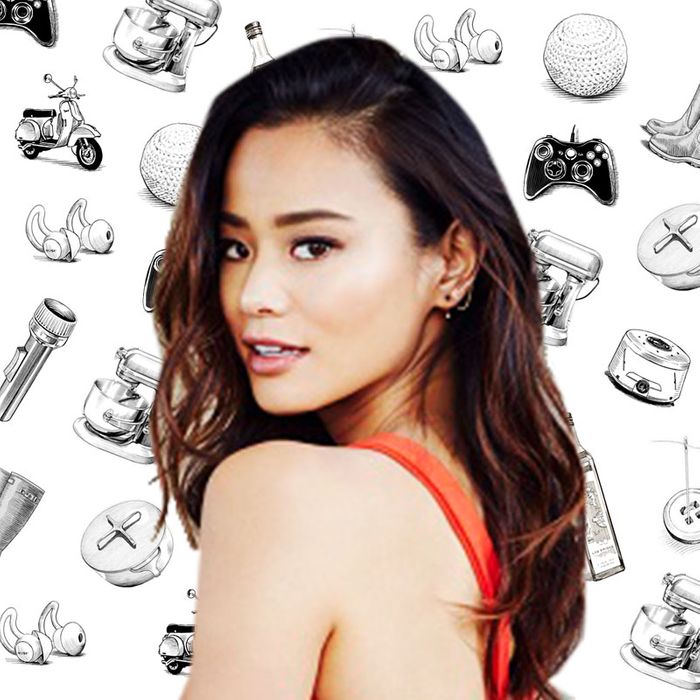 Photo-Illustration: Courtesy
If you're like us, you've probably wondered what famous people add to their carts. Not the JAR brooch and Louis XV chair but the hair spray and the electric toothbrush. We asked actress Jamie Chung — who recently partnered with American Express's Membership Rewards to upgrade her backyard with items from the Shop Small Marketplace  — about the air purifier, weekend bag, and sunglasses she can't live without.
We have these all over our house because they brighten up every room. They're in our sitting room, in our living room, and spread out everywhere in our backyard. I don't have a green thumb. I kill a lot of plants — even succulents — but this plant in particular does not need a lot of attention. They just grow.
One thing I realized during quarantine is that I hate wearing bras. If I just want a little coverage, these silicone nipple covers give me that extra protection, even when I'm filming. I always keep some in my bag. At work, the outfits can be all over the place. These guarantee I'm always covered.
Allergies are my biggest enemy and as I've grown older, they've grown completely out of hand. We actually have three of these. Two upstairs and one downstairs. One is right by my bed. I had another type of air purifier that was always by my side of the bed and didn't work as well. I don't think it did anything. When I'd climb into bed, that's when my allergies were the worst. The great thing about the Molekule is that it has different settings — five being the highest and one being almost silent. I run it 24/7 and it has helped drastically.
Hudson Wilder is a small independently owned shop in Brooklyn. They make the most beautiful glassware and flatware. I love the feel of these glasses. They're like pieces of art. I have them everywhere — on my bedside table, in the bathroom, and on my kitchen counter, where some recently trimmed green onions are currently growing.
It's the perfect palette for my skin tone and great for everyday wear. I don't go too crazy with colors — I wear a lot of earth tones and usually stick to earth-toned eye shadows, too. With this, you can go quite light during the day and then use a darker shade for evenings. It was created by Camila Coelho — she's a mega-influencer and always has the best makeup. That's what she's known for.
This bag can fit a lot and I love that it has a separate section where you can put dirty clothes or shoes or even wet things. It has a latch you can clip your keys to so you don't lose them. It has a side pocket that can also be used as a sleeve to slip over the handle of rolling luggage. The bag is simple but designed so well. It's kind of a perfect carry-on.
The most comfortable sandals. I'm from San Francisco, so we're quite granola there. Birkenstock has always been a staple. I wear these year-round, even with socks. I have a pair with shearling for winter and the rubber ones for the beach. They're just so comfy — they mold to your feet.