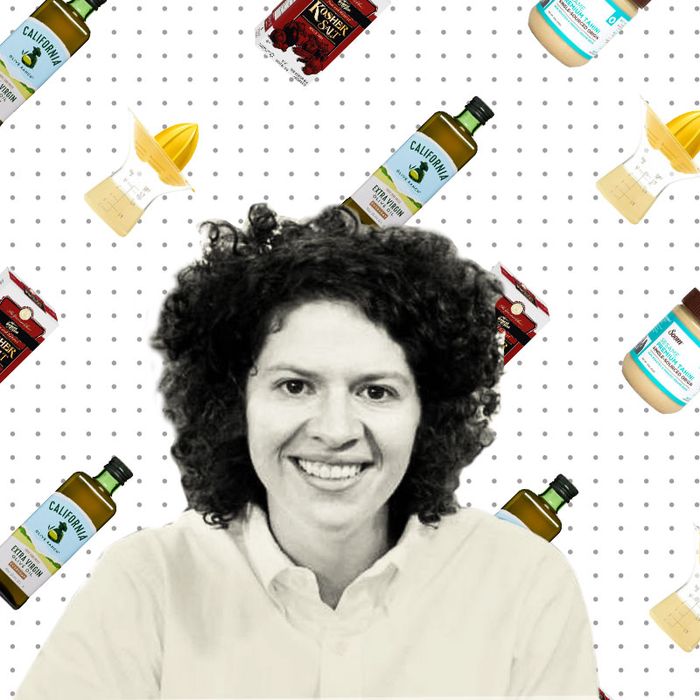 Cookbook author Julia Turshen's newest book (Now & Again) is all about reinventing leftovers, so it seemed like a no-brainer to ask the prolific home cook about her favorite food-storage containers. But we were also curious about how she stocks her kitchen to cook for herself and her family. From a not-too-heavy chef's knife to olive oil, here's the kitchen gear that Turshen can't cook at home without.
These are the [food-storage containers] I use, and I love them because they stack really easily in the fridge. They're super sturdy; I hate flimsy containers. And the No. 1 reason I love them is, you can see what's in them very, very clearly, so you don't have some disguised leftover that you totally forget about. You can throw them in the dishwasher; they're great.
I cook every day, and when I just cook at home, making normal meals for myself and my wife, maybe sometimes for some friends, I'm very relaxed. But when I'm in recipe-testing mode, for writing my cookbooks and everything, I'm very focused and intentional and I'm measuring things — and this is one of my most valuable tools. It makes measuring small amounts of things really easy, and you can see the amount from above; you don't have to hold it level to your eye the way you do with normal liquid measuring cups. I throw them in the dishwasher, which is great if I'm measuring things like oil or honey. I also use it to measure out our pet food. It's a really simple thing, but it's designed really well.
This is one of the exceptions to my rule about not liking any tool in the kitchen that only does one thing. This definitely does just one thing — you use it to juice citrus — but I use it all the time. I think it's such an ingenious little thing, because normally, I'm not juicing a ton of lemons or limes, I'm just doing a couple for whatever I'm cooking, and this just removes all of the seeds and captures the juice below. It also has a built-in measuring cup, so it's really useful when I'm testing recipes. I use it way more than I thought I would when I got it.
This is a really underrated tool. I use them when blanching vegetables, cooking anything in any liquid, even if I'm frying something. It's just the best tool to scoop things out of the pot, you can strain it right there and you don't have to pour whatever you're cooking through a colander. You can scoop and go.
My wife bought me that knife a couple of years ago, and it's totally my favorite. It stays really sharp, it keeps its edge really well, and it's also very lightweight, which I really like, especially with smaller hands. It's helpful not to have a chef's knife that's too heavy.
I use those half-sheet pans for everything. I use them to roast things. There's a recipe in my new book that's sheet-pan stuffing for Thanksgiving so that basically every serving is really crispy, which I love. They just give so much surface area. But I also use them when I grill stuff; I use them to carry things in and out of the kitchen. You can't break them, they're indestructible. They also cook things really evenly, and I love that they have the lip around them because if you have anything with some liquid, it doesn't drip. I find them really indispensable, and they're really cheap, and they last forever, and I would probably recommend that everyone get a couple.
These precut parchment sheets are the way I treat myself in the kitchen, so that anytime I want to line a sheet pan with parchment, there's a piece and it's cut and it fits perfectly, and I'm not wrestling with a roll of parchment paper. I've never worked in a restaurant, but I'd seen them in a lot of restaurant and bakery kitchens, something professionals use a lot, really to save time.
This is, by far, the most expensive thing here, and I'm always reluctant to recommend anything that's really expensive, but this is a pan I use on a very regular basis. It's the kind of thing you can buy and pass down for generations. They last forever, and it's super, super sturdy, and because it's so thick and heavy, things cook so evenly and beautifully in it. I also use it a lot without the lid; I just use the base and put it directly on my grill, and I cook things like fish and shrimp in it, and because it gets so, so hot, you get a beautiful sear or crust on whatever you're cooking.
I have had the same Microplane for about ten years. Again, I think indestructible is the big theme. I use mine for so many different things. I would say the most common thing I use it for is to grate garlic cloves. I don't own a garlic press, and I have no desire to own one. I think this does the job way better, and it's way easier to clean. I also use it for ginger, and I use it for cheese, especially any hard cheese like Parmesan or Pecorino. You can grate nuts on it or chocolate.
This is the only Kosher salt I use. I use it when I test all my recipes, and I use it in everyday cooking. It might not be obvious, but not all kosher salts are weighted the same, and I find that Diamond Crystal — and I know a lot of other cookbook authors share the same belief —is the best everyday salt because other brands are a lot saltier. So I think with Diamond Crystal salt, there's a little more room for error because it's much easier to add a little bit more than take it out of something. It's just terrible when things are too salty.