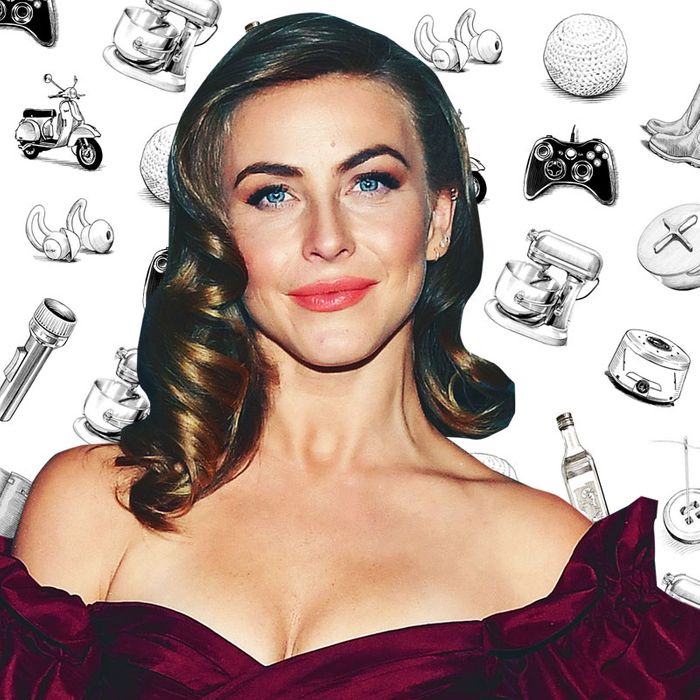 Photo-Illustration: retailers
If you're like us, you've probably wondered what famous people add to their carts. Not the JAR brooch and Louis XV chair but the hair spray and the electric toothbrush. We asked actress and Dancer Julianne Hough — who, along with actress Nina Dobrev, is the co-founder of Fresh Vine Wine — about the water bottle, scrunchies, and deodorant she can't live without.
I'm not trying to say I'm a trendsetter, but I have been using this water bottle for years. All of a sudden, it has become really popular, but I swear I bought it before it became a huge thing. As a dancer, I sweat and work out so hard that I'm constantly trying to hydrate. I would get water by the gallon at the grocery store before I found this. The sayings motivate me to keep drinking. I carry it everywhere and people always ask me about it. During a meeting with Bozoma Saint John, the CMO of Netflix, she saw my water bottle and was like, "I need that." So I sent one to her the next day. Sometimes she has it next to her when she posts on Instagram. I feel like I'm a part of her life now.
I try to dance with my hair down as much as possible, but sometimes I have to put it up. That's when I use the silk scrunchies from Slip. I love the look and the silk feels really good in my hair. It doesn't damage it or hurt my head if I wrap it tightly. And when I take my hair down afterward, it doesn't have that weird dent in it.
I got this as a wrap gift when I was filming Safe Haven back in 2012. The set has since gone with me everywhere from Africa to Europe to Asia to South America. I took it on a boat to Indonesia and when I hiked Kilimanjaro. I bring it on every trip and form of travel you can imagine, from cars to boats to planes. It is a luxury because it's cashmere, but it has lasted me almost ten years and I hope to have it forever. The stuff is so comfortable to sleep with — it's warm and cozy and makes me happy. I never go anywhere without it. If I ever lost it, I would be so beyond sad. The handle on the storage pouch's zipper has fallen off, but I can still zip it — I just pinch my fingers around the zipper and close it.
These are my go-to when I'm really busy and I don't know when I'm going to have my next meal. A bar sustains me whether I eat again in 20 minutes or a few hours. The almond-butter flavor tastes really good and real. You taste almond butter, not some bad replica with a bad aftertaste. I like that you have to keep the bars in the fridge or they will go bad — I'm suspicious of things that have a really long shelf life.
This is kind of like a leave-in conditioner. I have straight hair that can look kind of dead and dull sometimes. This gives it a nice texture. I spritz it all over my hair, scrunch it a bit, let it dry, and I'm good to go. I've tried lots of other texturizing sprays before but most leave my hair feeling very crunchy. This leaves my hair feeling soft and conditioned and natural.
Until five years ago, I never wore deodorant. Ever. People would ask me, "Why don't you smell if you don't use deodorant?" I never knew why. But about five years ago, all of a sudden I started having B.O. My hormones must have changed or something. At first, I didn't want to start using deodorant, so I would just constantly wash my pits. But that didn't work. Type A was the first deodorant I felt good about using. It's natural and it actually works. I had only tried roll-ons before, but this is almost like a paste. You have to squeeze it out to apply it.
I've been using this for years and years. It looks like a glue stick kids use in kindergarten for crafts, but it is the best lip balm I've ever used. I have tubes in my car, next to my bed, in my bathroom, my purse, my kitchen drawer — basically anywhere I can put one. There's nothing worse than when you're like, "Man, my lips feel really dry right now" and your lip balm is nowhere to be found. I don't like to share this kind of stuff, so I don't tend to ask other people to use theirs. I also love that this is SPF 15. I don't go out in the sun very often, but when I do, I don't want to have to pack a different lip balm for sun protection. This one does it all.