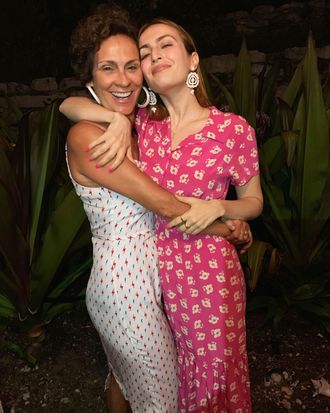 The author and her mother.
Photo: Rio Viera-Newton
Sunday, May 10, marks the single most important annual holiday you definitely almost forgot about: Mother's Day. Though Mother's Day sends me into a stressful shopping frenzy every single year, there are few things I love more than seeing my mother enjoy the gifts I got her months after the day has passed.
If, like mine, your mom likes to pamper herself but is perhaps not the most up to speed on the latest and greatest beauty must-haves, I'm here to help — I've included recommendations for moms of all stripes, from the one who gets headaches from fragrances, to the one who is known for taking extremely long showers. As usual, my Mother's Day gifts tend to lean on the pricey side, but to be honest there's no one that I'd rather spend my hard-earned money on.
For the mom who is curious about masking
Not only are these eye masks completely and totally adorable, they're also infused with the anti-aging wonder product retinol (plus hyaluronic acid and aloe vera) for hydrating and soothing tired or dry eyes. Tell your mom to leave them on for 10 to 15 minutes.
For the mom who needs her beauty sleep
Silk sleeping masks are the ultimate anti-aging hero. Unlike cotton, silk masks don't leave marks, or pull or tug on the skin (motions that, by the way, can lead to wrinkles). They also feel amazing and smooth when on, making sleep feel even more luxurious.
For the dry-skinned mom
I love Circumference — all their products are formulated with sustainably sourced, nontoxic ingredients. This face oil has been one of my favorites for some time — it's infused with a cocktail of potent antioxidants that deeply hydrate, nourish, and refresh the skin. If your mom struggles with ultradry or irritated skin, this oil will blow her mind — it nourishes, heals, and soothes the skin, making it noticeably softer and silkier in just a few days. It's also beautifully packaged and smells divine.
And for the really dry-skinned mom
You can't go wrong with Skin Food! It's a deeply, deeply moisturizing multipurpose balm that I love using on my elbows, hands, or anytime I'm feeling dry or dehydrated.
For the mom who likes to set a mood
Mason Louis Marie candles are simple, elegant, and all smell absolutely incredible. This one in particular is my favorite — it's perfectly warm and woodsy, and creates an insta-cozy feeling in any space. And, as far as nice looking, extremely good-smelling candles go, they're relatively affordable!
For the diligently hand-washing mom
I've always loved this citrusy, woody, hand soap from Aussie clean beauty brand Grown Alchemist. And considering how much we're all washing our hands these days, this feels especially timely as a gift. This soap smells incredible and has sweet almond oil in the formula (meaning it's non-drying).
For the perpetually-chilly mom
These are some of my very favorite slippers of all time and they last forever — I've had the same pair since college. These are an excellent gift for a mom who likes to feel warm and cozy while working from home, or just padding around.
For the mom with chronic baggy undereyes
These Cryo Freeze Tools from Georgia Louise are the luxury versions of my adored cheap, Amazon ice wands. Stick them in the freezer and, once cold, rub them all over clean skin — under the eyes, in the hollows of your cheeks, and temples: the cold temperature will help lift, depuff, and sculpt your face.
For the mom who sleeps in old boxers
A set of pajamas is the perfect mother's day gift — especially considering few of us are putting on real clothing at the moment. These ones from Eberjey aren't terribly expensive, and they're famously comfortable — everyone from Joanna Goddard to Amanda Freeman are obsessed with them.
For the mom who knows her skin care
I've said it once, and I'll say it again: Tatcha has some of the most dewy-inducing, radiance-boosting skin care I've ever used. But it is irritatingly expensive — meaning it makes a very generous gift for the mom who you'd like to give the gift of plump, radiant, velvety looking skin. This cream includes tons of nutrient rich botanicals like calming wild rose and leopard lily, both of which are antioxidant rich and work together calm, soothe, and brighten the skin.
For the mom who takes hour-long showers
This is one my all time favorite body scrubs. It's incredibly exfoliating — it quickly removes all of the dead skin and sweat from your body — but it's also really nourishing and hydrating on the skin, so you don't step out of the shower feeling dry or stripped. It smells amazing (lightly coconut-y) and the jar it comes in is recyclable as well!
For the mom who loathes fragrance
For the mom who says scented moisturizers "give her a massive headache," this body lotion from Necessaire is perfect. It's rich in omegas, shea butter, and niacinamide which brighten, heal, and condition the skin, and it smells like absolutely nothing. My mother happens to be a huge fan.
For the mom with a diligent hair-care routine