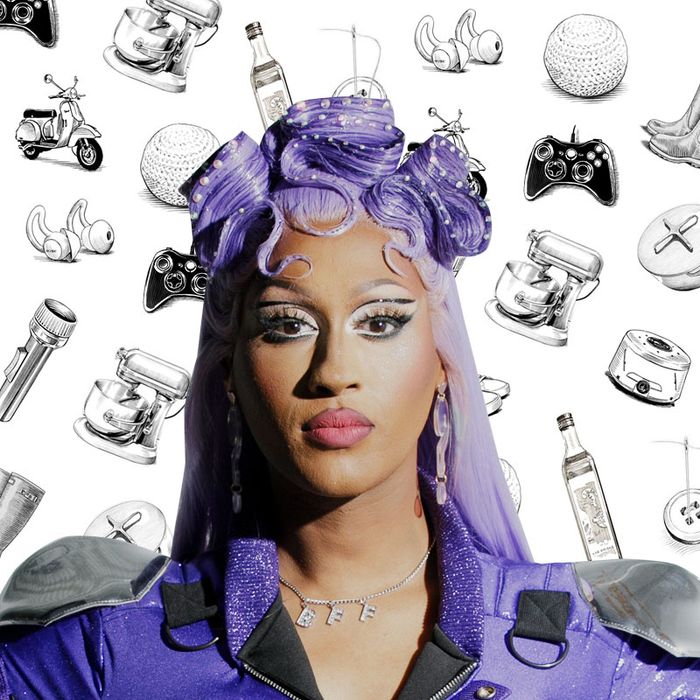 If you're like us, you've probably wondered what famous people add to their carts. Not the JAR brooch and Louis XV chair but the hair spray and the electric toothbrush. We asked drag queen Priyanka — who just released a music video for her single "Snatch" while touring with the War on the Catwalk revue — about the tape she uses on her tights, her luggage, the serum she prefers to filler, and the digestive tea she says makes you "give birth to everything you've ever eaten in your life."
This feels like putting key lime pie on your face — it smells that good. Doing drag, I go through makeup wipes like no other. It can be especially tough to get black makeup or eyeliner off around your eyes, but I love that this doesn't make me feel like I'm pulling my skin. I also like that this is fragrance-free, because I'm allergic. I used to use everything on my face, including any kind of adhesive. During the pandemic, my skin got to take a break, and then when I tried to get back into makeup, my eyes would get puffy, and I'd get a rash and eczema. I had been Googling to see what was the best thing to use that was fragrance-free, but it got overwhelming because there are so many products out there. My friend introduced me to this, because you want to talk with somebody who's used it before and is going through the same thing.
Let me tell you something: You drink this tea before bed. The next morning, you basically give birth to everything you've ever eaten in your life. As somebody who's on the road eating bad food, having shots of tequila, running around all the time, you get backed up. So this tea is for when you're really not feeling good and you're kind of hurting. It's a good thing to relieve constipation. Though I will say, you do not drink this if you're on a tour bus. You drink it when you know you have a day in the hotel, just in case.
I love how medical the packaging is. You look at it, and you're like, "This shit is going to work for sure." I've been using the eye cream for about a year now, and I really don't have any dark circles. It gives my eyes the moisture I need, especially because I'm so fucking tired all the time. Looking refreshed is a toughie, so I feel like combining the eye cream with the antioxidant serum for my face and neck brightens the skin.
I got introduced to these through my skin-laser specialist Lorraine. I feel like because, as drag queens, our faces are our job, we can put a lot more into them. Since Canada's Drag Race, I've gotten my lips done. I've gotten a little bit of stuff in my cheeks. Somebody was like, "You should try getting your jawline done," so I did, and it made my face look so wide that I had to get it removed. Now, a lot of people are getting all their filler removed, because they want to look like Nicole Kidman, who just looks Botoxed. I feel like fillers can be very trendy in terms of shaping your face in specific ways, but serums and creams are the ones that stick around.
This tape goes such a long way. I use it to take glitter off my face. I use it to tape my tights around my waist when the elastic gives out and they start to ride down. I use it to tape my makeup cases and suitcases when they break. This one can last through moisture, too, so if you need to tape a costume, it won't rip before you can get it fixed.
I take this when I travel, because shaving night after night can really mess up your skin. I just use it for five minutes, or the length of a song. Not too long, because if you're doing it that often, you don't want to burn your face. It's really important that you exfoliate and open your pores. This steamer is really nice because it refreshes your skin and brings out all the toxins, too. On the road we're not the healthiest, so it helps my face wake up.
This makeup mirror is the best. It's the brightest and the most lightweight, and you can pack it in your backpack. This is my Old Faithful — your makeup always looks the same because the mirror lights you in the perfect way. It even has a magnet to hold your phone, which I use to make TikToks, because the light also works as a good selfie light, so it serves dual purposes.
I bought one thing for myself last Christmas. I thought, I'm going to buy myself something fucking designer. I don't care if it even functions. I want it. So I bought myself this backpack, and I've been using it ever since. I know it's a luxury item, but my laptop and Polaroid go in there, and I could pack a night's worth of clothes. There are pockets for chargers, allergy pills, my inhaler, and my passport. So it's money well spent.
I remember seeing girls in high school with Louis Vuitton purses that were probably fake, but I saw them and thought there was a hierarchy. After having a great year making some money and winning money from Drag Race, I just thought, Oh my God, it really was judging a book by its cover. Just because they had these Louis Vuitton purses, they seemed like they were above me. Now, I have money and I don't give a shit what I look like. So I went to Louis Vuitton because I loved the idea of me wearing Adidas sweats, an oversize Spice World tee, and having a Louis Vuitton backpack, because it doesn't matter. This kind of person can be successful too.
Right now, I'm sitting in the middle of the Mall of America wearing my own "Bitch I'm Busy" shirt. I genuinely love whenever I see anybody wear any kind of merchandise. It's the fact that they love that thing or person so much that they are willing to put on a T-shirt and wear it to the mall or to dinner or the club. I think it's so cool. I actually wear mine, too, because I'm proud of myself. Also, if you're a drag queen wearing your own merch, people will recognize you, because they're like, "Oh, wow, I think that's Priyanka. She's wearing her own shirt! That must be Priyanka then."
[Editor's note: Priyanka's shop lists its prices in Canadian dollars, so this is an approximation to U.S. dollars.]
The Strategist is designed to surface the most useful, expert recommendations for things to buy across the vast e-commerce landscape. Some of our latest conquests include the best acne treatments, rolling luggage, pillows for side sleepers, natural anxiety remedies, and bath towels. We update links when possible, but note that deals can expire and all prices are subject to change.