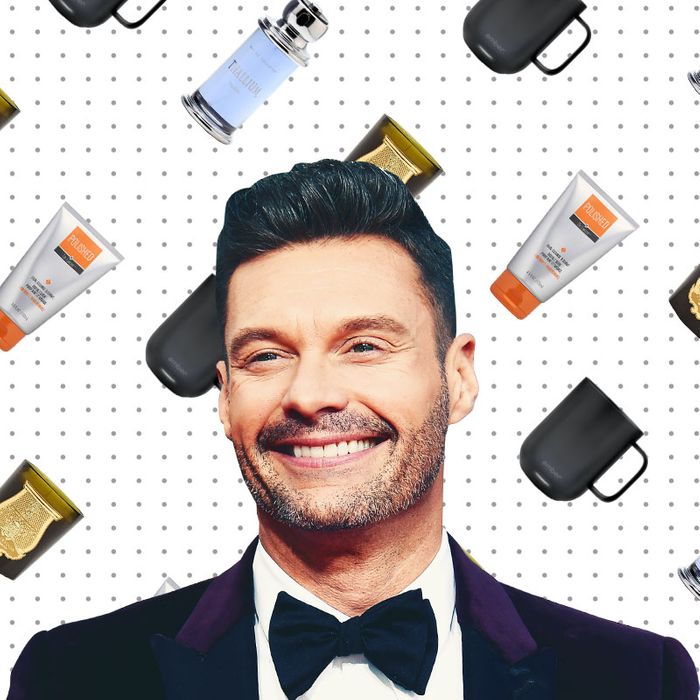 Photo: Courtesy Retailers / Getty Images
If you're like us, you've probably wondered what famous people add to their carts. Not the JAR brooch and Louis XV chair, but the hand sanitizer and the electric toothbrush. We asked multi-hyphenate Ryan Seacrest — host of Live With Kelly and Ryan and American Idol, producer, radio personality, and founder of Ryan Seacrest Distinction— about the no-show socks, temperature-controlling ceramic mug, and drugstore cologne he can't live without.
I have a very precise morning, and I only get my first half-cup of coffee before I end up having to get into the car. When I get into the car, I transfer it into this mug. You can program the temperature so it stays hot throughout the course of the morning, and I find that to be a luxury. I like to make my own coffee instead of getting it somewhere, so to have my homemade cup stay hot throughout the course of the morning certainly keeps me moving. It's not scalding. I like to keep it pretty warm. I have one white and I have one black. If one's dirty, I use the other one.
This appeared in my dressing room a couple of months into working with Kelly. The hairstylist there, whom we share, she started using it in my hair, and I noticed that it held, it kept it from being too frizzy, it kept it from being too stiff, it kept it from being too slick. And then, when I went through the course of my day and sweat, it didn't cause me to break out. It didn't cause me to burn up my eyes. So I felt like, okay, this is one I'll put in my own bathroom at home.
This cardholder's great because carrying a wallet is always too bulgy, and if you put it in your back pocket, then it sets your back in the wrong way, and then you're at the chiropractor more than you need to be. So the card carrier allows you to keep all your credit cards and a little bit of cash in a slim and more compact, organized way. You can slide it into your front pocket without all the bulge. I like the Bottega design, I like the way they criss-cross the leather. I have the signature criss-cross design, and I've always been a fan of that design, which has really been a timeless design for them. It's instantly recognizable, and that's the one that I've kept.
Now this is a little bit random. It was given to me as a gift by a friend, I would say almost 20 years ago. I said to him, "Where did you get this?" And he said, "The drugstore." So I don't think it's a very fancy item, but it is a cologne that I just found worked. It wasn't too strong, but it was one that when I put it on, people actually asked me what it is. You know, at some point, you can't smell it yourself, but I got more questions about it, and so I kept using it, and when I use it, people say that it smells good, so I stuck with it. But it's been an old favorite for a long time. It's not expensive. So that's the deal of the day, right there.