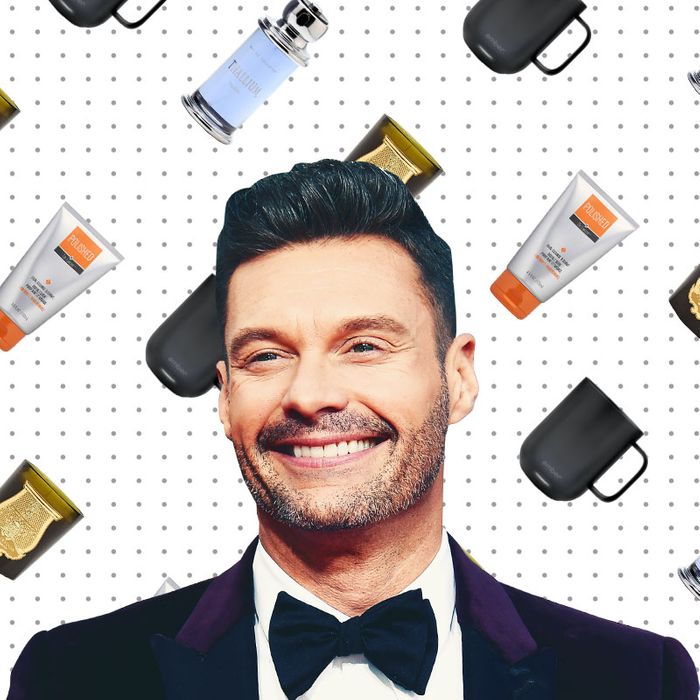 Photo: Courtesy Retailers / Getty Images
If you're like us, you've probably wondered what famous people add to their carts. Not the JAR brooch and Louis XV chair, but the hand sanitizer and the electric toothbrush. We asked multi-hyphenate Ryan Seacrest — host of Live With Kelly and Ryan and American Idol, producer, radio personality, and founder of Ryan Seacrest Distinction— about the no-show socks, temperature-controlling ceramic mug, and drugstore cologne he can't live without.
I have a very precise morning, and I only get my first half-cup of coffee before I end up having to get into the car. When I get into the car, I transfer it into this mug. You can program the temperature so it stays hot throughout the course of the morning, and I find that to be a luxury. I like to make my own coffee instead of getting it somewhere, so to have my homemade cup stay hot throughout the course of the morning certainly keeps me moving. It's not scalding. I like to keep it pretty warm. I have one white and I have one black. If one's dirty, I use the other one.
This appeared in my dressing room a couple of months into working with Kelly. The hairstylist there, whom we share, she started using it in my hair, and I noticed that it held, it kept it from being too frizzy, it kept it from being too stiff, it kept it from being too slick. And then, when I went through the course of my day and sweat, it didn't cause me to break out. It didn't cause me to burn up my eyes. So I felt like, okay, this is one I'll put in my own bathroom at home.
This cardholder's great because carrying a wallet is always too bulgy, and if you put it in your back pocket, then it sets your back in the wrong way, and then you're at the chiropractor more than you need to be. So the card carrier allows you to keep all your credit cards and a little bit of cash in a slim and more compact, organized way. You can slide it into your front pocket without all the bulge. I like the Bottega design, I like the way they criss-cross the leather. I have the signature criss-cross design, and I've always been a fan of that design, which has really been a timeless design for them. It's instantly recognizable, and that's the one that I've kept.
Now this is a little bit random. It was given to me as a gift by a friend, I would say almost 20 years ago. I said to him, "Where did you get this?" And he said, "The drugstore." So I don't think it's a very fancy item, but it is a cologne that I just found worked. It wasn't too strong, but it was one that when I put it on, people actually asked me what it is. You know, at some point, you can't smell it yourself, but I got more questions about it, and so I kept using it, and when I use it, people say that it smells good, so I stuck with it. But it's been an old favorite for a long time. It's not expensive. So that's the deal of the day, right there.
I fell in love with a new candle. It's the Cire Trudon Cyrnos. I do love candles. I light them as soon as I get home in the evening, and I keep them lit throughout the course of the evening. But this brand and this scent just really relaxes. It's nice, it's not too strong, it's elegant, and it's a very old candlemaker. It was founded in the 1600s, so they've been around for a while. In my New York apartment, they are in front of my sofa on the coffee tables. There's two in the bedroom, there's one in the bathroom. They're placed strategically, all over.
Since I moved to New York, I have really jumped on the bandwagon of no-show socks. I actually found that people on the east coast, especially in Manhattan, wear more no-show socks than they do on the west coast. And so it started with my wardrobe at work, and then that rolled into my wardrobe also at the gym, so I've kind of just become attached to them. I think that Pair of Thieves is very comfortable, and also, one key to their no-show is that it doesn't slip from the top of your shoe down under your heel when you're walking. You ever have that happen, where it bunches up? This stays in place, which is key when you're on the move and at the gym.
Because I'm dressed in something a little more put-together while I'm on the air, my off-air wardrobe is really dressed-down, it's very casual. That's why I like these T-shirts. The material is very, very comfortable. They're easy to fit, and I like just simple colors. I like a white or a light blue or a gray. And the sizes run right for me. Sometimes, I can get a medium, and it looks like an extra-large on me, but this fits to what it says on the tag. I prefer the crew neck usually, unless I have a good tan, and then I'll throw the V on.
I like the gray, mostly. I like that it zips up, because I find that pulling things over my head, I struggle with, and when I'm tired at the end of a workout, it's even more difficult to pull things over my head. In New York, I've also learned you've got to always put on a layer when you leave the gym, as it's cold usually. So the material's comfortable, it's soft, and it's really easy to throw on and throw off when you are on the go. I have a whole bunch of them.
I don't know what they call the style, but I have a dark gray and black Tumi backpack that has very organized pouches, so you can put your sunglasses, you can put your earphones, you can put your phone, you can put your passport if you need to. You can live out of it. After moving to Manhattan, I realized that you kind of need to have a prepared pack for the day, so usually, when I leave in the morning, I will put my gym shoes, my gym clothes, my hoodie, all of that in the backpack. It's very durable and comfortable and easy to throw on my back. It's a great travel companion. I can throw my keys to my New York apartment, my keys to my Los Angeles apartment, and keep it all organized. You know, in the spring, I travel every four days to the east coast. So on Sunday, I take the red-eye to New York, on Thursday night, I fly to Los Angeles, and I do that for quite a while. So I keep the backpack 33 percent packed, because it need to be always ready to go very quickly.
Dr. Lancer is a dermatologist I have been going to for fifteen years in Los Angeles, and he developed this line called Polished for Men, of which I am a partner with him in. And so this is easy. You get to use the cleanser and the shave at the same time, and I think, for a man, anything that simplifies a regimen in the morning, especially when you're talking about shaving and washing your face, makes it easier and simplifies it, it's always a plus. You lather up, just like you do your shaving cream, and then it serves as a cleanser, as well.
The Strategist is designed to surface the most useful, expert recommendations for things to buy across the vast e-commerce landscape. Some of our latest conquests include the best acne treatments, rolling luggage, pillows for side sleepers, natural anxiety remedies, and bath towels. We update links when possible, but note that deals can expire and all prices are subject to change.