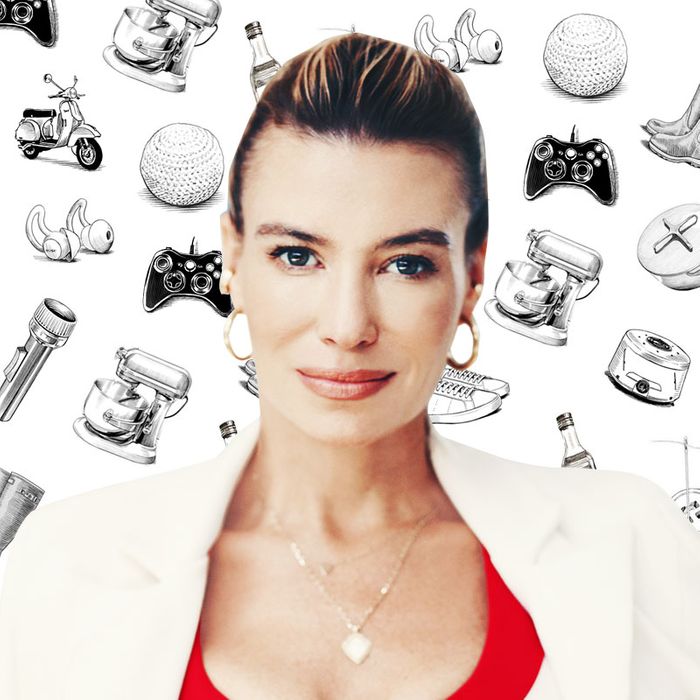 Photo-Illustration: Miranda Penn Turin
If you're like us, you've probably wondered what famous people add to their carts. Not the JAR brooch and Louis XV chair but the hairspray and the electric toothbrush. We asked fitness guru Tracy Anderson, the CEO and founder of the Tracy Anderson Method, about the milk frother, body scrub, and face mask she can't live without.
What I like the most about Calm is what it does for me as a parent. I have an 8-year-old girl, Penny, who would love to stay up until midnight every night. I had tried so many things with her before I was introduced to the Calm app. Matthew McConaughey reading the story "Wonder" puts her to sleep every single time, and for that I'm so grateful. McConaughey and Harry Styles are her two favorites — they alway help her get to sleep.
Spotify allows me to do something really unique in my industry. I film live classes, and the people who can't take them live with me, especially during COVID, are able to get that amazing music by downloading my class playlists on Spotify. It's about being able to share the music I love and getting people moving to it. Making two-hour-long playlists a couple of times a week for classes has been super fun for me. Lady Gaga's latest album is so fun to move to, so is Coldplay's song "Arabesque" and Lana Del Rey's "Let Me Love You Like a Woman." It's also been fun to go back and play old-school stuff like Eurythmics' "Here Comes the Rain Again," Matchbox Twenty's "Unwell," and Salt-N-Pepa's "The Brick Track Versus Gitty Up."
I'm a coffee lover. I have one or two cups every morning, and the only way I take my coffee is with really, really frothy foam on top. Before quarantine, when my assistant brought me my coffee, we would say: "You've got to make sure the foam makes it home." I can't drink my coffee if the foam disintegrates, it has to have the foam on top. Now, I'll use this frother with either whole milk or full-fat oat milk. It froths oat milk like nobody's business.
I love having surround sound everywhere in the house, so I have lots of hidden Sonos speakers. The Move is new; you can take it anywhere. Music is such an important part of life. If my daughter gets a boo-boo, we turn on some music and it's an immediate distraction in a positive way. It's a powerful thing. Whether you're celebrating something, bummed out about something, or want to relax, music is a healthy thing to have in any household.
I'm friendly with supermodel Carolyn Murphy and actually learned about this mask from her. The brand is out of Malibu, and they care about people being able to move and exercise in their masks. I've ordered a ton of these. They have them for kids, too, which I think is so great. I really cannot do the disposable masks at all — my mom actually developed a terrible rash from one of the disposable masks. This Variant one comes in lots