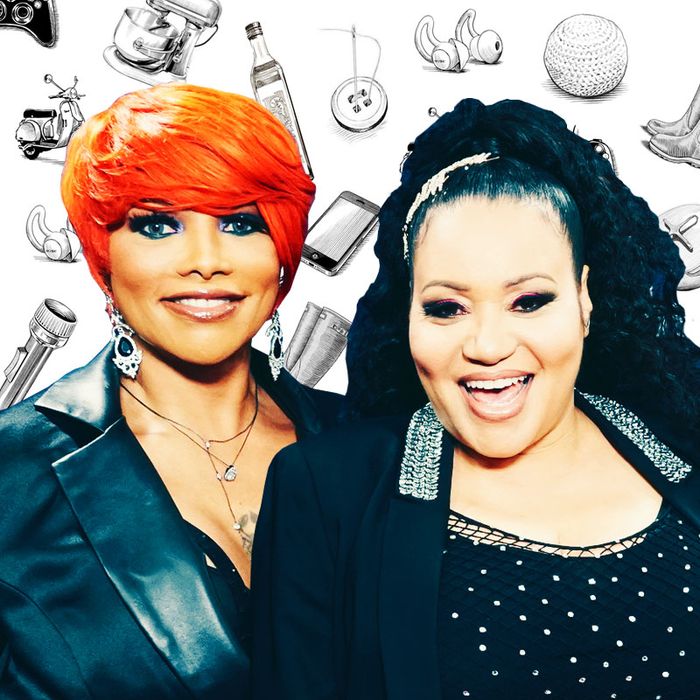 From left, Pepa (Sandra Denton) and Salt (Cheryl James).
Photo: Mitch Haaseth/ABC via Getty Images
If you're like us, you've probably wondered what famous people add to their carts. Not the JAR brooch and Louis XV chair, but the hand sanitizer and the electric toothbrush. We asked Salt-N-Pepa (née Sandra Denton and Cheryl James), who together recently launched a makeup collaboration with Milani, about the headphones, protein powders, and speakers they can't live without.
I have my gavel with me at all times. Someone actually made it for me because they got tired of me banging with my hands, so now I just bang with the gavel. It says Planet Peptron District Court. I feel like I'm a judge. I want to take everybody to court and hold them accountable, because I'm accountable for my rights and wrongs. I always say I'm not exhausted — people try to exhaust me, but I'm not exhausted. I will comb through a story and I will have my evidence and you better bring your evidence.
I take a lot of photos, so I love the camera. But just having a phone at all is really nice. I think about back in the day, where Salt and I came from, we went to the phone booth to make a call. I come from a big family with seven sisters and one brother, and we only had one phone and call waiting, so an iPhone — my own personal iPhone — is something I can't do without.
I'm a sweater and I perform a lot, so I have this fan to cool me down. I get real animated and excited sometimes, especially when I'm trying to make a point. Sometimes I turn it on turbo, depending on, you know, the level of sweat.