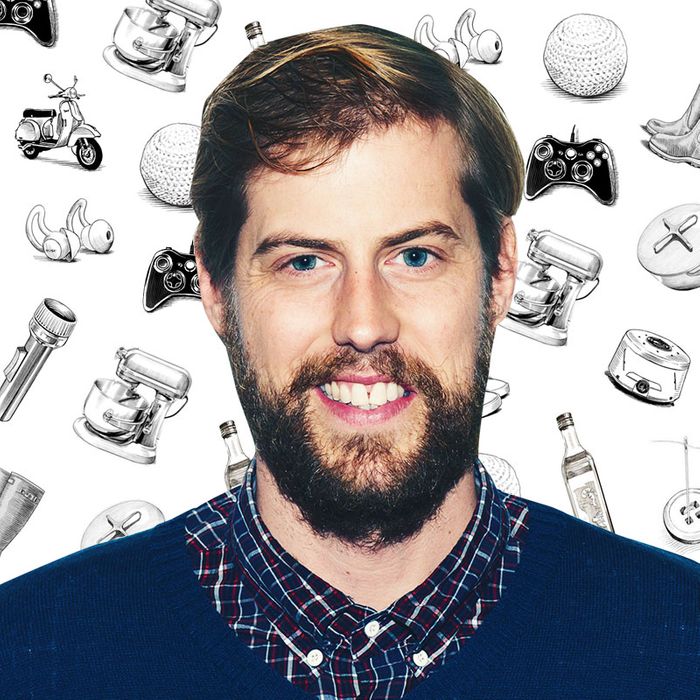 Photo-Illustration: The Strategist; Photos: Getty
If you're like us, you've probably wondered what famous people add to their carts. Not the JAR brooch and Louis XV chair, but the hair spray and the electric toothbrush. We asked Andrew McMahon, whose new book, Three Pianos: A Memoir, was released earlier this week, about his favorite fine-point Sharpies, Tumi backpack, and date-night cologne he can't live without.
Rainbow Sandals is based in my hometown of San Clemente, California, and they are like a part of your uniform out here. Everybody wears them. They're incredible handmade leather sandals. I've gone as many as five or six years on a single pair of Rainbows. It's a bit of a badge of honor how long you can hang on to a pair before having to refresh and get a new one. Hysterically, I used to wear them onstage when I played with Something Corporate back in the day. Eventually, I decided shoes might be more suitable in the long run. But when I'm hanging out and the weather is decent, these are pretty much the only thing that I put on my feet.
I'm fairly new to surfing. I started in the summer of 2017 or 2018. It hasn't been that long, but it's become a very important part of my mental and physical health. When I'm home, I spend a lot of time in the water. My father-in-law recommended Vissla to me — I've had this suit for about a year now and it still fits great. It keeps me warm, although the water in California can be cold. You want a wet suit that'll last a long time and lets you move around freely, and this one definitely does that. It's a good option, especially if you're not wanting to go out and spend 500 or 600 bucks on a suit.
This ties right back into my surfing. I mean, we have some of the most amazing state parks in the country here in California. As you can probably tell, I'm a big proponent of the state I've since adopted as my home. One of my favorite places I learned to surf at was San Onofre State Beach. I would go out there three days a week with my surf coach. It's one of the more forgiving beaches you can learn on. I fell in love with it. The pass ends up being a really great thing to have, both as a surfer or somebody who just loves the outdoors. It's a pass to some of the most beautiful places in the state.
Photo: Retailer
This particular upright that I'm referring to is probably one of the more personal items on the list. I think the first show I ever played on it was in Boise in 2001 or 2002, so I've had it for a very long time. Most notably, when I retired from the road, it was the piano that I wrote the first Jack's Mannequin record, Everything in Transit, on. It's been with me for almost 20 years now and it just plays great. These instruments, if they've been yours for a very long time, sort of become an extension of yourself at some point. This one is definitely beat up. The lid doesn't fit anymore because all the bolts broke off the front and it looks a little worse for wear, but it plays beautifully. And I've written probably more songs on it than I've written on any other in the course of my career. Hopefully, we're both aging like a fine wine; we'll find out.
I've carried these with me forever, probably since 2004. They've just become a part of my everyday life — if a random thought pops up or I want to draw a picture or I'm in a session and want to write some words down. I don't write in them every day, but I always have one in my backpack. I'm sort of old-school in the sense that I feel like when I write words down on a page, they take on more meaning for me than if I type them into my phone or computer. I tend to find when I'm able to look at the words, written out on a page and really think about them, it helps draw other ideas. All of my records, to some extent, are sort of catalogued in these journals.
I've certainly cycled through a handful of different-style pens over the years, but I find myself liking the pen that sort of writes for itself. I don't dig the chunkier ballpoint pens that you really have to drag across the page. These write really cleanly. I tend to write like chicken scratch, especially if I'm writing lyrics on the spot. But with these, I'm able to write quickly and my work is still legible. It's just a really nice pen that I can write almost microscopically with and still make very neat letters. They tend to last a long time as well.
I probably got my first Tumi backpack around the time I got married, which would have been in 2006. In all that time, I've only had to replace it once. I wear it everywhere. I carry my notebook, pens, computer, phone — all the various accoutrements of being a writer in the world. I've carried that thing through all kinds of weather and never had a problem. I've had the brown color for about six years or so, and it still looks brand-new. Anytime that I'm working or traveling, whether I'm going to a session or a show or getting on an airplane, my backpack is always with me.
I'm not historically a huge cologne wearer, but I like to wear some when I'm going out or if I'm taking my wife on a date or something. I found this cologne at this perfumery in New Orleans. It was a very bespoke sort of experience, and the story is half the reason I bought it. The staff turned me on to this cologne called Eight and Bob, which apparently was one of John F. Kennedy's favorite colognes. The company survived one of the World Wars by hiding their colognes inside of old books so that they wouldn't get taken during raids. When they send you a bottle today, it's actually tucked inside a vintage book with the inside cut out. I'm not a big fan of stuff as much as I am of experience. As you might be able to tell from this list, most of the material things I have are in aid to an experience. They're beautiful-smelling colognes, but I think the story, aesthetic, and presentation is why I've become such a fan of their product.
I am most comfortable in a pair of sandals. For years, I've tried to figure out how many places I can really wear sandals as a grown man in public and not embarrass myself, you know? Eventually, I stumbled across these sleek Adidas slip-ons that served a similar function for me: They're super-comfortable, easy to put on, and don't require much effort. But with a nice pair of pants, they actually look pretty sharp. These sneakers of mine have been traveling with me just about everywhere I can't wear my sandals. I throw these guys on and cruise.
I discovered Raen when I was in Australia. I had just lost a pair of Ray-Ban sunglasses, which I used to wear exclusively because they really suited the shape of my face. I popped into a surf shop somewhere up the coast, found the Raen sunglasses, and just fell totally in love with them. I'm always spreading the word about their company because I think they just make really quality frames.
I've been doing yoga on and off for 20 years or so. We found this amazing yoga community that practices a particular kind of yoga called Ashtanga yoga. The reason I like that Manduka mat is the thickness. This particular yoga is a bit more athletic, so it requires a lot of downward dog, a lot of work on your hands. It's supportive for all of the positions and push-ups and work on the floor. I've had the mat for, gosh, about five or six years at least. I even bring it with me on the tour bus.
I always like to joke that I dress a little bit like a grandpa. This is the stylish version of my grandpa attire, just sweaters and button-downs, a little like Mr. Rogers. I probably started wearing Ben Sherman clothes when I was in Jack's Mannequin. I have two Ben Sherman plaid shirts that I got 15 years ago, and they haven't lost a button and don't look any worse for wear. There's something comforting about the fact that I can still get that shirt 15 years later in virtually the exact same fit and colors if I want.
The Strategist is designed to surface the most useful, expert recommendations for things to buy across the vast e-commerce landscape. Some of our latest conquests include the best acne treatments, rolling luggage, pillows for side sleepers, natural anxiety remedies, and bath towels. We update links when possible, but note that deals can expire and all prices are subject to change.