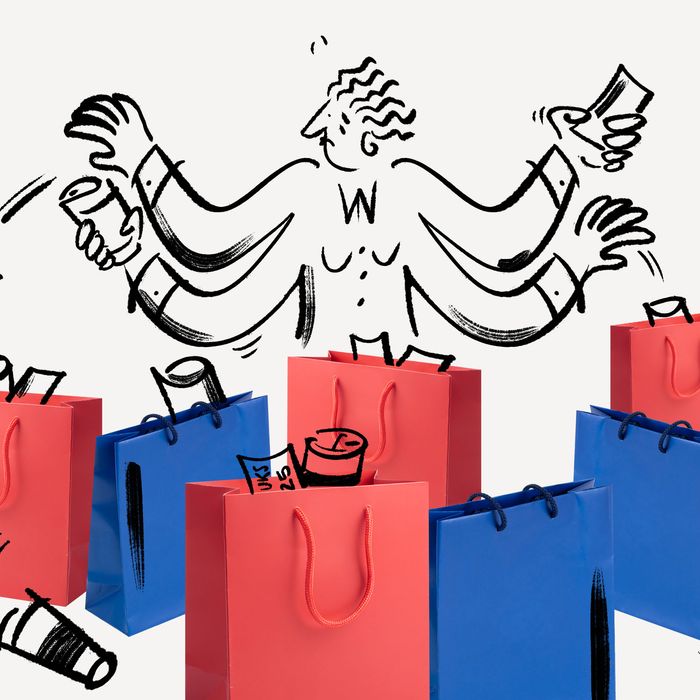 "Assistant" is a bit of a catchall term. Sure, assistants schedule meetings, take notes, and retrieve coffee, but they can also act as a quasi-concierge, sending fruit baskets to top clients and buying gifts for partners. In an effort to unearth the highly specific material needs of powerful people, we sat down with 23-year-old "Shannon," who has spent the past few years working as a production assistant (PA) on TV shows, commercials, and one very famous parade. We spoke with her about tracking down a $2,500 espresso maker that's not available in the U.S., scrounging up 300 gift bags the night before a major holiday, and the pricey booze a Grammy winner wanted for their four hours on set.
The Parade
Production assistants do all sorts of tasks on a set — anything from picking up coffee for the crew to stapling together a stack of scripts. These gigs can last anywhere from a half-day to a few months and are almost always classified as freelance or contract work.
Shannon's first job in entertainment was working as the PA for a popular televised parade, where her duties included taking care of the entire studio staff, from organizing pizza Thursdays to making sure all the snacks were fully stocked twice daily. "No day was the same on that job," Shannon says. "It was incredibly fast-paced, and there were so many moving pieces." But while she calls her time there "chaotic," she says she emerged with "so much more respect for the parade because of it." Here, Shannon shares a few of the more memorable items she bought during her four-month stint.
The night before the parade, which falls on a major holiday, Shannon's supervisor asked her to find 300 gift bags for one of the parade's sponsors (that was throwing a party that evening) in one hour. "It was hard. It was very hard," Shannon says. She and her supervisor ended up "running around the Upper East Side" until they stumbled upon a dollar store that was open and had enough bags in stock. Once the bags were back at the office, Shannon and four of her colleagues stuffed them with small tumblers, cozies, $25 Starbucks gift cards, and a faux-handwritten letter from one of the parade's executive producers. The process took two and a half hours because Shannon's supervisor insisted that the price tags on all the items in the bags were entirely peeled off.
A few days after the parade, one of Shannon's bosses handed her $400 and the keys to a 15-passenger van and told her to go to BJ's Wholesale Club to buy enough snacks to keep the 70 or so people in the office happy for the next three weeks. She returned with more than a dozen cases of popcorn, pretzels, and fruit snacks, which took two trips with a dolly to bring back to the office. Shannon says her boss asked her to avoid sweets, because "corporations like to show that they're putting their best foot forward regarding the health of their workers."
The Commercial Shoot
Recently, Shannon was hired to help on a commercial shoot starring a Grammy-winning rapper. She was expected to set up the greenroom, working from a five-page checklist that was a combination of items the artist had requested and those added on by the production coordinator, who "always wanted to go the extra mile," Shannon says. She had one day of prep, one day to shop, and one day to set up. Later, at the walk-through before the shoot, the agency reps "literally looked at every single thing I bought," she says. "It was like, 'Is that a big enough mug? Why is this over here and not over there?' They made me explain everything."
The rapper's team requested a Lavazza single-serve, one-cup espresso maker, which Shannon quickly discovered isn't for sale in the U.S. She ended up ordering the $2,500 machine from a third-party vendor on Amazon. "She wanted the full machine, when there are much smaller ones available," Shannon says. "I was like, 'Girl, you're gonna be here for four hours. Why do you need this?'"
When it came time to place the order, Shannon found that the credit card the production company had given her didn't work. Because she needed the machine quickly, she had to use her own, for which she was eventually reimbursed. Prior to the shoot, Shannon ran the espresso maker three times to make sure it worked and that the rapper wouldn't have to deal with any issues or "new coffee machine" taste.
At 4 p.m. the day before the shoot, the production coordinator told her that he thought they "should look into getting some fancy PPE." When she told him she didn't know what that meant, he told her to find "fancy masks and hand sanitizer" to leave in the greenroom. "Fancy masks don't exist," she says, "so I just got regular KN95s and set them up really nicely." For soap and hand sanitizer, she went with Aesop.
For each type of beverage on her rider, the performer asked that half be chilled and the other half be room temperature. Because the studio fridge was "across the set, past the bathroom, and up the stairs," Shannon had to buy a mini one so the star could have an icy beverage without leaving the room. But because the bottles of tequila the artist wanted were too tall to fit in said mini fridge, Shannon had to also pick up a drink tub (in silver, to complement the rented white and silver couches that the rapper requested as well).
High-end booze is de rigueur on a musician's rider, and accordingly, the rapper asked for two bottles of Don Julio 1942. But on the day of the shoot, everything went awry: The rapper never showed up. "It's none of my business why," Shannon says. "I don't know what happened with the client or whatever, but we spent two days preparing for her and she didn't even come." Shannon says that most of the food she'd bought, like the "fresh hummus from a restaurant only," went in the garbage, but the bottles of 1942 were offered to the ad agency. "That's the courteous thing to do," she says. "It was their money that paid for it, after all." She did, however, leave with a barely burned Diptyque candle that typically runs around $150.
Shannon says that any remaining items still in returnable condition post-shoot are usually taken back for refunds, a tedious part of the PA-ing routine she was glad not to have to deal with this time. "Once I leave, it's not my business," she says. "That's just the mind-set you have to have when you're in entertainment. You just have to keep it moving."
The Strategist is designed to surface the most useful, expert recommendations for things to buy across the vast e-commerce landscape. Some of our latest conquests include the best acne treatments, rolling luggage, pillows for side sleepers, natural anxiety remedies, and bath towels. We update links when possible, but note that deals can expire and all prices are subject to change.