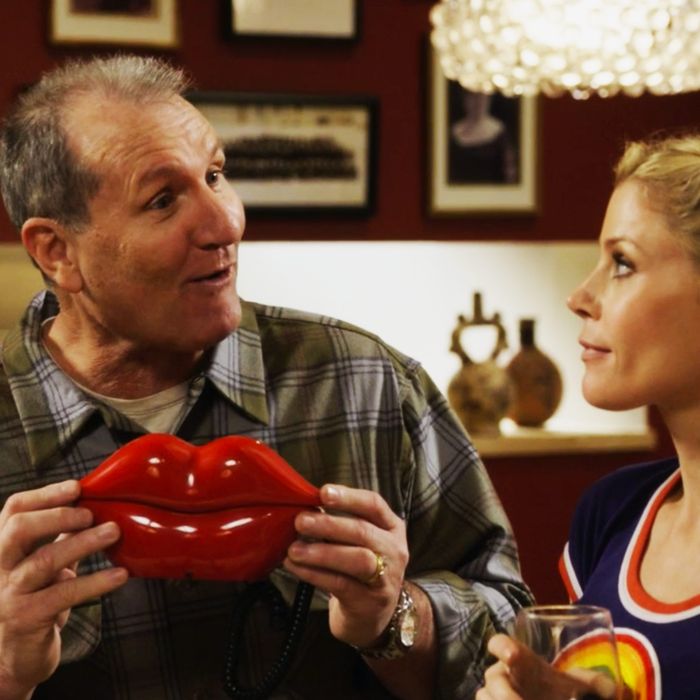 A 60th birthday is, without a doubt, one of the big ones. But just because it's a milestone occasion doesn't mean that there's a one-size-fits-all gift (something we learned from talking to 40-year-olds about the best 40th birthday gifts). After all, there are sporty 60-year-olds, art-loving 60-year-olds, 60-year-olds who just became new grandparents, and even some 60-year-olds who just became new parents. To find the best 60th birthday gifts that are both delightful and useful, we spoke to eight folks who have turned 60 (as well as a gifting expert whose job it is to help people find the right thing for a special someone at any age).
While their recommendations ran the gamut, our experts shared two bits of general wisdom about choosing a gift for a 60-year-old. The first is that, come 60, people might prefer new experiences like language lessons or a cooking class to a physical gift. The second: If you do choose to give a physical gift, either make it something they can enjoy in the moment (a nice bottle of their favorite wine) or something they can use for years to come (like a curated photo album or a pair of jeans that only gets better with age, much like your recipient). As gifting professional Aileen Avery explains, "A lot of people turning 60 are going to be at a certain place in their lives; a lot will become empty nesters, and might start downsizing." Whatever you choose, all of our experts say to make it thoughtful and personal. In the words of Avery: "Gag gifts? Not so much." From a whisky club membership to a portable car battery to a clock that'll remind them of the good old days, read on for the 33 best 60th birthday gifts recommended by our experts. (And if you're still stumped even with their inspiration, Avery notes there's nothing wrong with giving a charitable donation on your recipients' behalf.)
Experiences
and
subscriptions
Photo: retailer
Sexagenarian artist Susan McCaslin is one of five people who told us that subscriptions (or gift certificates to subscription services) are great for this age. As well as providing a recipient with a new experience of sorts, she notes subscription-based gifts "truly keep on giving." One of the best such gifts she's received in recent years is a subscription to audiobook platform Audible, which starts at $15 a month (after a free one-month trial period). "I wasn't reading before, but now I can listen to books in my studio, for example Michelle Obama reading hers, as I did recently. An Audible subscription is a great introduction to something that could change your life."
Photo: retailer
McCaslin, along with Avery and psychotherapist Debra Hauer (who is also in the 60-something club), all say gifts that involve learning a new, life-enhancing skill are also great for a 60th birthday. While such a gift should be tailored to the personal interests of your recipient (like a cooking class for a home cook), McCaslin says that any artistically inclined 60-year-olds might enjoy one of the Zoom-led drawing classes hosted by the Art Students League of New York that she just took. "If somebody gave me that as a gift, I'd have loved it," she says. The league currently offers 90 different classes over Zoom, on topics ranging from fashion drawing to watercolors to oil painting; prices start at $99 for a month's worth of lessons, which typically include one weekly 90 to 120 minute class.
Photo: retailer
"Perhaps don't write this on the birthday card," Avery says, "but as we get older, many studies show that learning a new language can help the neurons in our brain stay closely connected." That's why she recommends giving the gift of language lessons to those turning a more distinguished age. She's a particular fan of Pimsleur's language-learning platform, which offers a range of online language lessons (from Russian to Japanese to Spanish), along with a free trial for each class. What's more, the programs are compatible with smart-home devices like an Amazon Echo. "There are so many different languages you can learn on it, and your recipient can take them with their partner, friends, kids, or grandkids," says Avery. "It makes it a great gift on all levels."
Photo: retailer
Avery notes that spoken-language classes aren't the only type that might interest a 60-year-old. "You can give the gift of sign-language lessons," she says. "That way, your recipient and their partner can learn phrases like 'I'm ready to go now,' 'You need to stop drinking,' and 'Don't talk about politics,' that can be silently communicated at parties in the future." While Avery doesn't have a preferred platform for online sign-language lessons, Santa Monica Language Academy's classes, which you can take privately from anywhere in the world, were previously recommended to us by author Maile Meloy. They start at $50 an hour.
Photo: retailer
Another for artistically inclined 60-year-olds — or writers, teachers, or anyone who likes to take notes — this annual subscription from Blackwing comes recommended by artist George Corsillo who, at 70, has received a lot of birthday gifts as a 60-something. (He and McCaslin are the parents of Strategist writer Liza Corsillo, who has inherited their artistic abilities.) New York Magazine's city editor Chris Bonanos has previously declared Blackwing's Palomino pencil "the pencil for writing," and Corsillo has also "long loved the Blackwing brand," telling us that the subscription, which he receives, sends "a box of 12 limited-edition pencils — what Blackwing calls 'Volumes' — every three months." The pencils within are "inspired by everything from Bauhaus to musician Ravi Shankar," he adds, noting that each delivery includes "a special pencil, sealed in a clear tube and dated, for their permanent collection."
Before the pandemic, Avery liked to recommend Airbnb's in-person experiences as a gift, seeing as they're available in almost every American city and offer the chance to do something you've never done before. "They have everything from pottery lessons to a guided mafia-and-crime walk led by a retired NYPD detective." While Airbnb's in-person experiences are on hold, the platform is now offering many of them online, including the opportunity to learn about space from an astronomer in Norway for just $1. Avery particularly likes these as gifts for 60-year-olds because, "by 60, you'll have a lot of experiences under your belt, but finding something that is different is the sweet spot."
Photo: retailer
Hauer told us that the "the last gift that I gave to a significant man in my life" included a voucher for cooking lessons. "My thinking was that the person in question might want to gain some new cooking skills to increase the possibility of a nice dinner party some time in the future." While the company she used is no longer offering classes, we learned about Home Cooking New York's online cooking lessons when reporting our guide to the best online classes. According to communications executive Drew Kerr, a Home Cooking New York student, "We've made risotto and gnocchi, and you can ask the chefs questions like: 'Is my butter too brown?' or 'Should I chop or mince this onion?'"
Photo: retailer
Two folks told us that a (less virtuous) subscription to a fancy alcohol-delivery service would make a good option for a 60-year-old who knows what they like. "With children grown and out of the house, it's time to treat yourself," says sexagenarian Lisa Dennison, the chairman of Sotheby's Americas and former director of the Guggenheim Museum. She told us she loves to give close friends a monthly subscription to the sake club run by Manhattan-based sake emporium Sakaya NYC (which claims to be America's first sake club). The club offers "two-, four-, or six-bottle plans" and can be renewed (or canceled) every month. The price of a subscription will vary based on your stated budget; $50, for instance, is the rough cost of a subscription that includes two of Sakaya NYC's entry-level varieties.
Photo: retailer/Sasa Ribic
If your recipient likes whiskey, Avery says that, by 60, "there's a good chance they're going to be over the low-end stuff." That's why she likes Flaviar's whiskey club, which offers an annual subscription that breaks down to just $25 a month. "Every month, they send four-to-five vials of the latest high-end spirits. Some of them are rare classics, some are original creations by their team. They all come with tasting notes so you can figure out what it is that you like about this or don't like about that, and they also send you a full-size bottle of one of their spirits every month." In addition to all that, the service gives members access to exclusive virtual events and an online community of whiskey-lovers to geek out with.
Maybe your 60-year-old prefers wines over alcohol or other spirits. While none of the folks we spoke to for this story mentioned a specific wine-subscription service, Susan Kostrzewa, the editor-in-chief of Wine Enthusiast magazine, previously recommended Winc's wine-subscription club to us for some of the same reasons that Avery likes the Flaviar whiskey club. Starting at $39 a month for three bottles, the club asks recipients to begin their experience by taking a quiz to determine their taste profile, then Winc takes it from there, sending wines that, in Kostrzewa's words, "range from classic blends to obscure, single-vineyard fringe projects." With every delivery, recipients are asked to rate their bottles, ensuring that future installments will be even more tailored to their preferences.
Perhaps your recipient is a wino but you don't have the budget for a subscription or would prefer the gesture of physically giving them a gift. According to style writer G. Bruce Boyer (who is approaching his 80th) the easiest crowd-pleaser for a white-wine drinker is a bottle or "case of Sancerre." For the red-wine drinker, it's a bottle "or a case of Côtes du Rhône," he says. "Any sensible person ought to be happy to get" either variety, promises Boyer, who calls each "still interesting and tasteful."
Photo: retailer
Also for red-wine lovers, this "really nice cabernet with 'Happy 60th' written on it would be a unique gift," according to Kevin Blackburn, who works in the mortgage industry and recently celebrated his own 60th birthday. He received a similar bottle from people who knew of his love for wine, and told us it truly delighted him.
Photo: retailer
If your recipient is more of a foodie, Boyer says he likes to gift British department store Fortnum and Mason's iconic wicker hampers filled with treats. While based in the U.K., Fortnum and Mason has a dedicated website for shipping products to the U.S. (which does require paying a little extra for shipping fees). "It's always nice," he says of the basket. "They have about 30 or 40 options," which include this one made just for birthdays that contains cake, truffles, tea, jams, chocolates, and more.
"For the 60 year old who loves coffee and history," Avery recommends giving a coffee subscription from Port of Mokha. "Coffee originally came from Yemen, but it was stolen and spread through the world. The founder of this brand has made it his mission to make Yemeni coffee famous again," she explains. "He studied with Blue Bottle, but then right as he was making his first harvest in Yemen, civil war broke out and he had to escape. Now, the company is headquartered in San Francisco, and keeps winning competitions." This story, Avery adds, gives your recipient "something to talk about when they serve the coffee to people." For $28 a month, your recipient will get a fresh bag of coffee on the second week of that month, which was roasted in Yemen the week before.
Fashion,
beauty,
and
grooming
Photo: retailer
Dennison says these Ugg Sandals would make a thoughtful 60th-birthday gift for a woman, because "foot comfort is especially important for the 60-plus-year-old." She says these, with their "cozy fluffy sheepskin and elastic backstraps," are functional but also fun to wear — which is important, because Dennison reminds us that "the stylish cool factor still needs to prevail" when choosing any fashion-related gift for a 60-year-old.
McCaslin told us that as she approached 60, the last thing she wanted to recognize was "the fact I might need something to help my skin feel younger." Thankfully, her daughter Liza gifted her a basketful of skin-care products, which made facing this reality a bit more like "heaven to me." Of everything included, she says Drunk Elephant's Lalo Retro whipped-cream moisturizer was a standout, not just for the product within, but also because of its packaging: "Because it comes out of a pump, you aren't putting your fingers into the jar and contaminating the product."
Photo: retailer
Her other favorite product from her skin-care basket is this toner, which she recommends to any women skeptical that facial products can have a quick effect. "It just worked," McCaslin says. "It really did brighten my skin. I was so surprised."
Photo: retailer
At any age, keeping your phone powered up when you're out and about is crucial. But it's especially important for 60-somethings who may have even more family members or friends to keep up with and check in on. For people who are "constantly on the go and nervous their phones will die," Avery recommends one of these bags from Kate Spade, which she says "are really stylish and also have a battery inside, so you can charge while on your errands and not worry about being next to an outlet."
Photo: retailer
Boyer recommends this fragrance for both men and women, telling us that, like your recipient, Santa Maria Novella also has a lot of good years under its belt. "Santa Maria Novella has been making colognes for about 500 years," he explains. "They know what they're doing." He likes the Sicilian Blend because it's "clean, fresh, light and citrusy, but still very sophisticated, with notes of vetiver and lemongrass."
Photo: retailer
George Corsillo told us he loves the pair of Japanese raw-denim selvedge jeans he received around his 60th, because the more you wear them, the more they reflect the wearer. "My sons, who started a menswear brand, got me hooked on Japanese selvedge jeans," he says. "A good pair of raw jeans is an incredible investment. My Momotarro jeans are my pride and joy, worn in just right with my own 'whiskers.' I've gotten lots of compliments."
Photo: retailer
For the golfer, beachgoer, or guy who likes to dress casually, sexagenarian Peter Hunsinger, a former Condé Nast executive and the founder of sock brand Kane 11, suggests Johnnie O Polo shirts. He says polo shirts have a look that's "still formal, but a little relaxed" and that Johnnie O's polos are simply "the best — you could even wear them to the office." He explains that, "when you get older, you can't wear the polos with the super small collars," which is precisely the appeal of Johnny O. "Its polo's collars are proportioned nicely, to match the different shirt sizes, and they stand up forever."
Photo: retailer
"Many 60-year-olds who are thinking about retirement have time on their hands," says Dennison, which is why she — and three other folks — mentioned books your recipient can get lost in as particularly good gifts. "MoMa's collection catalogue, which has such a gorgeous cover, is the ultimate coffee-table book," she says. "I love gifting copies of it." To make the gift more thoughtful, Dennison suggests "adding a membership to the institution, which ensures so many benefits, from skipping the line to discounts in the fabulous Design Store."
Photo: retailer
Boyer also recommended a book, albeit one that's a little more wordy. Written between 1660 and 1669, "the complete diary of Samuel Peps is, in my mind, the greatest diary every written." The "magnificent, incredible" book by Pepys, who served in Parliament and as an English navy administrator, includes his thoughts on the major historical and political occurrences of his time, as well insights into his social and professional life. While the text is ancient, its translation is not, according to Boyer: The 17th-century diary "wasn't completely translated from his shorthand until 1983."
Architect Christopher Choa says, at 60, "perhaps you are fabulously successful and have fulfilled your genetic destiny and spawned a critter or two. But are you living an eudaemonic life?" The question he poses refers to living a truly happy life, and if your recipient is still trying to figure out what makes them truly happy, Choa says their (hopefully) many years still to come mean they have "much to gain by considering how virtue is sufficient for happiness." To get the ball rolling on that front, he recommends giving these two books. How to be Stoic touches on the merits of self-discipline and fortitude in facing down difficult moments, and How to Live is about the grand life and philosophical discoveries of 16th-century essayist and philosopher Michel Eyquem de Montaigne.
"I recommend photo books for all ages." Avery says. "Especially now — so many of our photos are digital, so we don't get to see them or thumb through them. I made one for my mother-in-law; I found a picture of her holding my son, and one of her holding my husband when he was a baby, and she was holding them in the exact same way. She opened it and started crying." For a 60th, Avery suggests taking time to create an album that has "one page for each year, and having the whole family pitch in. It's going to take some time and a lot of searching, but I think that would really really touch somebody on a deep level." While there are tons of photo albums out there, not all are created equally (or as stylishly). We found this one while scouring the internet for (nice-looking) photo albums for everyone; with room for 200 photos, it should have plenty of space to execute the type of life-spanning collection Avery suggests.
Photo: retailer
Both Hunsinger and Dennison told us they'd give drinkware from Yeti to any 60-year-old who would appreciate the brand's thoughtful approach to product design. Dennison says this rambler, for instance, would be great for folks who "like their water icy cold as I do," adding that it comes in an array of gorgeous colors, and is definitely something I can't live without." Hunsinger agrees, telling us Yeti's drinkware "really does keep things cold forever."
Photo: retailer/TUCKER ADAMS
Hunsigner says this ultrapractical gift will surely delight a 60-year-old "gearhead," telling us the portable car battery is like a "security blanket" for adults. "This thing looks so great, and is so well-designed," he says. "Instead of needing another car to jump start you, this little square box functions as the other car." While capable of jumping a car, he adds that the battery can also be used on smaller devices, including to charge a phone or laptop.
Photo: retailer
Nodding to the decade that many 60-somethings were born in, Dennison says this "retro Kit-Kat clock was so popular in the '50s" and suggests it as an unexpected gift that's both practical and full "of nostalgia."
Four folks say that if you have the means, there are few better birthdays than a 60th to splurge on a loved one. "It's one of the benchmark birthdays," says Avery. "As you get further on in life, you deserve a little more than a gift card to Amazon." One such treat could be this silk scarf from heritage British apparel brand Drake's that Boyer recommends. "You can buy a scarf anywhere, but Drake's makes real ancient-matter silks that are colored with special dyes," he explains. "It's almost a lost art — you just can't find that kind of thing everywhere."
Photo: retailer
Hunsinger says that buying this blazer for himself later in life was "the most extravagant thing I'd ever done." But, over time, it proved to be more and more worth the price, and now he recommends investing in one for any sports-jacket-wearing 60-year-old, promising that it'll be "that last jacket they get." Adds Hunsinger: "I get compliments every time I wear it, and I always feel like I've got the right thing on. I've had mine for 10 years, and it's not played out in any way. I can wear it with jeans, trousers, a tie. I'm never hot when I'm in it, nor cold. It's just universal."
Photo: retailer
"This is really for the person who has everything, and the gifter who wants to do something outrageous," Avery says. "It would most likely only be attainable as a group gift everyone chips in for, but it's true professional-level grilling. You can use it as a rotisserie. You can use it as a smoker. You can customize it in so many ways, down to a monogrammed grill that prints your initials onto the steak you're making." Yes, it's a lot of money. But, as Avery reminds us, "so many people buy cars for a 16-year-old."
The Strategist is designed to surface the most useful, expert recommendations for things to buy across the vast e-commerce landscape. Some of our latest conquests include the best acne treatments, rolling luggage, pillows for side sleepers, natural anxiety remedies, and bath towels. We update links when possible, but note that deals can expire and all prices are subject to change.