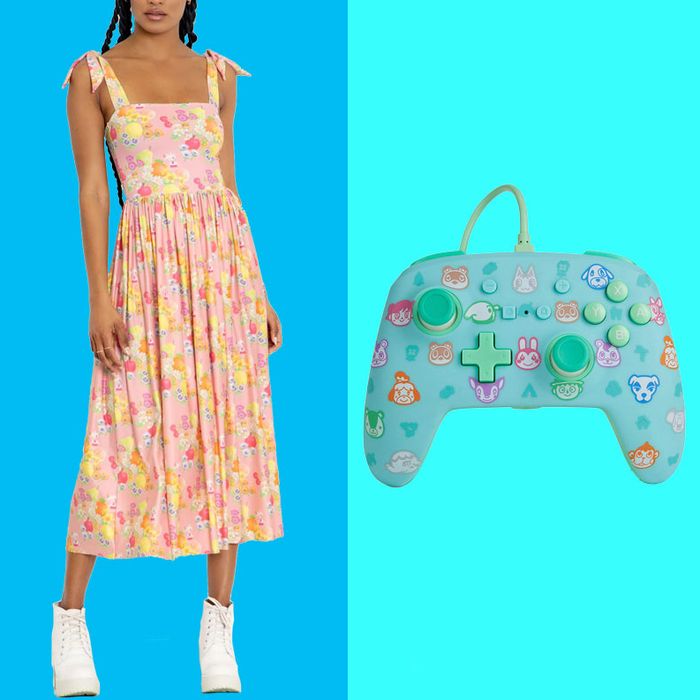 For a video game with five titles, three spinoffs, and over 11 million players, the Animal Crossing Nintendo franchise has surprisingly slim merch offerings. Officially licensed merchandise is limited to a handful of plushies and uninspiring T-shirts, most of which sell out in a matter of hours. And while there are finally some satisfying (and still-in-stock) options at Target and Urban Outfitters, the game's fans (myself included) have taken our search for merch elsewhere, sifting through Etsy page after Etsy page of homemade key chains and D.I.Y. embroideries.
But not all Animal Crossing merch — especially handmade Animal Crossing merch — is created equal. So to help you find the best — from actually tasteful tees to fan-inspired figurines (that don't look too crafty) — we talked to several of the biggest Animal Crossing fans we know for their favorite official and unofficial merchandise. And even if you're not in the merch market yourself, we think any of our finds would make a very thoughtful holiday gift for the gamer in your life.
Decor and Doodads
For the fan whose merch taste skews minimalist, this unassuming apple plushie could easily be passed off as fall décor.
A little more practical than a plushie, gamer Woodsy, the primary data miner for the Animal Crossing: Pocket Camp community on Reddit, likes this limited-edition journal, which he says is "nice for recording your activities" and making island-chore checklists, thanks to its "clean layout."
A personalized Animal Crossing mug would make a "perfect" gift for any player "who takes pride in their island," says Sarah Cwynar, who runs the Animal Crossing inspiration account @crossinginspiration on Instagram. The fruit, grass pattern, and town name can all be customized, too.