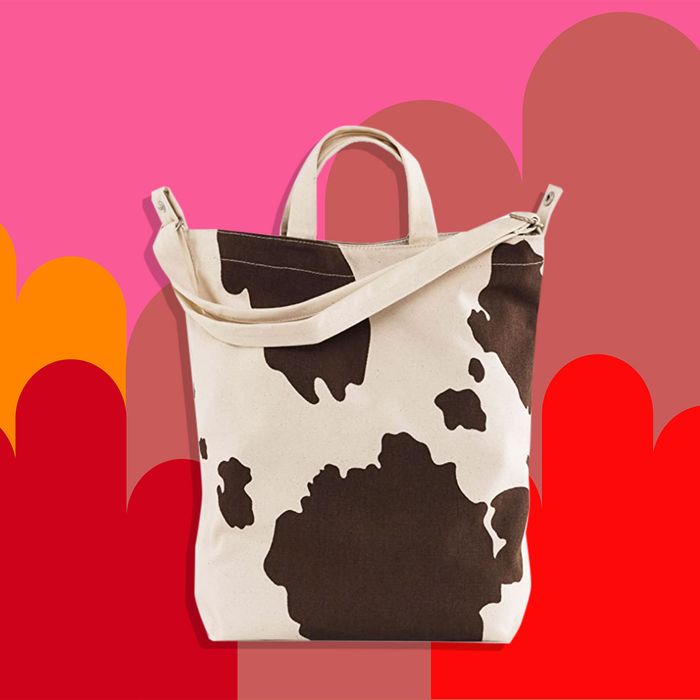 Photo-Illustration: The Strategist; Photo: Retailer
You probably scored tons of deals for Black Friday last week, but in case you missed out on some things, trust us — Cyber Monday is just as good, if not better.
For those, still in search of some gifts, especially for the hard-to-please people in your life, we've rounded up some things on sale that we think would make particularly good presents regardless of the recipient, from your uncle with no discernible interests to the younger sister who barely looks up from her phone. To make it even easier, we've also broken down our picks by budget, which you can navigate using our table of contents. And in case you want even more gifting ideas, check out all of our gift guides so far, as well as our master guide to the sales, here.
Under $25
Belting Adele is more fun with a microphone.
For the man in your life with chronically chapped lips.
A fail-proof gift for any man in your life.
A mind-blowingly useful spatula for the avid baker in your life. The slotted design will help them navigate around a KitchenAid paddle attachment, so barely any batter goes to waste.
A helpful gift for the teen (or, well, anyone) complaining of eye fatigue from staring at a screen.
For the more experienced journal-er, this is Brandy's favorite notebook for daily thought-recording.
Wearing black — or any dark color, for that matter — can pose a challenge, especially if they're a pet owner. Save the day with this lint roller you never have to replace.
Everyone could use a little help staying organized, and this one sticks to the fridge for extra convenience.
Any holiday tablescape (including your own) would benefit from these charming candles.
Or go for some sculptural candles.
A bright, fun sweatshirt (with little ears on the hood!) for the kid in your life.
An inexpensive loungewear refresh for the person who's still in their sweats-only phase.
A necessity for dads who grill.
Some nice-looking pimple patches for a nice little stocking stuffer.
The adult version of the Chia Pets you had as a kid — that's just as fun.
A bath accessory for the person who already has more bath salts than you can count.
Pets deserve presents, too, and this gift box comes with two toys, a blanket, a banner for photo ops, and a bag of treats.
Under $50
Extra-soft (and extra-affordable) UGG earmuffs to keep their ears warm on the way to school or out in the snow, when that time comes around.
A good layering necklace that already comes in a gift box, as a little bonus.
Quality office supplies will never fail to impress.
For the kid who has to splash in every puddle they come across.
Save them some money on manicures. (And in case they want something a little different, there are lots more sets to pick from.)
A cow-print tote good for everyday schlepping.
Online Ceramics never goes on sale, but this is a pretty good deal regardless.
Any teen who wants a retro look but not an analog experience will appreciate this monochrome Bluetooth speaker designed like a vintage radio.
For the home cook who's sick of making the same three recipes over and over.
This best-selling, expert-recommended, and editor-approved sheet pan rarely goes on sale, nor does the rest of Great Jones' products, which are marked down all the same.
Charming, cozy slippers to keep their feet warm this winter.
In case they're still growing out their self-cut quarantine bangs.
She'll never want to take them off.
This holiday candle smells like pomegranate, mandarin orange, and pine (and would make a nice host gift).
For something a little darker, here's a palo santo–scented candle.
Under $100
A good all-around gift for any mom, sister, aunt, or friend.
If their resolution next year will be to travel more, a nice passport holder will be a welcome surprise.
One can never have too much light (or lamps that double as objets d'art).
In case they'd prefer a slipper that's a little more substantial.
Upgrade his underwear drawer with this pack of high-end boxer briefs (instead of the pairs he's been using since college, most likely).
A classic board game that's pretty enough to leave out when you're done.
For the person whose adventure buddy is their dog.
Keep them warm on outdoor hikes — but not too warm — with this ultrasoft fleece vest.
For the home-workout fiend.
Great for the person who is still stoked for outdoor hangouts in the winter.
A packable, machine-washable sleeping bag suitable for sleepovers in the living room, at a friend's house, or even in the backyard.
For the person who would like a touch of whimsy in every corner.
A cozy-and-cute sweater to wear all winter, for the notoriously cold among us.
A rarely on-sale hair oil with a fragrance they won't be able to get enough of.
All cashmere everything — 40 percent off the list price.
Liven up their dreary dorm room with this cheery rainbow throw.
This cashmere beanie is probably nicer than the one they'd buy for themselves, making it a perfect gift.
Something to keep the kids occupied.
Being a plant and pet parent can be difficult. This duo will help.
Under $200
Something to aid the insomniac.
A posh beach towel for the friend who wishes they could be poolside year-round.
An attractive jacket for the man who desperately needs an outerwear upgrade.
For the person who brings their pet with them everywhere.