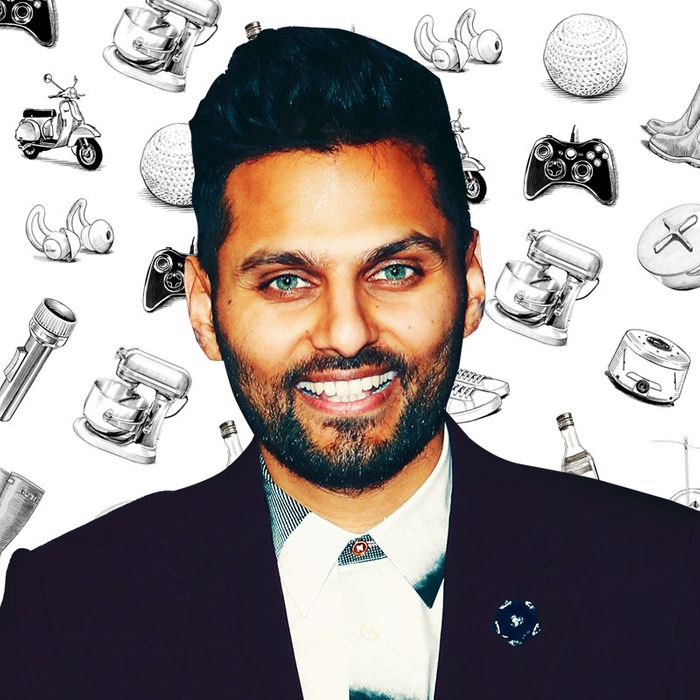 Photo-Illustration: Getty
If you're like us, you've probably wondered what famous people add to their carts. Not the JAR brooch and Louis XV chair but the hair spray and the electric toothbrush. We asked life coach and podcaster Jay Shetty — a former monk who, with his wife, recently launched Sama, a line of adaptogenic teas — about the journal, headphones, and tennis racket he can't live without.
I started using this about five years ago. I love how simple it is. It really is a five-minute practice, morning and night, which is easy to commit to. If someone told me, "Sit down and journal," I would stress over when I would find the time to do that each day. Often, when we think of journaling, we judge ourselves before even starting — I'm not a good writer, I don't have a strong vocabulary, I'm not good at expressing myself. This nudges me with different prompts, so I'm not opening the journal to an empty page that I feel pressured to fill. I sit down with a cup of tea in the morning and write down my daily affirmations and what I'm grateful for. At night, I come back to it for another five minutes and reflect on things that made me happy that day and what could have made it better.
Peppermint Halo is a staple. I use it when I feel congested or have a bit of a headache. It's called halo because you roll it on your temples, your forehead, and in between your eyebrows, as if you're drawing a halo around you. I've started to use it around my jaw and throat and upper back, too. It relieves headaches, stress, and tension in a matter of minutes — literally minutes. I tell everyone to use this instead of popping a pill or drinking coffee to cure headaches.
A lot of the good things in my life have been introduced to me by my wife. She found these candles. They look extremely beautiful with the crystals and flowers mixed within the wax. The brand says each candle has been infused with essential oils and sacred mantras. I don't actually know what that means, but in my mind, I picture someone sitting there chanting mantras into the candle as it cools. The Love + Connect scent is my favorite. It's the one that I keep on my desk. It doesn't even have to be lit to have an impact — I feel all the benefits of the candle just by breathing it in.
Tennis became my go-to workout during the pandemic. I've been playing regularly for well over a year now, about three to four times a week. But I don't think the amount of time I've played corresponds to the level I'm at, if you know what I mean. I'm not an expert — playing has made me realize how hard it is to learn new things as we grow older. I take classes and play with a coach. The most professional thing about my game is my racket, which my coach recommended to me. The racket makes me look like I play a great game, but it's very deceiving because I have the talent of a ball boy. I think I'm improving, and I'm sure this racket helps me. It's comfortable to hold and the black and yellow stands out on the court.
I launched my podcast in February 2019. I knew nothing about podcasting at the time. I'm not a technology specialist. When I looked for a microphone, I wanted one that I could travel with, so that I could visit guests. It had to sound good in any room because we didn't have the predictability of a studio or a soundproofed environment. In the first year of recording my podcast, we went everywhere from Monaco, to interview Novak Djokovic; to Costa Mesa, to sit down with Kobe Bryant; to Germany, for an interview with Mario Götze from the German national soccer team. Another priority was finding a mic that is heavy-duty. No matter how smooth I may appear, I'm pretty clumsy. I drop stuff all the time. The Shure microphone is very resilient, and the sound quality is studio-level. When people are giving me two hours of their time each week, I feel a responsibility to serve them with a positive sound experience. This microphone definitely helps me do that.
I've owned a lot of headphones — when I travel, I'm one of those people that will be at the duty-free shop buying a new pair of headphones. But the day I bought these was the last time I bought new headphones. I stopped searching because I feel like I found the best ones. I wear them when I'm running, hiking, or just on the go. I can wear them for hours, and I won't even notice they're there. I find that a lot of these big, over-ear headphones can be bulky and too heavy. These are light and soft on the ears. The sound quality is great. Plus there's no leaking. No one can hear what I'm listening to regardless of how loud I'm playing it. And I rarely have to charge them. They are very much noise-cancelling, though, so I have to be careful crossing the street. You can adjust the volume by touching the side, which makes it easy to pay more attention when I'm crossing the street or if someone says something to me. They're truly excellent headphones.
No matter what suitcase you have, it gets thrown around and beaten up. I put my suitcase in the back of a car; I check it when I fly; I roll it through hotels. I'm not playing American football with my suitcase, but when you're moving around so much, things tend to break and get scratches. I used to invest in expensive suitcases until I realized none is truly indestructible. I'm not saying the Amazon Basics ones are perfect. But because I don't spend a lot of money on them, I'm not disappointed or frustrated if one gets scratched up. I did not read any reviews before purchasing one, but I was so disgruntled by negative experiences with other brands that I was like, This is affordable, so if it breaks, I will just replace it. And it has actually been great. I'm not telling anyone to throw this suitcase off a balcony or anything like that, but it does hold up very, very well.
My wife and I wanted to create a tea that not only tastes good but can also do amazing things for your mind and body. We've added adaptogens like shatavari and ashwagandha. We picked each adaptogen with a purpose — to help your body wake up naturally if you drink it in the morning, or to help de-stress and release tension if you drink it at night. Each blend adapts to your body to give you what you need. In the morning, I drink our jasmine-peach tea, which really sets me up for the day. In the evening, I drink our lavender-rose chamomile, which is designed to help with sleep and the relaxation of the mind and muscles. Right now, you can purchase a sampler pack or join our monthly tea club, which sends you a box of your favorite blends every month. But individual blends will be for sale very soon.
The Strategist is designed to surface the most useful, expert recommendations for things to buy across the vast e-commerce landscape. Some of our latest conquests include the best acne treatments, rolling luggage, pillows for side sleepers, natural anxiety remedies, and bath towels. We update links when possible, but note that deals can expire and all prices are subject to change.