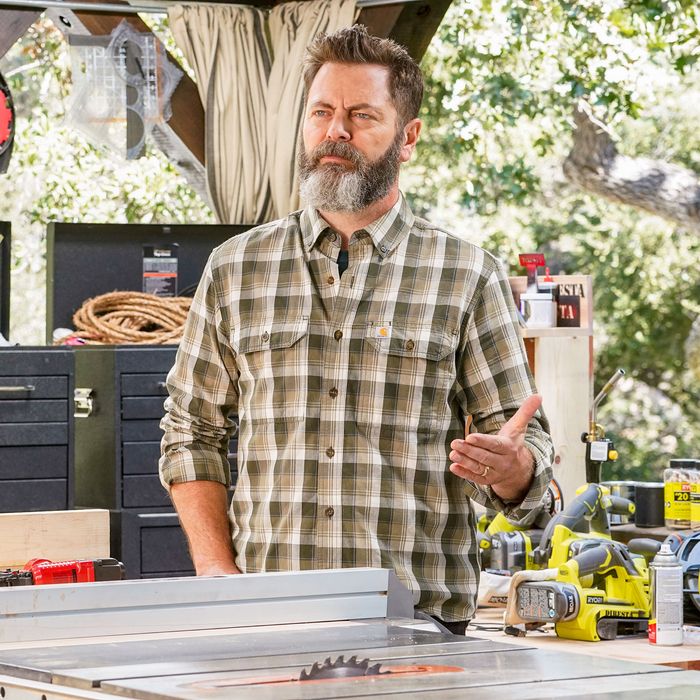 Photo: Paul Drinkwater/NBCU Photo Bank/NBCUniversal via Getty Images via Getty Images
Holiday shopping for anyone with a very specific hobby or job can be challenging — whether they're an artist with impeccable taste, an architect who likes everything just so, or a birder who already has too many pairs of binoculars. Woodworkers are no exception. Woodworker Hoppy Quick told us that "the best gift is a good hatchet or carving knife." But which hatchet and which knife? To find out, we checked in with a panel of woodworkers and craftspeople to hear about the tools, clothing, and home goods they'd be happy to receive for the holidays.
Tools
If you want to give your woodworker something they'll actually use, start with something simple: a ruler. Several of the woodworkers we talked to suggested gifting rulers or squares (measuring tools that make a right angle). Woodworker Pat Kim recommends this six-inch ruler from Shinwa, which he describes as "super accurate and small enough to always be handy." He explains that the ruler works well for all kinds of measuring situations. "Each edge has a different graduation, so it can be used to get very accurate measurements for marking out or rough measurements on the fly," he says. "I have two, one only for measuring and one that can also be used for scraping up glue or prying open containers or ripping open boxes."
Another pocket-size ruler recommendation comes to us from pipe-maker Will Woodson, who says this little tool is "hardly a prestige item but is exceptionally handy if you work in inches and don't have your fractional measurement to decimal measurement conversions memorized." Woodson keeps it in the pocket of his shop apron and says he uses it "constantly" (and at $3, we think this one would make an ideal stocking stuffer).
Photo: retailer
If you want to give a bigger ruler, Henry Tadros, director of L.Ercolani, suggests this 36-inch four-fold ruler. "It's an essential tool, simple yet effective," he says. "The design hasn't changed in forever, and I can imagine seeing the craftsmen in our factory workshop using these folding rulers when we started out 100 years ago — timeless utilitarianism."
Measuring tape always comes in handy too. If your woodworker happens to be a lefty, they'll like this one — a current favorite of woodworker Alma Villalobos. "The markings on the tape can be read from either the left or right position," she says.
Photo: retailer
A measuring square — which is a device with two straightedges that are oriented to form a right angle — can be useful for woodworkers trying to lay out precise joints. If you want to gift a square, consider this one, which comes recommended by woodworker Michael Robbins. "This is a beautifully made measuring tool produced in Massachusetts," he says. "It is the foundation of any woodworkers toolbox and a pleasure to use."
At a lower price point, this square, which Villalobos calls "another favorite measuring tool," is perfect for any woodworker's pocket or apron thanks to its small size (3.75 x 3.75 inches).
Of course, measuring with any kind of tool won't be helpful unless you can mark as you go. Woodworker C.C. Boyce told us that she thinks a pack of these Ticonderoga pencils would "be a good stocking stuffer." You really can't go wrong: "Every woodworker needs, like, millions and millions of pencils; we will never turn down pencils, no matter what kind you give us," she says. "But these Ticonderoga No. 3 pencils are great because the lead is hard and you can get a thin precise line without the lead breaking on lumber. I can get a nice fine mark if I'm doing precise joinery lines or if I want to mark rough lumber that I need to cut."
For dusty or oily surfaces, try these markers, which Boyce says were recommended to her by a friend who's a welder. "The markers really do work on things that are dusty or oily, and they don't clog up," she says. "I have them all around my shop — they're not very expensive, but they really do what they say and they're long lasting."
Photo: retailer
"Every and any woodworker will tell you, 'You can never have enough clamps,'" says Villalobos. "I really enjoy using Bessey GearKlamps — the quality of Bessey clamps are top notch." Part of the appeal lies in the clamp's handle tightening design, explains Villalobos: "You can get really close and tighten down on your project without smashing your knuckles."
Block planes, which are small handheld blades used for everything from touching up a piece to working on a wood finish, are a popular tool among woodworkers, and two of the ones we spoke to suggested them as a useful gift. "This is small enough to fit into an apron pocket," says Kim. "It's perfect for breaking the edges of freshly milled wood, cleaning up joinery, and trimming veneer." We think the bronze body of this one gives it a kind of stately look, too.