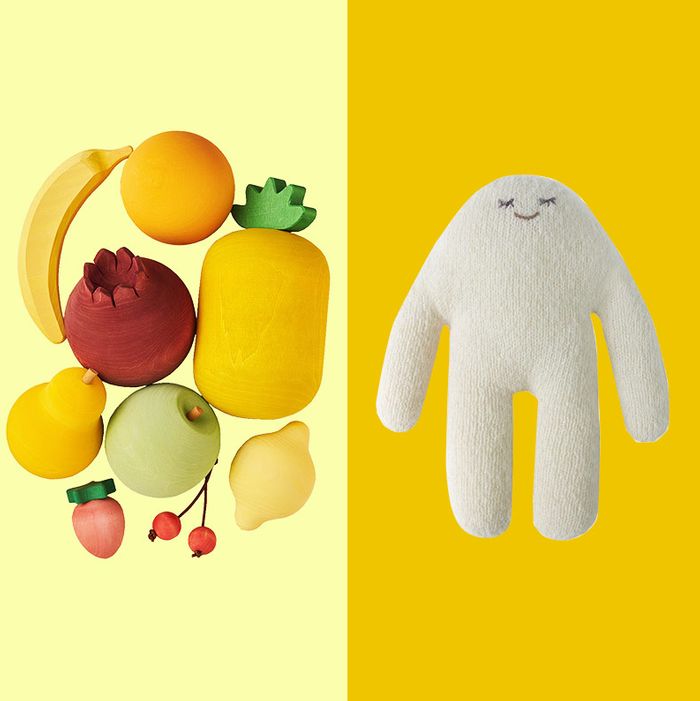 Photo: Courtesy of the retailers
Erica Cerulo and Claire Mazur spent nine years running Of a Kind, a beloved e-commerce site known for carrying indie designers you couldn't find anywhere else on the internet. They closed up shop last fall, but that doesn't mean they haven't stopped, well, shopping. With that in mind, we're asking the entrepreneurs (who still write a newsletter and host a weekly podcast) what they'd stock in a store — if they still had one — department by department. First up, actually stylish baby toys.
A good baby toy is one that a person wouldn't be embarrassed to find all around the house — on the floor, in the sink, under the bed, in the background of every family photo. And we've collected intel on who makes that sort of toy in equally disparate places: in a perfectly imperfect magazine home tour, in the Instagram Story of a Hollywood mom, in the back of home-goods stores in Barcelona and Venice Beach and, of course, at the sprawling, brain-draining trade shows we attend at (shiver) the Javits Center. Say what you will about the design-ification of, well, everything, but who are we to complain about the emergence of hot-sauce and avocado rattles, both of which sold well on our site?
We've learned through the years that it's not (just) the parents who purchase the chalk shaped like donuts or the ginormous Jellycats; it's the cool aunts, the aesthetically minded godfathers, the grandmas who can make a whole afternoon of a visit to ABC Home — an audience that doesn't necessarily know, or at least remember, what infants actually do. (The answer is nothing. Infants do nothing.) That means that some of these things serve as nursery décor at first and become toys later; it also means some are so stylish you might just want to buy an extra for yourself. Don't worry, though: We still keep parents very much in mind. None of these things make noise, and some are even stylish enough to pass as art.
The Russian brand Raduga Grez turns out toys so pretty that you definitely don't have to be (or have) a kid to hanker for them. To be honest, we'd carry a whole boatload of them in our hypothetical store, but if we had to choose, we'd pick these. They're so pretty that they could sit in a bowl on a dining-room table (and we'd probably photograph them just like that for the product page).
We're big fans of Candylab's wood cars, and the newest collection of Candyvans is their most charming offering yet. We'd encourage customers to scoop up a few at a time — their sleek boxes are easy to store, and those first birthday parties seem to pop up out of nowhere.
From the illustrator behind Gold Teeth Brooklyn, the card line you'll find in hip fashion boutiques all over NYC and L.A., this book is good-looking and cheeky without veering into twee, and that's harder to come by than you'd think.