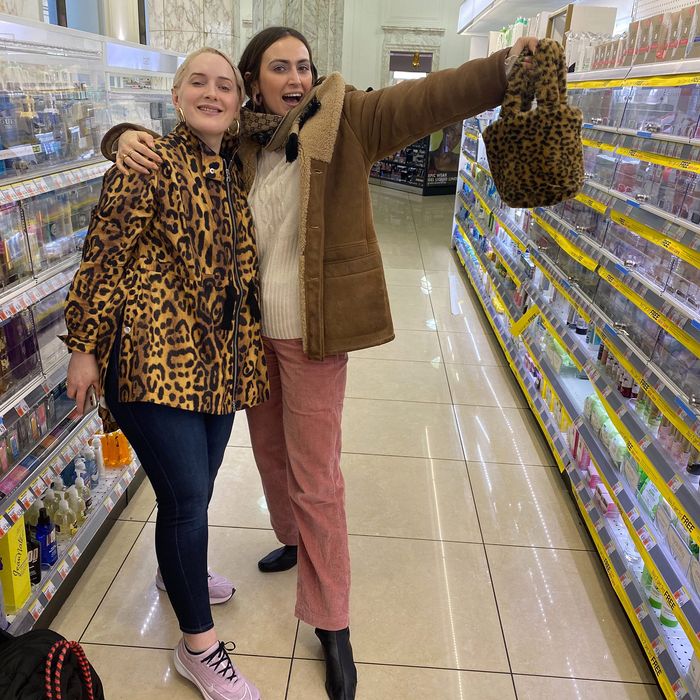 Photo: Courtesy of Rio Viera-Newton
If Sofie Pavitt's name sounds familiar, it's because it's difficult, at this point, to mess around on Instagram without seeing a beauty editor, model, or downtown-ish cool girl raving about her affordable, glow-inducing facials. Not only is Sofie an excellent aesthetician — she's saved my skin many times from brutal breakouts — she has an incredible talent for educating her clients about the science of their skin care. I usually spend half my facials with her picking her brain about retinols and actives and always leave her cozy Canal street studio feeling a little bit smarter.
During a recent session, Sofie told me how quickly drugstore skin care is evolving — she explained that it's no longer essential to spend $100 in order to get good, effective products. Which is why, when I heard the Strategist was doing a whole week devoted to the drugstore, I decided to drag Sofie to a downtown Walgreens where I asked her to create a skin-care routine made entirely out of products found right there in the aisles. While this list didn't necessarily convince me to abandon any of my pricier holy grail toners and serums, I definitely left with several of her drugstore recommendations in tow. Below, Sofie's ideal drugstore skin-care routine.
Cleanser
I really recommend this hydrating cleanser from CeraVe. It's incredibly gentle and neutral — it contains a little bit of hyaluronic acid to help give your skin some moisture, and that's it.
Honestly, U.S. drugstores don't have great exfoliants — you're not going to find a P50 or an Alpha Beta Peel dupe at a New York CVS. But, you can find AHAs and BHAs in some drugstore cleansers. This one from CeraVe has salicylic acid in it, which means it's great for removing dead skin cells and combating acne. If you have dry skin, I would recommend you use this about once a week, and if you're oily, I'd recommend using it more frequently.
Essence
Okay — so we've washed our faces with the CeraVe cleansers, which means all the dead skin is off our faces, and our products can now penetrate properly. Which means we're going to find a toner that's deeply nourishing and hydrating. This essence mist from Olay is a great option — it has chamomile and hydrating aloe vera, as well as niacinamide that provides brightening and healing properties. The fact that it's a mist also means it is incredibly easy to use. It's a quick and easy way to get moisture back into your skin after stripping some of it out during the exfoliation process.
Serum
These little hyaluronic acid ampoules from L'Oreal are great — you break them open and pat them into your skin. Each one gives you a dosage of hyaluronic acid which intensely hydrates the skin. Make sure you wet your face before you put this one on — hyaluronic acid is a water-seeking molecule, so if your skin isn't wet when you apply it, it's actually going to suck the hydration out of your face! That is something a lot of people don't know.
Retinol
I know what you guys are thinking — a drugstore retinol!? But I've tried this one and was genuinely surprised by how well it worked. I would, and have, recommended this one to clients and friends of mine because it's incredibly effective. Retinol is a journey and it will take your skin some time to adjust, but with consistent use, it can be one of the most powerful skin-care ingredients to treat acne, wrinkles, and dark marks. Try using this cream twice a week to start, and then, if your skin responds well, maybe try three times a week. If it gets irritated, back up a little go back to two times.
Moisturizer
I truly love this moisturizer! It has hyaluronic acid in it, which, again, is an extremely moisturizing ingredient, and it comes in a gel formula, which means it's not heavy or greasy on the skin. Truly, this is one of my favorite moisturizers and I know a lot of editors that adore it too!
Eye Cream
This cream is really nice and hydrating for your under eyes, but what I really love about it is that it has a slight rosy hue to it. So it simultaneously does a little color correcting on your under your eyes if you struggle with dark circles!
Sunscreen
This is actually one of my favorite sunscreens! I think it's fabulous. I like it because on top of SPF protection, it has ceramides for nourishing the skin, as well niacinamide which can help brighten and heal your complexion.
Mask