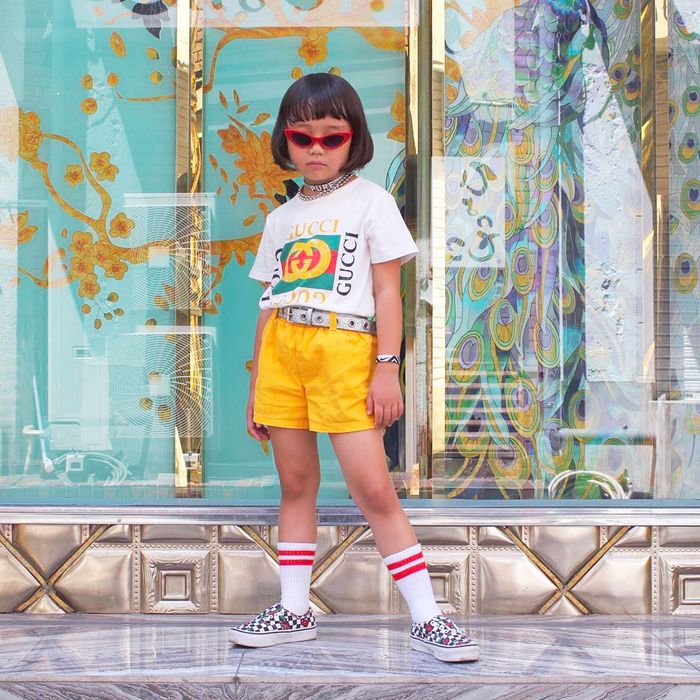 Have a child just to dress them like Coco, who's 6 years old and from Harajuku, Tokyo.
A little under a month ago, in the middle of July, Kevin Ma, founder of Hypebeast and Hypebae, launched Hypekids. It's exactly as it sounds, a website detailing release dates and new products for hype-inclined parents who want to dress their kids in Balmain jeans and Bape's Minion collaboration tees (which are now going for nearly $500 on eBay, so it'll be good to get in early on these things). With this site, along with Balenciaga's recently released stuffed animals and Kanye's kids line, it's becoming ever more apparent that today's toddlers need to be streetwear savvy. Just check out Japanese fashion icons Yoshi and Coco on Instagram. They're both under 15. If you're 6 years old and not into fashion, it's already too late. So if you're trying to get your baby to look like he should be waiting on line outside Supreme, or perhaps want to dip into the world of "baby Instagram fashion-influencer" stardom, this is how to make it happen.
Bape, founded by Japanese designer Nigo, is a hypebeast and streetwear staple. This kind of shark mouth over the crotch of shorts is their signature look.
And Baby Milo, Bape's monkey mascot, has actually been pretty kid-friendly all along.
No hypebeast is complete without a cool windbreaker, and where better to start than Kith, New York's quickly expanding quintessential hypebeast and sneakerhead boutique founded by Ronnie Fieg.
And a Kith box-logo tee to prove your insider brand loyalty.
Gucci took this classic bootleg print and made it official. They also made it in kids' sizes.
Get the best of The Strategist delivered to your inbox.
Instead of a Gucci slide, how about this Gucci strapped sandal?
This striped, ruffle-accented wool sweater is the perfect hype-high-fashion moment for little girls.
Possibly the most hypekid around right now is Asahd Khaled, DJ Khaled's baby. He has this Gucci blanket.
No hypebaby is complete without a pair of cool designer joggers.
Or how about buttoning this dinosaur-print polo as high as it can go?
Of course, an Adidas tracksuit. This one needs to be in all-black for proper attitude.