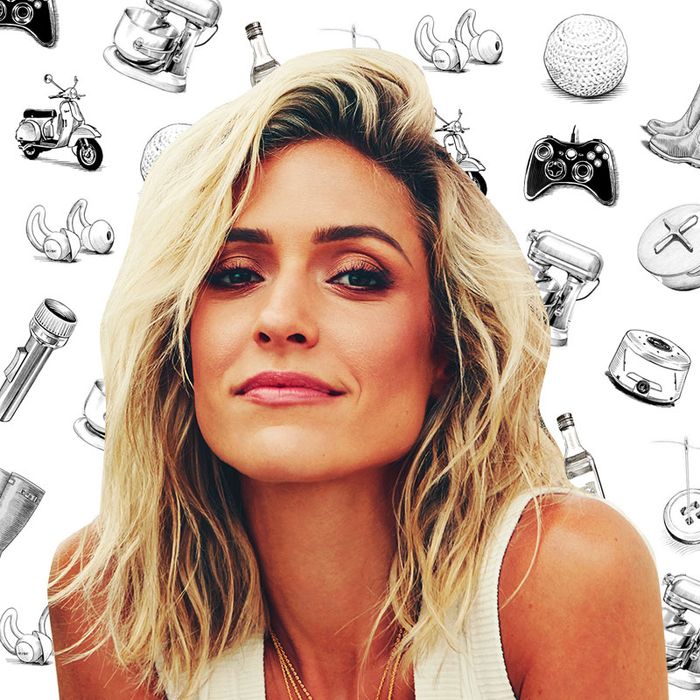 Photo-Illustration: Courtesy
If you're like us, you've probably wondered what famous people add to their carts. Not the JAR brooch and Louis XV chair but the hair spray and the electric toothbrush. We asked Kristin Cavallari — whose brand, Uncommon James, recently launched a line of demi-fine jewelry — about the coffee, leggings, and water bottle she can't live without.
It's my everyday mascara; I've been using it for more than ten years. I like it because you can build it up as much as you want. I'll do one coat during the day for running around, and that's the only makeup that I put on. If I'm really going all out, I'll do a few coats. It never clumps and makes my lashes thicker and longer. I think it's the perfect mascara. I was first introduced to it by a makeup artist. That's how I get all the latest and greatest makeup: through the makeup artists that I work with.
Photo: retailer
The material is really soft. They're very comfortable. I usually go to the office Monday through Friday, and I get dressed up. While I enjoy putting together an outfit, I also always can't wait to get home and put on my leggings. I've worn them to work out, but I pretty much just love them for lounging.
I live in these things. I call them my house shoes, but I find that I wear them all the time. There are two layers on the top; the upper top layer is a kind of meshy material that's a little stretchy, which is nice for a perfect fit. The footbed is kind of squishy — not foam, but definitely really soft and just so comfortable.
I discovered Hu Kitchen probably about three years ago? I went to their location in New York. I fell in love because everything they do is really clean, and I eat the same way. Their chocolate in particular is very clean — there are no hidden additives, no crap. And it tastes so good. The cashew butter and dark chocolate is a perfect combination of salty and sweet. Even if it's just a little piece, I have to have one after dinner every night.
Koa Coffee is a clean coffee that has a ton of caffeine. It's really, really smooth. It gets me going, checks that box. I have an espresso-maker and love using it to make a legit latte every morning. It's one of those guilty pleasures that I'll never give up and that I look forward to.
I'm constantly drinking water, so I always have mine with me. It's a good size — big, but still easy to throw in a purse. I have a muted pinkish-purple one that's subtle yet feminine. The brand makes some really pretty colors.
I think cooking is incredibly therapeutic. You can use a Dutch oven for pretty much everything. My kids love when I make them Dutch babies, which are sort of like pancake-crêpe things, for breakfast. I'll also sauté chicken in my Dutch oven. You can literally do anything in one. If I could only have one kitchen item, this is what it would be.