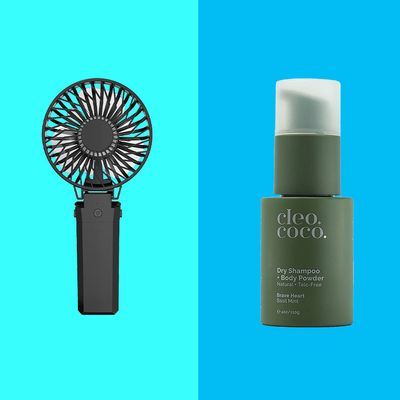 Photo-Illustration: The Strategist; Photos: Retailers
Upon reflection, I've been a smug little bitch. While my friends have been asking, "Is it hot in here, or is it me?" for the past few years, I've maintained a stable internal thermostat. I sat by, amused, while they stripped off sweaters and cracked open windows. That was until this spring, a few months before my 53rd birthday, when my luck (and my egg reserve) started to run out; on a day when I was expecting my period, hot flashes showed up in its place.
The average age of menopause — defined as the point in time one year after a woman's last menstrual period — is 51 years old in the U.S. But the party really starts about five years earlier during perimenopause. That's when estrogen levels begin their unsteady descent, both plummeting and spiking and causing some of the classic symptoms: irregular periods, mood swings, brain fog, vaginal dryness, and, most infamous of all, hot flashes and their overnight equivalent, night sweats.
Now it's a crapshoot as to whether I'll be gushing or flushing any given moment. But what has become predictable is what happens to me during a hot flash: My whole head starts to feel hot — my scalp starts to sweat, and my cheeks get pink. My chest is next, and the sweat starts to pool between and under my boobs. Then it comes up the back of my neck, depositing droplets. I'll sit and shvitz for a few minutes, wipe away my sweat mustache, and we're done. When the next one will hit is anyone's guess, but I'd ballpark it at about once or twice an hour, all day and night.
It's a weird time to be going through perimenopause: A hot flash feels like a fever, and I've wasted many a rapid test. But in other ways, it's the best time in our history to be dealing with hot flashes: Menopause awareness is at an all-time high with initiatives like Menopause Awareness Month (October) and World Menopause Day (October 18) helping to normalize the conversation around menopause and its symptoms. And my fellow Gen-Xers, not ones to suffer in silence, have been hard at work developing beauty and wellness products that offer symptom-relieving solutions. Here are my menopause must-haves for thwarting a meltdown.
A cooling spray
When Pause Well-Aging launched in 2019, it was the first beauty brand created specifically for women in menopause, and this cooling mist was an instant hit thanks to the instant relief it provides. There are now many similar sprays on the market, but the OG — which I've been using all along to cool off in my tiny, overheated home office — is still my fave. The key ingredient, menthol derivative menthone glycerin acetal, is like a breath mint for the skin (think Tic Tac, not Altoid). I spritz liberally (face, neck, nape, cleavage) to quickly quell my personal heat waves. It also has an anti-inflammatory to reduce redness as well as collagen-boosting peptides and niacinamide. I could spray all day.
And a cooling roller
It looks like an essential oil, but I like that this little roll-on is actually scent free. The technology is nifty: An ingredient called Coolact stimulates nerve-ending receptors in your skin and sends a message to your brain that you're chill without actually changing the temperature of your skin. Small and impossible to spill, this baby hangs in my purse, so it's handy when flashes are in the forecast.
A fan
My nightstand is a very busy place: It houses a lamp, an air filter, a white-noise machine, hand cream, lip balm, and multiple cans of Spindrift in various states of bubbliness. So I needed a table fan with a small footprint. After an experimentation period, I landed this handheld-to-tabletop model, which came up when I searched "hot flash fan" on Amazon. Small but mighty, it feels great on my face when charging next to my bed. I can also pick it up and aim it exactly where I need it, walk around the apartment with it, bring it out to dinner, take it on long walks on the beach; it's like we're dating, but I'm the one getting blown.
A sweat-absorbing powder
I've had hot flashes that'll make your hair curl, literally; sweaty roots are the bane of my blowouts. I rub this into my roots, and its vegetable powders, activated charcoal, and bentonite clay quickly absorb the wetness and any oils. It smells freaking fantastic thanks to the essential oils of peppermint and sweet basil. It's also designed to be used all over the body, and a puff to the panties (it's talc-free) is a lovely little refresher.
And a sweat-absorbing stick
When I asked my girlfriends what they do about hot-flash boob sweat, they were thrilled to hear there was a perimenopause symptom they didn't have. Meanwhile, I'm over here handwashing my bras every damn day, which, by the way, is preferable to going braless and feeling my sweaty ta-tas lying against my torso. (Shudder.) It's useless to try to stop the sweat, but this balm stick, which I put on before my bra, has corn starch to help absorb it as well as shea butter and sunflower seed oil to help prevent chafing.
An all-over body wipe
A colleague once asked me, "What's the difference between a face wipe and a vag wipe?" My response: "I'd use a vag wipe on my face, but not a face wipe on my vag." That's because "intimate" wipes are pH balanced to the more acidic environment of your vagina; a higher, more alkaline pH can throw off your bacterial flora, setting you up for the itch and ick of bacterial vaginosis. But the fine folks at Womaness have created a pH-balanced wet wipe that can used from head to toe, nooks and crannies included, to clean up after a sweat sesh. I love that it's large and fragrance free, and the packaging snaps closed so the wipes won't dry out.
A makeup-setting spray
All of my hot flashes end with beads of sweat on my upper lip (my husband calls them mustache bubbles). When I'm home and makeupless, I can (and do) just use the inside of my shirt to wipe it off. But I also do a lot of work on-camera and need to pile it on pretty thick, and wiping off the sweat means taking the makeup off with it. This setting spray, created by celebrity (Taraji P. Henson, people!) makeup artist Ashunta Sheriff, uses polymers similar to hairspray (so you know your makeup's not going anywhere) as well as skin-care ingredients such as jojoba and rose water to hydrate as it holds. I also love her Black Diamond Makeup Sponge, which I use to dab away the droplets on my upper lip.
A cooling mattress topper
I'm convinced the reason for menopausal brain fog is a lack of continuous sleep. There are tons of great solutions out there for hot sleepers, but I wanted the one that would let me stay asleep rather than fall back to sleep. And I found it in this mattress topper. It ain't cheap, but I feel as though I've already made back the investment in daytime productivity. It's not just "smart" — it's freaking genius! It monitors your body temperature, and when it detects changes, it either heats (electrically) or cools (with airflow) to the temperature you've preset (and can reset at any time on their app). So when things start heating up in bed, and not in the fun way, cool, gentle air will wrap around your body to bring you back to baseline, at which point the air will switch itself off. If your flash still awakens you from slumber and you're desperate for relief, there's a "burst" button you can press, which gives you five minutes of maximum cooling. And here's the best part: The king- and queen-size toppers have two separately controlled zones, so you and your partner can sleep at completely different temperatures. They should market this thing as a marriage counselor.
Silk pillowcases
I've tried a jillion silk and silky pillowcases recently, and this is the one I want to feel next to my cheek. Both sides are the "cool" side. Bonus: Because silk is less absorbent than cotton, my pricey night cream stays on my face instead of ending up on my case.
Wicking sheets
I spend more time than most in my bed. I like to clock about nine hours a night and also often work from what I call my "bed office." I feel as if the search for deliciously comfortable yet somehow affordable sheets has been my life's work. PeachSkin Sheets fit the bill and help keep me cool while I sleep. Straight out of the package, they feel like the ones you've washed into soft submission. They use an athletic-grade microfiber that cools and wicks but doesn't feel too slippery. And they're breathable (so the airflow from my mattress topper can come through!).
And wicking pajamas
For as long as I can remember, I've worn the same sleep uniform: a black Hanes ribbed tank and black drawstring lounge pants. But on sweaty nights, my go-to gets a little damp. A few friends suggested I wear a nightgown, which I've learned I am constitutionally incapable of doing. (I can't wear closed-toe flats either. Go figure.) Then I read about Lusomé PJs, which are a most delightful paradox: a heavier-weighted fabric that keeps me from feeling sweaty. They use an exclusive, lab-proven fabric to quickly draw away moisture and accelerate evaporation. I tried out the Donna style (classic black, button-down top and relaxed fit pants) and now want to sleep with Donna every night!
The Strategist is designed to surface the most useful, expert recommendations for things to buy across the vast e-commerce landscape. Some of our latest conquests include the best acne treatments, rolling luggage, pillows for side sleepers, natural anxiety remedies, and bath towels. We update links when possible, but note that deals can expire and all prices are subject to change.