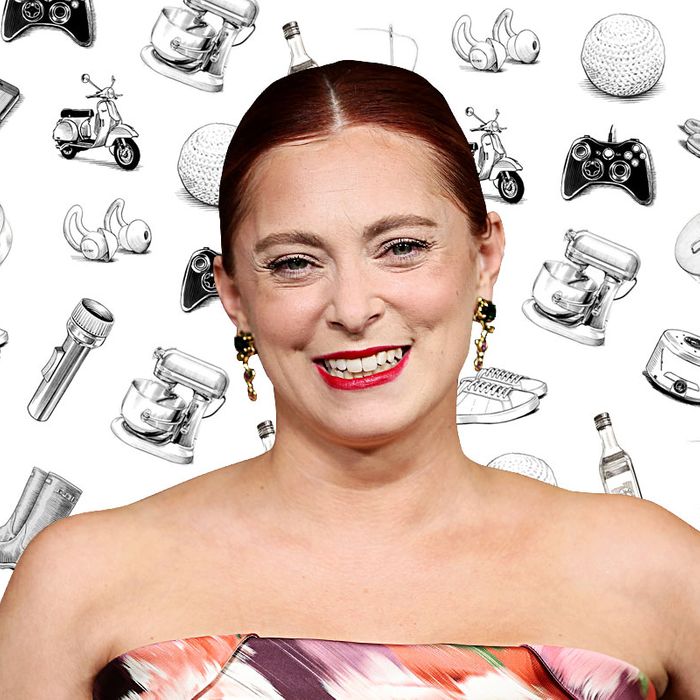 Photo-Illustration: The Strategist. Photo: Matt Winkelmeyer/WireImage
If you're like us, you've probably wondered what famous people add to their carts. Not the JAR brooch and Louis XV chair but the hair spray and the electric toothbrush. We asked Rachel Bloom — who stars in the new Hulu series Reboot and Netflix's The School for Good And Evil — about the vibrator she uses at home and on the road, the travel potty seat she heard about from a stranger, and the incense that encapsulates her and her husband's personality.
I live with a snorer, and these are a marriage game changer. They completely block out snoring in a way that, whenever I take off my sleep buds, I'm like, Holy shit. That's what's been going on next to me? I've also been doing this gig in Boston, and in hotels, they block out all sound. They blast your ears with white noise at a safe level, and you can set an alarm. These also give me a break from listening to our baby monitor. My husband and I switch off who's listening each night as opposed to both of us having to be aware. He listens on the nights I have my sleep buds in, and then some nights he'll sleep in another room and I'll be on duty. So it's great for our sleep hygiene and our marriage.
I saw an Instagram ad for the ReMarkable Tablet a year ago and I bought in, hook, line, and sinker. It's like a Kindle except bigger, and you can write on it with a stylus. You're able to upload and take notes on any PDF, and then you can download that PDF with your notes on it. Plus, you can take notes on a notepad and then it will transcribe them into written text. I haven't printed out any scripts for a year because of this tablet — I'm saving so much paper. Every time I'm on a set, there's an actor who's like, "Hey, what is that?" I think Judy Greer bought one because I couldn't stop talking about how much I loved it on the set of Reboot.
I try to watch almost every Drag Race iteration, including the international ones, which is why I love my WOW Presents Plus subscription. International Drag Race is how I wind down at this point. I just started the fourth season of Drag Race U.K., and you've really got to love U.K. drag because those queens are just so talented, especially when it comes to musical theater. They do live singing challenges, which they don't really do here as much.
I like to watch Drag Race when I'm riding my exercise bike and pedal to the beat of the various songs. But because I'm watching it on my iPhone, it's a little harder to read the subtitles on the series that aren't in English, so I tend toward Australia, U.K., and Canada.
Blue-light-blocking glasses are such a game changer. I have them all over my house. My husband got me some fancy Warby Parker pairs, but I actually like this line Drag Race's Jackie Cox put out because they look like her glasses but you can snap in blue-light lenses. I got LASIK a few years ago, which has really helped with early mornings where I have to wake up at 5 a.m. to get a ton of makeup put on my face, which can be super-uncomfortable with contacts. Still, I've found that I missed glasses, and these have brought me back into that world.
First of all, these come open at the top so you don't squish your child's big ol' head putting on their jammies. Also, they're very comfortable. They come in this really soft modal instead of cotton, and so they're all my daughter wants to wear. She calls them "cool pajamas," and they're the only pajamas we buy. They're especially great for L.A. where it's so hot all the time just because it gives her some breathability.
We originally had a travel potty for my daughter, which was great, but then sometimes you end up carrying around a potty filled with your child's excrement. I was at a restaurant and a mom saw me with my travel potty and said, "Hey, just so you know, they make these foldable potty seats with suction cups that make any toilet into a kids' potty," and so I bought one. I started bringing it with us when we were out, and now, she actually even likes to use it at home. She was always more interested in going on the big toilet anyway, and now that's even easier.
The way my body is situated, like 70 percent of women, I can only achieve orgasm via direct stimulation of my clitoris. The NEA is good not only for solo use, but it's also really good for partner stuff. I think that some men are weirdly threatened by sex toys in the bedroom for whatever reason, and I think it's because men are not educated on women's bodies. And women are not educated on their own bodies. We are told that if we do not come solely from penetration, there's something wrong with us. I remember I would talk to girls and they'd go, "Are you sure it's because you're not relaxing? Or you're not really in love?" No, actually, all female orgasms come from the clitoris. If you come from penetration, that's just because of how far your clitoral nerves extend into your vagina.
Insurance covers Viagra. Women have a right to orgasm parity, and this is by far the best vibrator. It's easy to pack. It's easy to travel with. It's easy to charge and easy to clean. It's waterproof. I just love it.
This is one of the bougier things I buy, but it's worth the price. It smells like you're in Big Sur. I always like to have some incense in the house, especially now that I have a kid. It really just freshens everything up and makes it smell like you're in front of a campfire in Joshua Tree. My husband and I are generally big national-park, cozy-campfire people — like, that's our personality — so it kind of smells like us.
I found this tea because my parents spend a lot of time in Barnes & Noble, and around the holidays they have Harney & Sons gift sets. There was one with peppermint tea that sounded really good, so I bought it, and then my husband started buying their hot cinnamon flavor, and we were like, "Wait, this company is great." I went on a big buying binge on their site one day, and it said Paris was their top seller, so I was like, "Sure," and it was amazing.
I'm a big tea bitch. I don't drink coffee, really. I have a whole tea setup in my home office. Whenever I'm in Europe or Britain, I love that tea is a part of their culture. It feels so civilized, which is probably a very colonial thing to say, but I just love the ritual of pouring myself a cup of tea.
The Strategist is designed to surface the most useful, expert recommendations for things to buy across the vast e-commerce landscape. Some of our latest conquests include the best acne treatments, rolling luggage, pillows for side sleepers, natural anxiety remedies, and bath towels. We update links when possible, but note that deals can expire and all prices are subject to change.