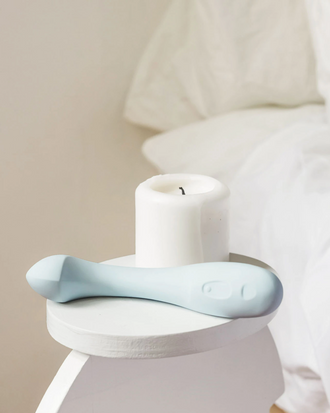 It's been three years since we first wrote about the new class of high-design vibrators, the ones that look less like penises (or rabbits) and more like objets d'art. Since then, we have seen a steady influx of sculptural vibrators that can be purchased everywhere from Anthropologie to Walmart and left out on a nightstand without catching a second glance. These vibrators could not appear more different from what's been available in the past, which Lisa Finn, brand manager at Babeland, calls "a lot of large, pink, sparkly phallic machines." Instead, they are designed to ergonomically fit a wide array of bodies, delivering powerful orgasms while passing for a prop from a tasteful Instagram photo shoot or a knickknack found on the bookshelf in someone's Zoom background. Companies such as Maude, Tenga, Dame, and Crave now sell sex toys the same way any other wellness or lifestyle product is sold. The cool, placid branding makes a deliberate point: Carnal pleasure doesn't need to be raunchy, gendered, or silly. It can just be nice (not to mention nice-looking).
We asked Finn and Dr. Manuela Maria Vazquez, board-certified OB/GYN and founder of LaMaria, for advice on picking the best high-design vibes. Check the materials, they say. In addition, Vazquez tells us that with her own patients, she suggests reading the reviews and asking friends what toys they like, if you're comfortable with that. As best as you can, have a sense of whether your anatomy responds to external or internal stimulation and whether you prefer strong, rumbling vibrations or more tingly, buzzing sensations, as this is what will most determine how much pleasure you get out of whatever you buy. And pay attention to how a device charges — people have surprisingly strong opinions about USB cords versus magnetic ports.
To find the best new high-design vibrators — the ones that work so well you'd recommend them to a friend — we asked 14 women (who preferred to remain anonymous) to test-drive best-selling toys from Womanizer, Maude, Dame, Crave, We-Vibe, Lelo, Tenga, and Je Joue, as well as a few highly anticipated celebrity-endorsed options. Of the 25 they tested, 19 made the cut. To help us compare and contrast vibrators, we asked testers to consider a long list of criteria when writing their reviews, including material, mechanics, ease of use, aesthetics, price, packaging, and overall satisfaction. Each tester was given a period of two weeks to fully get to know the toy they were testing. To help distinguish one person's opinion from the next, we have given each tester a letter from A to N. And because there are new vibrators launching all the time (most notably one from Goop that has been sold out for four weeks straight and Maude's new Drop vibrator), we will continue to add products to this list as we are able to test them.
Best overall | Best starter | Best (less-expensive) starter | Best for travel | Best ergonomic | Best vulva | Best two-in-one | Best vibrator that also works on sore feet | Best air suction | Best (less-expensive) air suction | Best air suction with a small nozzle | Best air suction for partner play | Best fingerlike | Best for couples | Best G-spot vibrator | Best flat-tip G-spot vibrator | Best starter G-spot vibrator | Best flexible
What we're looking for
Material: Finn and Vazquez told us that when it comes to materials, medical-grade or body-safe silicone is nonporous and therefore more hygienic — and it feels more sensual against your skin. While both forms of silicone are nonporous, medical-grade silicone also meets the standards for use in medical devices. Other body-safe materials include glass, metals like stainless steel, and ABS plastic.
Speed: The more levels of speed a vibrator has, the more opportunity there is to experiment to find what works best for your body. Keep in mind that if you are more sensitive, you may only need to play around with the lower levels, while those who need stronger vibrations will need a toy with higher settings.
Patterns: Like intensity, vibrators often have different patterns that will impact the types of sensations you can experiment with to find what works best for your body.
Best overall vibrator
Best starter vibrator
Body-safe silicone | 5 speeds | 2 patterns 
Tenga is most well known for its strokers and penis-based toys. But the Japanese brand makes some of the most beautifully designed vibrators (that don't look like vibrators) on the market. Tenga's Iroha line looks like a sampling of fancy perfume bottles, mochi ice cream, seashells, and glazed ceramic jars. It features body-safe silicone that is buttery soft and satisfyingly squishy, plexi display cases that also charge the toys, and pretty pastel colors. We tested six vibrators from Tenga: the Minamo, the Yuki, the Rin, the Temari, the Kushi, and the Tori. They are all pleasant to look at and pleasing to hold, but two of them stood out as our favorites to actually use: the Tori, which resembles a tiny bird and features five vibration strengths plus two pulse patterns, and the Kushi, which looks like a perfect delicate seashell you would take home from the beach.
What we think: Testers H and M agree that these six Tenga toys have the softest, squishiest silicone they've ever come across in a sex toy. "Since I prefer more intense vibration, I had the best experience with the Tori, because it has a stronger motor and additional vibration settings compared to the Yuki and Minamo," says Tester H, who appreciates that the shape of the Tori provided sensation to her entire vulva and that the pointy tip could be used for more precise stimulation. In general, Tester H found the vibrations of all three Tenga toys she tested to be on the buzzy side of the spectrum. "While the Yuki and Minamo were a bit too gentle for my liking, I did find that all three toys created a very slow buildup to orgasm, and the subtle sensations were good for teasing out multiple orgasms." The one drawback she mentioned is that because the Tori and Yuki are so small, and because she had to use them for a longer period of time, she had to keep switching hands. Both testers love the fact that each toy comes with its own charging case. Plus, perhaps more than any other vibrator on this list, you can genuinely display these anywhere in your apartment, and guests would be none the wiser. Case in point: "When I left mine out on my nightstand, my mom asked me where I had bought my new sculptures from," says Tester H.
Like the Tori, the Kushi had the strongest motor and the most vibration settings of the three toys Tester M tried. In fact, the Kushi was so intense that it didn't take much buildup to orgasm at all. By contrast, the Rin was so gentle that it was a struggle to make it all the way to orgasm, and the Temari, while beautiful to look at and strong enough, was a little awkward to maneuver. The Kushi is the only one of the three that she tested both in bed and in the bath (all six of the Tenga toys tested are waterproof up to 20 inches), and it worked well in both situations, though it worked faster in the bath. Because the Kushi is nice enough to leave out, she can look at it all day and get excited about playing with it later that night. Overall, Tester M was very impressed with the Kushi, so much so that she is adding it to her permanent toy rotation. Most of all, she loves how the pointed tip and the multiple ridges transmit vibrations to all the right places. "This is the first time I truly understand the phrase 'ribbed for her pleasure,'" she says.
Buy if: You want a 101-level toy that could easily be mistaken for an art object, you like a bit of a buildup to orgasm, or you're on the sensitive side.
Best (less-expensive) starter vibrator
Best travel vibrator