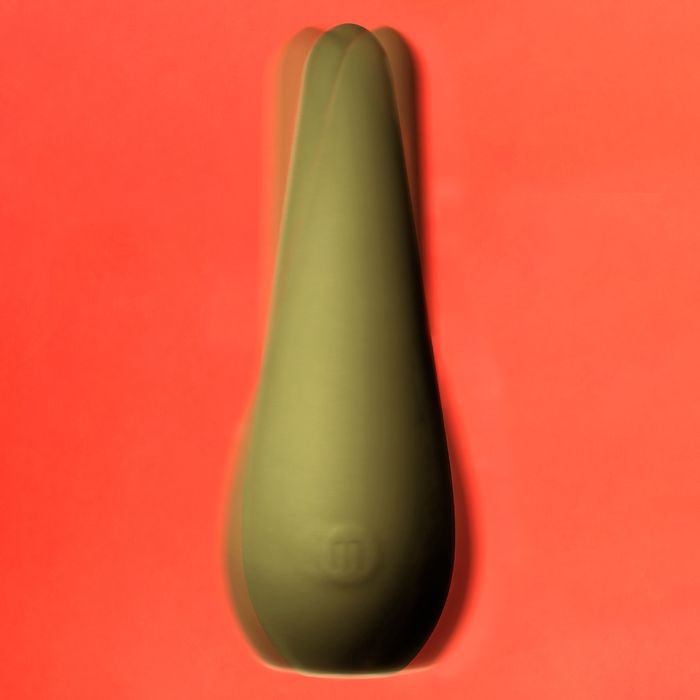 It's been three years since we first wrote about the new class of high-design vibrators, the ones that look less like penises (or rabbits) and more like objets d'art. Since then, we have seen a steady influx of sculptural vibrators that can be purchased everywhere from Anthropologie to Walmart and left out on a nightstand without catching a second glance. These vibrators could not appear more different from what's been available in the past, which Lisa Finn, brand manager at Babeland, calls "a lot of large, pink, sparkly phallic machines." Instead, they are designed to ergonomically fit a wide array of bodies, delivering powerful orgasms while passing for a prop from a tasteful Instagram photo shoot or a knickknack found on the bookshelf in someone's Zoom background. Companies such as Maude, Tenga, Dame, and Crave now sell sex toys the same way any other wellness or lifestyle product is sold. The cool, placid branding makes a deliberate point: Carnal pleasure doesn't need to be raunchy, gendered, or silly. It can just be nice (not to mention nice-looking).
We asked Finn and Dr. Manuela Maria Vazquez, board-certified OB/GYN and founder of LaMaria, for advice on picking the best high-design vibes. Check the materials, they say. In addition, Vazquez tells us that with her own patients, she suggests reading the reviews and asking friends what toys they like, if you're comfortable with that. As best as you can, have a sense of whether your anatomy responds to external or internal stimulation and whether you prefer strong, rumbling vibrations or more tingly, buzzing sensations, as this is what will most determine how much pleasure you get out of whatever you buy. And pay attention to how a device charges — people have surprisingly strong opinions about USB cords versus magnetic ports.
To find the best new high-design vibrators — the ones that work so well you'd recommend them to a friend — we asked 14 women (who preferred to remain anonymous) to test-drive best-selling toys from Womanizer, Maude, Dame, Crave, We-Vibe, Lelo, Tenga, and Je Joue, as well as a few highly anticipated celebrity-endorsed options. Of the 26 they tested, 20 made the cut. To help us compare and contrast vibrators, we asked testers to consider a long list of criteria when writing their reviews, including material, mechanics, ease of use, aesthetics, price, packaging, and overall satisfaction. Each tester was given a period of two weeks to fully get to know the toy they were testing. To help distinguish one person's opinion from the next, we have given each tester a letter from A to N. And because there are new vibrators launching all the time (most notably one from Goop that has been sold out for four weeks straight and Maude's new Drop vibrator), we will continue to add products to this list as we are able to test them.
Finn and Vazquez told us that when it comes to materials, medical-grade or body-safe silicone is nonporous and therefore more hygienic — and it feels more sensual against your skin. While both forms of silicone are nonporous, medical-grade silicone also meets the standards for use in medical devices. Other body-safe materials include glass, metals like stainless steel, and ABS plastic.
The more levels of speed a vibrator has, the more opportunity there is to experiment to find what works best for your body. Keep in mind that if you are more sensitive, you may only need to play around with the lower levels, while those who need stronger vibrations will need a toy with higher settings.
Like intensity, vibrators often have different patterns that will impact the types of sensations you can experiment with to find what works best for your body.
Best overall vibrator
Material: Body-safe silicone | Speed: 3 speeds | Patterns: 0 patterns
The Strategist's best-selling vibrator, the Vibe from Maude, launched four years ago with a highly SFW gray-and-forest-green website that looks more like a place to buy linen goods or silk button-downs than sex toys. The Vibe is made with 100 percent platinum-grade silicone (Restriction of Hazardous Substances passed/FDA grade), has three speeds controlled via one button, comes in a small canvas zip pouch, and charges with a USB. Maude founder Éva Goicochea and co–creative director, actress Dakota Johnson, recently launched a second egg-shaped vibrator called the Drop (see below). We tested the Vibe, a gender-neutral slim teardrop that tapers into a round point. It can be purchased on its own or bought with condoms and a lubricant that come in packaging as pretty as Aēsop's.
What we think: "This one was amazing. It worked so fast that I was like, Whoa, not even ready for it," says Tester A, who has owned several vibrators and prefers higher-powered ones. "And I didn't think it would work because it looks like a Muji mister." Tester B, who has had little success with vibrators in the past and likes a buzz that's medium in intensity, had the same reaction. "I got it out without expecting much, purely because the company is relatively new and we live in a world where the Hitachi Magic Wand from the 1970s is still a huge hit. The best way to describe this was that an orgasm just zipped out of me. I was caught totally by surprise." Tester B adds that her boyfriend liked this one best out of all the vibrators she (and he) tried. "It's easy to hold one end and use the other end on myself, and he can feel the vibrations even without any direct contact. He's now asked more than once during sex for 'that cone thing.'"
Buy if: You want an almost guaranteed orgasm in under two minutes. Or if you want a no-frills, high-powered device that is, at least aesthetically, a blank slate. The pale-gray, non-shape shape means the Maude Vibe works equally well for solo use or with another person. And its small size makes it a great beginner toy for anyone who is curious about anal play.
Best starter vibrator
Material: Body-safe silicone | Speed: 5 speeds | Patterns: 2 patterns
Tenga is most well known for its strokers and penis-based toys. But the Japanese brand makes some of the most beautifully designed vibrators (that don't look like vibrators) on the market. Tenga's Iroha line looks like a sampling of fancy perfume bottles, mochi ice cream, seashells, and glazed ceramic jars. It features body-safe silicone that is buttery soft and satisfyingly squishy, plexi display cases that also charge the toys, and pretty pastel colors. We tested six vibrators from Tenga: the Minamo, the Yuki, the Rin, the Temari, the Kushi, and the Tori. They are all pleasant to look at and pleasing to hold, but two of them stood out as our favorites to actually use: the Tori, which resembles a tiny bird and features five vibration strengths plus two pulse patterns, and the Kushi, which looks like a perfect delicate seashell you would take home from the beach.
What we think: Testers H and M agree that these six Tenga toys have the softest, squishiest silicone they've ever come across in a sex toy. "Since I prefer more intense vibration, I had the best experience with the Tori, because it has a stronger motor and additional vibration settings compared to the Yuki and Minamo," says Tester H, who appreciates that the shape of the Tori provided sensation to her entire vulva and that the pointy tip could be used for more precise stimulation. In general, Tester H found the vibrations of all three Tenga toys she tested to be on the buzzy side of the spectrum. "While the Yuki and Minamo were a bit too gentle for my liking, I did find that all three toys created a very slow buildup to orgasm, and the subtle sensations were good for teasing out multiple orgasms." The one drawback she mentioned is that because the Tori and Yuki are so small, and because she had to use them for a longer period of time, she had to keep switching hands. Both testers love the fact that each toy comes with its own charging case. Plus, perhaps more than any other vibrator on this list, you can genuinely display these anywhere in your apartment, and guests would be none the wiser. Case in point: "When I left mine out on my nightstand, my mom asked me where I had bought my new sculptures from," says Tester H.
Like the Tori, the Kushi had the strongest motor and the most vibration settings of the three toys Tester M tried. In fact, the Kushi was so intense that it didn't take much buildup to orgasm at all. By contrast, the Rin was so gentle that it was a struggle to make it all the way to orgasm, and the Temari, while beautiful to look at and strong enough, was a little awkward to maneuver. The Kushi is the only one of the three that she tested both in bed and in the bath (all six of the Tenga toys tested are waterproof up to 20 inches), and it worked well in both situations, though it worked faster in the bath. Because the Kushi is nice enough to leave out, she can look at it all day and get excited about playing with it later that night. Overall, Tester M was very impressed with the Kushi, so much so that she is adding it to her permanent toy rotation. Most of all, she loves how the pointed tip and the multiple ridges transmit vibrations to all the right places. "This is the first time I truly understand the phrase 'ribbed for her pleasure,'" she says.
Buy if: You want a 101-level toy that could easily be mistaken for an art object, you like a bit of a buildup to orgasm, or you're on the sensitive side.
Best (less-expensive) starter vibrator
Material: Body-safe silicone | Speed: 5 speeds | Patterns: 7 patterns
Je Joue has been around longer than most companies on this list, but it fits right in among the list of brands making minimalist luxury vibrators that could get lost among some ceramic sculptures — specifically, Je Joue's pebble-shaped Mimi, which often appears on best-of lists. Along with the Maude Vibe, this is by far the most discreet vibrator we tried, especially if you buy the black one. It has five speeds and seven patterns, all operated via three buttons: a plus button, a minus button, and one for mixing up the rhythm.
What we think: Tester D, who prefers deeper motor power (and whose primary vibrator is a literal back massager), loved the Mimi. "I used the Mimi after I was using another one that I didn't like, and it was like, Clunk!" (That clunk was an orgasm, if you couldn't tell.) "Also, so soft," Tester D adds. Tester B says the Mimi was similar to the Maude Vibe — noncontroversial looks, fits in easily during sex with another person — but because of the oval shape, it delivers broader pressure to the whole area around the clitoris, and therefore worked much more slowly. But it did work.
Buy if: You want a good middle-of-the-road vibrator that is slightly more mellow in motor power than the Maude Vibe and that has a greater variety of vibration rhythms. You really can't go wrong with this one, whether for solo use or partner use.
Best travel vibrator
Material: Stainless steel | Speed: 4 speeds | Patterns: 1 pattern
If you know Crave, it's likely because of the Vesper — a long, skinny, bullet-shaped vibrator that can be worn on a chain and comes in silver, gold, and rose gold. The necklace was the idea of Ti Chang, the head industrial designer at Crave whose goal is to change the social stigma of sex toys by elevating their aesthetics. Not only is the golf-pencil-size Vesper incredibly portable, but it also charges conveniently in any USB port.
What we think: The Vesper is equally suited for solo or partner use on the go. Its hiding-in-plain-sight design means you can wear it out in public and use it pretty much anyplace where the spirit hits you. For such a slim vibrator, it has way more power than you'd expect and features four vibration settings: low, medium, high, and pulsing. "Sometimes my partner will pull it out of the bedside table by the chain, and it's just sexy," says Tester D, who loves wearing it like a provocative little secret. The Vesper doesn't just look like fine jewelry; it's made with stainless steel finished in one of three precious metals, all of which are body-safe and nonporous. Tester M has had the Vesper in rose gold for two years and counts it as her go-to vibrator for long weekend trips. "Because it's so small, I can fit it easily in my toiletry bag or travel jewelry pouch, and I'm never worried about where to hide it in a hotel room or Airbnb — not to mention in the guest room at my parents' house. It's incredibly discreet, but the powerfully buzzy vibrations still work better than most of the bigger, more complicated vibrators I've tried," she says, adding that she likes the way the metal glides easily against her vulva and warms up to her body temperature.
Buy if: You like buzzy vibrations and the idea of discreetly wearing your vibrator out of the house, you want something that's easy to bring on road trips, or you are looking for a sexy gift for your partner. There's nothing else out there like it.
Best ergonomic vibrator
Material: Body-safe silicone | Speed: 8 speeds | Patterns: 0 patterns
The Touch X is a compact vibrator made from silky-smooth silicone, and it has seven vibration patterns that truly feel different from one another and eight intensity levels. It has a slight figure-eight shape with a nipped-in middle that makes it easy to hold and a wider bottom half that fits nicely in your palm. Its curvy shape and flexible tip feel both sensual and a little bit elegant, but it's probably not neutral enough to leave out on a nightstand. It does, however, come with a white satin pouch for storage, which wouldn't be embarrassing to leave out. It has a two-hour battery life and comes with a USB cord that attaches magnetically to the vibrator, which is especially nice because there's no internal port that can get gunked up with lube or soap. One cool feature is the travel lock: Just hold down the plus and minus buttons and the vibrator won't accidentally turn on in your bag and kill the battery — or get you into an awkward TSA situation.
What we think: "On the box, the Touch X is described as the 'Magic Multitasker,' but I think it'd be more accurate to call it the 'Magic Multi-Orgasm-er,'" says Tester I. Straddling the line between a design-y vibrator and a more obvious sex toy, it won't double as a little modern sculpture (like the Maude) or necklace pendant (like the Crave), but it definitely doesn't look like a cheesy gag gift from Spencer's, either. What the Touch X lacks in aesthetics, it makes up for with its perfect — at least in Tester I's opinion — shape and size. "As pretty as something like the Crave is, I doubt it'd be as ideally contoured to my anatomy as the Touch X, which feels like a natural extension of how I usually masturbate (externally with my fingertips), but with a buzz that made it a lot more exciting." The tip slips smoothly beneath your labia to touch the head of the clitoris, but you can also use it outside the labia for gentler, less direct sensation. Though it has a powerful motor — especially at the higher-intensity levels — this vibrator is so quiet that you wouldn't be able to hear it in another room (or even on the other end of a relatively large room). With buzzy vibes that can build from gentle to very intense, the Touch X works for pretty much any kind of sexy situation: You can start at the lower vibration levels and gradually make it more intense for a more drawn-out pleasure session, or you can crank it all the way up right away if you're close to an orgasm but just need that little push over the edge. Because the vibrations are concentrated at the tip, the bottom side is both easy to hold on to and nice to use for softer, more muted sensations. If she had to pick a feature to critique, it's a minor one. "I'd make the plus and minus symbols on the buttons raised, rather than indented, so it's easier to know which one you're pressing when you're using the vibrator," she says.
Buy if: You are new to vibrators, prefer external stimulation with plenty of vibration patterns to choose from, or need something nearly silent so your roommates won't know every time you're masturbating.
Best vulva vibrator
MateriaL: Body-safe silicone | Speed: 6 speeds | Patterns: 6 patterns
The Smile Makers Ballerina is a lovely object that looks sort of like a pointy egg and feels quite nice and hefty in the hand. It's about 3.5 inches tall and made of smooth silicone gel, with just two small control buttons and a tiny hole for charging. Really discreet, in other words, and not intimidating at all. There are six speeds and six pulsation patterns, and you cycle through all seven modes with the bigger button (the smaller button will take you to the previous mode).
What we think: Tester G was drawn to the Ballerina's premise as a vulva vibrator — one whose "organic shape cups the vulva into a luxurious embrace and delivers wholesome stimulation" — as she prefers external vibrators. "Nestling it against my body was intuitive," she says, explaining that you place the pointed end on your clitoris and the broader end over your vulva, and it cups that whole area, though the sensations are concentrated in the clitoris. Overall, though, this toy was a little too gentle for Tester G, whose go-to vibrator is the Hitachi Magic Wand, which is really powerful. "I found myself alternating between the four-pulse and the highest speed, as the other modes felt a little too weak for my taste. Still, the highest speed is pretty manageable, and I found that I had to press it against my body in order to really feel it," she says. But once she got into the right position, the orgasms came quickly, which is why she recommends it as an introductory vibrator for someone who's just embarking on their sex-toy journey. "It's friendly," she says with a buzz that starts slow and soft and a design that's "just so graspable." She loves holding and squeezing it in her palm. On the downside, she says the $200 price tag is way too much, considering the Hitachi rechargeable model is only $90 and is much stronger, more versatile, and a little easier to switch to your preferred mode. Plus, you can get a bunch of entry-level vibrators for under $100. Overall, the Ballerina isn't the first vibrator she would reach for, but because of how compact it is, she would consider bringing it along on a trip. And because it comes nicely packaged, with a satiny pouch for storage and a small charging cord, she could imagine it making a nice gift.
Buy if: If you're looking for an entry-level vibrator that's got a little extra going on, with an unassuming form that's actually quite nice to look at and hold in your hand.
Best two-in-one vibrator
Material: Body-safe silicone | Speed: 3 speeds | Patterns: 5 patterns
When Goop first announced that it was launching its own vibrator, people went a little nuts: The brand's double-sided wand vibrator, which looks a little like a Barbie microphone and a little like an ice cream cone, was out of stock for at least four weeks. Because Goop has become known for slightly off-the-wall products — like vagina-scented candles and vitamin supplements that lean heavily into magic-potion territory — we were curious to see what all the fuss was about. But like everyone else, we had to wait. Until now. The vibrator has two independently vibrating ends. One side features a pink ball-shaped wand vibrator, while the other (the part that looks like a handle) is a cone-shaped vibrator that Tester H calls "a dead ringer for the Maude Vibe." Both sides offer three speeds and five pulsating patterns and can be turned on and off independently. The vibe is water-resistant, made with body-safe silicone, and has a rechargeable battery.
What we think: "I tend to prefer air-suction toys and am a little picky when it comes to vibrators, so I was pleasantly surprised to find that this vibe actually delivered a deep, full orgasm — and on several occasions more than one," says Tester H. Though she appreciates the versatility offered by having two different-shaped vibrators in one toy, she preferred the rumbly vibrations of the ball-shaped end over the buzzy vibrations of the pointed side. And despite the wealth of vibration patterns, she was happier sticking with the first three standard vibrations of varying intensity. Most wand-style vibrators have barely improved upon the classic decades-old design of the Hitachi Magic Wand (Le Wand is probably the closest thing to an update, and all they really did was put it in a rose-gold package). That said, it's hard to deny that the toy is a stunner: The abstract shapes are easy on the eyes, and the gold hardware is a particularly nice touch. Of all the toys this tester has tested, she found this one to have the silkiest-feeling silicone. It's extremely soft to the touch. Plus, the toy has an easy-to-read battery display, so it never died on her mid-session.
Buy if: You want a two-in-one versatile wand vibrator with a serious design upgrade.
Best vibrator that also works on sore feet
Material: Body-safe silicone | Speed: 3 speeds | Patterns: 0 patterns
Like the Vibe, Maude's newest vibrator, the Drop, is made of 100 percent platinum-grade silicone and comes in two sleek colors: gray and green. It, too, has three speeds. What separates the Drop from the Vibe — beyond the obvious size and shape differences — is that the Drop is "intended as an all-body, erogenous-zone body massager," which is exactly how our tester tried it out.
What we think: Like the Vibe, the Drop's motor is quite powerful — so much so that Tester N, who prefers less vibration, found it to be a little overwhelming. Despite that, she says it is extremely quiet, which is a plus since her apartment walls are paper-thin. The shape is intended to fit in one's palm, but even with her average-size hands, she found it a tiny bit cumbersome, particularly during sex. "It's just so … bulbous," she says, adding that the shape made toggling between speeds while otherwise engaged not as easy as one would like. "Several times, I tried to turn it off, and accidentally turned it up," she says. For other parts of the body, though, the Drop was easier to use and more successful too. After a long run, she decided to try the Drop on her tired muscles. "It felt weird at first. (A vibrator? On my calves?) And then it felt great. I later used it on the arches of my feet after a long day of walking, and I'll never stop using it this way." She says the Drop is easy to clean with any gentle soap and water.
Buy if: You like intense vibration in a quiet and smallish package that you can use during sex or as a way to soothe tired muscles.
Best air-suction vibrator
Material: Medical-grade silicone | Speed: 12 speeds | Patterns: 0 patterns
Suction toys concentrate vibrations and pulses of air that feel similar to oral sex in a small round cup that fits around the clitoris. There are now a huge number of suction toys on the market, but Womanizer did it first, and it is still considered by many to be the best of the bunch. The Womanizer Premium has 12 intensity levels that you can manually toggle between, as well as an autopilot mode that cycles through the various levels if you'd rather just turn it on and go. You can barely hear it once it's under the covers, and it only starts working when it touches skin, which is a nice detail. Plus, it's completely waterproof, making it easy to clean, not to mention great for those who like to take their toys into the tub. Also, the Womanizer Premium comes with two easy-to-swap stimulator heads of different sizes, so it can work for lots of different body types and you can buy additional heads on its site.
What we think: As a rule, air-suction toys tend to produce a much deeper, fuller, and more intense orgasm than regular vibrators. And they get you there fast. "I've tried a bunch of air-suction toys at lower price points, and while some of them produce a similar orgasm, none can touch the thoughtful details in the Womanizer Premium's design," Tester H says. While the vaguely tonguelike shape may not be as high-design as some of the other toys on this list, the functionality of it more than makes up for it. The toy nestles between your legs so you can go hands-free if you want, and while the body of the toy doesn't vibrate, it does feel good sitting against your vulva while the stimulator head goes to work on your clit. And it's really easy to hold, so your hand doesn't cramp during longer sessions. "I've had mine for a little over a year, and it's more than earned its place of honor in my nightstand drawer. While it is pricey, if it ever broke, I would go without groceries to buy a new one. It's become that essential to my life," she says.
Buy if: You're looking for a best-in-class air-suction toy.
Best (less-expensive) air-suction toy
Material: Medical-grade silicone | Speed: 6 speeds | Patterns: 0 patterns
The Liberty looks like a little pink avocado half with a white suction tip where you'd see the avocado pit. The cover (which attaches magnetically) looks like a full avocado and a little less like a sex toy. The specific edition of the Liberty that we tested out was designed in collaboration with singer Lily Allen, and her face is all over the packaging. Part of her partnership with Womanizer is a campaign to destigmatize pleasure and sexuality. The outer shell of the Liberty is hard plastic that isn't very luxurious-feeling, but the underside that actually touches your body is a little softer. That part is made of medical-grade silicone that's smooth but not quite as buttery-soft as other toys on this list. It comes with a magnetic USB charging cord, two suction tips to accommodate different-size clitorises, a cool-looking magnetic cover, and a removable head that makes the vibrator easier to clean.
What we think: The Liberty buzzes like a traditional vibrator, but its main draw is the "Pleasure Air Technology" that creates a suction sensation to stimulate the clitoris without direct contact. It's rather noisy, even at the lower levels; it gets a little louder when it's in contact with your body and quieter when you pull it away. Compared to the Touch X, which Tester I also tried, the Liberty is about the same size. It fits comfortably in your palm and is designed to line up with the contours of your body. It also stays in place between the legs without having to hold on to it, which is a plus for hands-free play. To create a sucking sensation, the hollowed-out tip encircles your clitoris and delivers intense pulses of air. "Even though it doesn't touch the clitoris directly, I found this feeling to be very intense and a little overwhelming, even at the lowest-intensity level," says Tester I. For that reason, before you spend nearly $100 on this vibrator, you'd better be sure you like suction. Tester I realized that she prefers a more traditional buzzing feeling on or around the clitoris and that the suction wasn't totally up her alley. However, if you do like this feeling, then the Liberty is probably a good buy since it has a powerful suction feel and six (very intense) speeds.
Buy if: You know you like the suction sensation and want to support sex positivity.
Best air-suction toy with a small nozzle
Material: Body-safe silicone | Speed: 8 intensity levels | Patterns: 0 patterns
If you've spent much time shopping for a vibrator, you likely know Lelo. Sex bloggers love the company, and the brand's suction vibrator, the Sona, gets thousands of four-star reviews on Lelo.com. It's shaped a little like a curved computer mouse, with a soft silicone exterior and a luxurious rose-gold panel in the back. It's totally waterproof, whisper-quiet, and extremely discreet.
What we think: "When I opened it, the first thing I thought was, This is like a little animal that's going to suckle my nipple," says Tester E of the shape. Tester C, on the other hand, loves the design: "It felt so good in my hand, and the black-and-gold packaging was just like, Bring it on tonight. And I like that instead of something pink. I don't find my sexual activity to be cutesy. It's a lot of things, but not that." "The Sona is kind of fucking crazy. I had to use it on the lowest setting, and then I would come so fast, and then I was just kind of spent," says Tester C, the most delicate tester from this panel. Tester B (who prefers medium- to high-powered motors) says the Sona consistently led to intense orgasms, partly because it has a bigger menu of vibration levels and patterns, and the curved shape of the Sona makes it easy to keep your thumb on the buttons and change the sensations as you go.
Buy if: The Sona is best for those who like intense sensations and enjoy a wide array of vibrational patterns and levels.
Best air-suction toy for partner play
Material: Body-safe silicone | Speed: 12 intensity levels | Patterns: 0 patterns
Much like the Womanizer, Lelo Sona, or Lora Dicarlo Baci, the We-Vibe Melt has a cuplike tip made from waterproof silicone that vibrates and pulses air to stimulate the feeling of oral sex (and boy, does it!). But unlike the other three models, the Melt can be connected to the We-Connect app for touchscreen controls and long-distance play.
What we think: For a solo session, the app is a game changer: It tracks the battery percentage and shows the full range of intensity levels so you don't have to worry about clicking the wrong button (or losing power) in the heat of the moment. When used long distance, however, the app can be a little finicky. "My partner was able to control the vibration intensity all the way from Mexico, but we lost connectivity several times, which certainly dampened the mood," says Tester L. Internet connectivity aside, with 12 different vibration levels and suction, it's the most intense vibrator she has ever used. But don't let that intimidate you. As someone who prefers a slower, more rumbly vibration, she says the lowest setting could make her come in under five minutes. "It's also whisper-quiet, which is huge for me: Loud, buzzy vibrators can be distracting, especially since I live with roommates," she says. And while the design may not be low-key enough to leave out on a nightstand, she does find it exceptionally cute, saying, "I like to joke that she's 'sleeping' while charging in her white satin case." Because of how intense the stimulation is, some days she only uses it for nipple stimulation. But no matter how she uses it, she does use it every session. And after nearly nine months of testing, it hasn't failed her yet.
Buy if: You want an app-powered suction vibrator that can be used with a partner (or solo!) for intense stimulation.
Best basic vibrator
Material: Silicone | Speed: 5 speeds | Patterns: 0 patterns
Dame products are known for their supersoft silicone and innovative shapes, like the Dip, the company's latest launch. These were designed by two women: One studied clinical psychology, and the other is a mechanical engineer who went to MIT. (They've done the research, as Finn would say.) Their philosophy: Vibrators should blend in with human sex in a way that feels natural. "With these, we're always aiming to not be the second or third person in the room," says Janet Lieberman, one of the founders. "It's not like people want to have sex with robots. They want to have sex with people, but they're using the robots to feel like they have more of an authentic connection." The Dip has five intensity levels and comes in two colors.
What we think: The Dip is USB rechargeable and made of smooth silicone, with just one button that you use to turn it on and cycle through the five intensity levels. "I really loved the ergonomic design: The vibe felt good in my hand and was easy to handle," says Tester H, who notes that she found it was best used externally or for shallow G-spot penetration. "While the lower settings weren't quite strong enough for me — I had to use the upper two settings the entire time —I think this is a good beginner option for first-time buyers," adds Tester H, who prefers air-suction toys and strong vibrators. "And for just $35, the Dip is really impressive."
Buy if: You want an affordable first-time vibrator.
Best fingerlike vibrator
Material: Medical-grade silicone | Speed: 3 speeds | Patterns: 0 patterns
Dame's Fin is shaped like a smooth gemstone, with grooves on both sides so you can hold it between your fingers (imagine holding a cigarette). The Fin has two patterns that can be set at three speeds, comes with a satin pouch, and charges via a USB cable.
What we think: The silicone feels like expensive silk. The colors — like navy, seafoam green, and "quartz" pink — are also genuinely beautiful. Two of our reviewers preferred the Fin, finding it more versatile and easier to use. Tester D, who admittedly likes a rumbly, stronger motor, didn't get off with the Fin herself but liked the extension-of-your-finger design. "If you did long strokes with a little pressure, I think you could get close," she says.
Buy if: You're physically sensitive. The velvety finish and a relatively low-powered motor mean that it won't overwhelm delicate clitoral nerve endings. Or if you're looking for a low-profile vibrator to bring into the bedroom with your partner.
Best vibrator for couples
Material: Medical-grade silicone | Speed: 3 speeds | Patterns: 0 patterns
Like the Fin, the egg-shaped Eva is extremely thoughtfully designed, with two thin "wings" that fit underneath the labia for hands-free clitoral stimulation and is also great for partner play. The Eva is 10 percent smaller than the original, with shorter wings for an improved fit. It has three speeds and a charging dock that plugs in with a USB. It's also waterproof, so you can test it out during shower sex.
What we think: Only one of our two testers (Tester K) had luck with getting the Eva to stay put during sex. But for her, it really worked. "I like the hands-free aspect of it. I can stick it on while I do other things, and at its highest speed, it's pretty powerful. I also like that my partner can wear it while she uses the strap, which is less work for lazy old me," she says. And since all vaginas are made differently, the fact that some of our reviewers had trouble with it doesn't mean everyone will. Plus, Dame has since upgraded the Eva for a better fit and offers easy returns within 60 days.
Buy if:  You want vibrations while you have sex with another person but can't or don't like the idea of gripping a device while you're actually mid-coitus. Dame's products are incredibly thoughtful in this regard.
Best G-spot vibrators
Material: Medical-grade silicone | Speed: 5 speeds | Patterns: 5 patterns
From the brand that makes the Eva II and the Fin, the Arc has the same velvety medical-grade silicone and high-quality feel. It can be used as both an external and internal toy, and its curved design is meant to help you reach your G-spot. The Arc has a thick handle that's easy to hold, features five different vibration settings, and charges with a USB cord.
What we think: Having used the Dame Fin vibrator for about a year, Tester F expected the same high quality with the Arc and was not disappointed. The outer material is just as silky smooth, but otherwise they are two very different vibrators. It has some girth to it without being intimidating and is sleek enough to display on a nightstand (but it also comes with a cloth bag if you're looking for more privacy). The slight curve helps you find the right spot inside while allowing for easy insertion and handling outside. It's described as having a "squishy bulb," but that's not really noticeable. The wide head makes for a more realistic experience inside and covers a lot of ground on the outside. "I really appreciated the thick handle, as I was able to get a good grip on it and wasn't worried about it slipping out of my hand," she says. But the biggest downside of this vibrator is that she had to read the instruction manual to figure out how to use it. "With any electronic, I prefer something with a more intuitive design that I can figure out how to work on my own, but this has three buttons and it wasn't exactly self-explanatory." The lowest setting is a soft, very approachable rumble, and the highest-intensity setting gives you that near-numbing vibration. It's designed so you have easy access to the buttons if you want to switch up the settings while you're using it, but until you get the hang of how to operate it, it can take you a little out of the moment. Despite all of that, she says "it's a very effective tool, and I had a lot of fun with it."
Buy if: You don't mind reading directions, like a luxurious feel, and aren't intimidated by a little girth.
Best flat-tip G-spot vibrator
Material: Body-safe silicone | Speed: 3 speeds | Patterns: 8 patterns
The Gigi from Lelo (a flat-tipped G-spot vibrator that Finn recommended to us in our roundup of the best vibrators according to experts) is one of the brand's best sellers. It has a soft silicone tip, comes with a black satin satchel, and charges with a USB cord.
What we think: Everyone seems to like the Gigi ("It's the yacht rock of vibrators," says Tester A, who already owned one ahead of this vibrator-testing bonanza), and everyone seems to use it slightly differently. Tester A uses it internally and then pulls it out to use on her clitoris if she's trying to take her time. Tester E says, "It's very friendly — I could also imagine using it on a dude who likes butt stuff." And Tester D actually held up a notebook with a list of the vibrators she tried, with "YES" written next to the Gigi.
Buy if: You want a good workhorse of a vibrator, for either internal or external stimulation, and if you don't mind that the look of the Gigi outs it for what it is. ("It's very 1990s porn star to me," Tester C says.) This one doesn't fall under the "leave it out on your mantel" category as much as the others here do. The Gigi 2 is available in purple, pink, teal, and this nice, subtle gray, which, of all the colors, is the least cheesy-looking.
Best starter G-spot vibrator
Material: Body-safe silicone | Speed: 3 speeds | Patterns: 4 patterns
The Aurora vibe was famously in the goody bags at Cardi B's 28th-birthday party and was gifted to all her guests, including Megan Thee Stallion, Kylie Jenner, and Teyana Taylor. The waterproof, rechargeable vibe has one easy-to-use button to turn it on and off and cycle through seven different vibrations settings.
What we think: Unsurprisingly, Cardi B has good taste in toys. More on the deep and rumbly end of the spectrum, Tester H liked that the basic shape made it easy to adapt for both G-spot and clitoral stimulation. "Of all the vibes I tried, the Aurora was also the one that got the warmest with use, which was a pleasant surprise," she says. Though the Aurora doesn't quite pass the "I would leave it out on my dresser" test, it does have an LED light bar that changes colors with the different vibration patterns, which is a fun detail.
Buy if: You want a celeb-approved vibe that gets the job done.
Best flexible vibrator
Material: Body-safe silicone | Speed: 5 speeds | Patterns: 5 patterns
The Bender is designed to transform for multiple uses. The entire thing vibrates, so you can use it flat as an external vibrator by yourself or with a partner, bend it for whatever angle you need, or bend it completely in half and use it as a dual stimulation toy. It has one button that turns it on and off and lets you cycle through the ten different speeds and patterns with a quick click. There are different pulsing patterns, and even one that "sounds like a car revving its engine." It comes with a shiny metallic pouch for easy storage and charges with a magnetic USB device.
What we think: Tester F had her eye on this Unbound vibrator for a while after being served ads for the brand on Instagram and in the middle of podcasts. In general, she was looking for something that offered internal stimulation but had more going for it than just a dildo. So the fact that this bends and could offer both internal and external stimulation all for well under $100 seemed almost too good to be true. On first glance, it didn't deliver the minimal sensual appearance she was hoping for. "Out of the box, it looks just like Gumby. They're both green, roughly seven inches tall, and take on a slight hourglass shape. No kink shaming here, but Gumby doesn't really do it for me," she says, noting that, thankfully, those images go right out of your head once you turn it on. The smooth silicone feels amazing, and the vibrations are strong. So strong, in fact, they produced a little bit of a numbing sensation in her hand at first, and that was on the lowest setting. In short, this is not a vibrator for the faint of heart or anyone who is new to sex toys. After that introduction, she put the Bender aside for a week. When she tried it again, she was pleasantly surprised. "The strong vibration was actually perfect for places on my body much more sensitive than my hand, and I got a lot of joy out of some of the more intense settings," she says. Since then, it has been in rotation every week, and the battery still hasn't needed a recharge. One last thing: "The first time I bent it, I heard a snap and thought I took it too far, but it didn't break at all, and now it bends with ease."
Buy if: You're looking for strong vibrations and multiple points of stimulation on a budget.
Some more vibrators we've written about
Our experts
•Lisa Finn, brand manager at Babeland
•Janet Lieberman, co-founder of Dame
•Dr. Manuela Maria Vazquez, board-certified OB/GYN and founder of LaMaria
The Strategist is designed to surface the most useful, expert recommendations for things to buy across the vast e-commerce landscape. Some of our latest conquests include the best acne treatments, rolling luggage, pillows for side sleepers, natural anxiety remedies, and bath towels. We update links when possible, but note that deals can expire and all prices are subject to change.
Every editorial product is independently selected. If you buy something through our links, New York may earn an affiliate commission.