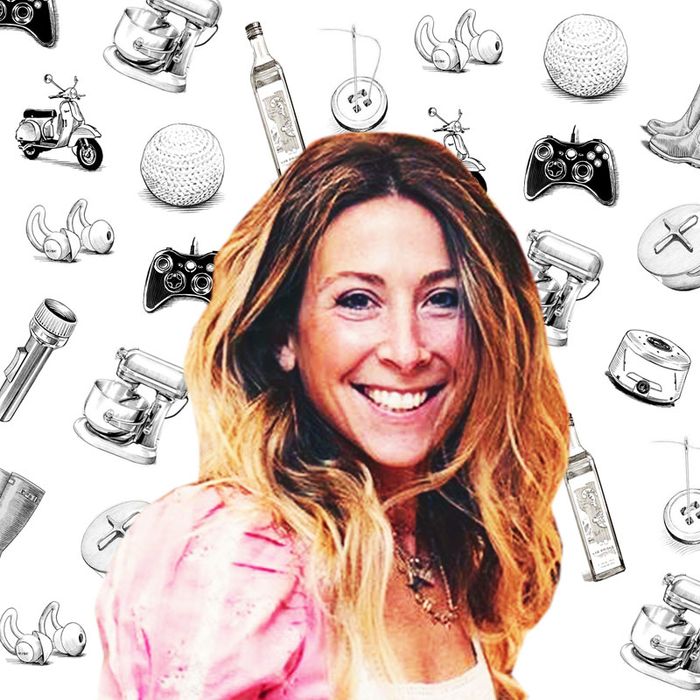 Photo: Courtesy LoveShackFancy
If you're like us, you've probably wondered what famous people add to their carts. Not the JAR brooch and Louis XV chair, but the hand sanitizer and the electric toothbrush. We asked Rebecca Hessel Cohen, the founder of LoveShackFancy, about the candles, socks, and bronzer she can't live without. 
I carry two phones with me at all times because I'm crazy and always afraid that a phone is going to die. I bought this because of the color and because my husband told me it was the best one. It actually works really, really well. It's a good size and super reliable. One of my two phones is usually always charging, or dead, because I'm very reliant on them. I don't use a computer — one phone is for all my photos and social media, then I have my email and everything else on my other phone. I try to charge them whenever I can throughout the day — and, of course, I need to make sure the charger is charged, too.
I swear by this. I put it on every day in every season. Summer is my favorite season, and this gives me that summertime tan — and feeling — every day. On fair skin, like mine, sometimes bronzers are too strong and look way too yellow. This one gives my skin the perfect warmth. It's a little pink, a little golden. Just a really nice glow that's not too shiny or matte. It makes you look rested. It fixes hangover skin. It does everything. It's almost like magic because it does so much.
Oh my God, these are the best. I always have at least three in my bag. I'm always on the go and they're just like a quick burst of energy, I guess because you get a little bit of protein with the peanut butter and sugar with the chocolate. They're so delicious. They're not too high in calories or fat, and are also organic and gluten-free. One just wakes me up. I swear it does the same thing as my morning coffee, but without the caffeine. They're the perfect pick-me-up and get me through the days.
My makeup artist Tracy Murphy introduced this mascara to me. Our goal is always "thick, thick, thick lashes" and this YSL mascara is absolutely the best for that. Tracy taught me how to apply it to get that gorgeous, full, crazy-thick look. Basically, you just apply a ton of layers and cake it on. Lots of layers for the top and the bottom lashes. I sometimes mix up the colors, too, like aubergine with black or brown. I play around with all of them. And the mascara doesn't fall throughout the day; I don't know why people keep using their mascara when it gives those little flakes under their eyes. This one lasts a long time: I apply it in the morning and it's there until I take it off at night. I won't leave home without applying. It's a necessity.
So cute, not expensive, and they come in every color and go with every single shoe. The socks also mix well with all my LoveShackFancy pieces. I wouldn't say they're the best-quality socks on the market, but they're easy; you can get them on Amazon for a few dollars. I have entire drawers full of socks like this. I have maybe 40 pairs at least. We want to make socks for LoveShackFancy and haven't been able to yet. But if we were to make socks, they would look like this.
I just can't get into the crazy skin-care routines. I don't know how people do it. When I say I do nothing, I truly do nothing. I don't even use a face wash or anything. I'm really bad. I take off my mascara with water and a wash cloth then apply this. I don't know why my routine works, but if I'm being honest, my skin looks great, so I'm sticking to it. I saw Dr. Sturm years and years ago when I did a trunk show at my house, and she was like, "I need to make you the blood cream." So I used that for a bit, but this is my go-to. It's super thick; I use it more in the winter than in the summer, when I'm not as dry. But when I use it a lot, everyone compliments me. My friends are like, "Oh my God, your skin is like a baby; it's so moisturized and glow-y and dewy." Now that I'm talking about it, I think I actually need to restock. I'm almost out.
I'm obsessed with Aerin candles. They're so beautiful. I keep them in both my beach house and city house on silver trays with beautiful little flowers; I create vignettes centered around these candles. This one is very delicate and feminine and romantic. I keep it in the foyer and in the kitchen. Sometimes I move it to my living room. It has a floral scent that reminds me of summertime. Flowers (and summer) are my favorite things in the world, so I think this candle brings me back to that happy place. I discovered it over the summer, too, so that just enhances my connection to it. I have about five of this specific scent because I just can't get enough. Is that a lot of one candle to have? It seems like a lot. I think I was supposed to give some to my mom, but then I kept them all. Sorry, Mom.