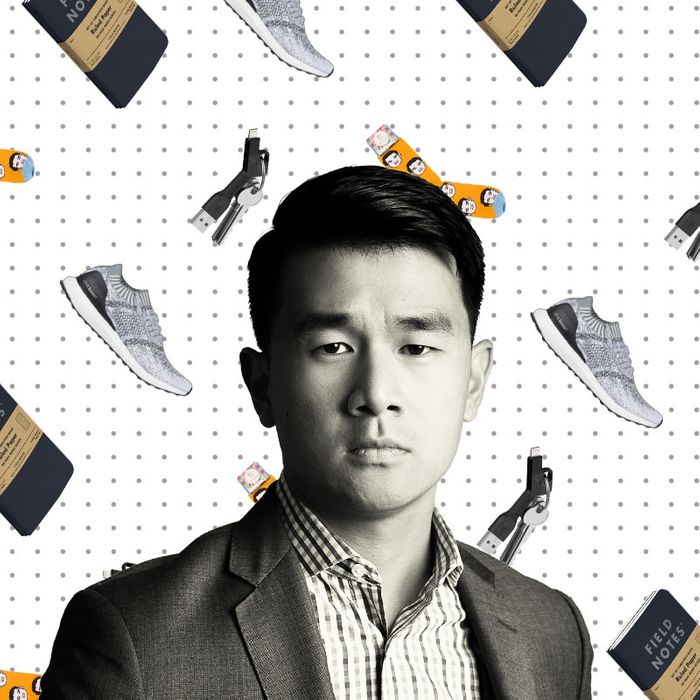 If you're like us, you've probably wondered what famous people add to their carts. Not the JAR brooch and Louis XV chair, but the hand sanitizer and the electric toothbrush. We asked Daily Show senior correspondent Ronny Chieng, whose Comedy Central series International Student is currently streaming and who stars as Edison Cheng in Crazy Rich Asians, about the T-shirt, card wallet, and folding sunglasses he can't live without.
First of all, this pen went to the moon, so if you needed some reason to buy it, that's the main selling point. It's indestructible and compact and stylish, and you know it won't fail on you. And it's actually very affordable for more than just a basic pen. When I was a kid in Malaysia, I saw it in Reader's Digest or Time or maybe 3-2-1 Contact, and I just always wanted one. It seemed like such an impossible dream. So when I moved to America, it was one of the first things I bought. I was really disappointed to find out they actually sold it at Staples. That cheapened it.
I mainly use a notebook and pen to keep my joke ideas, and I'll use them all — Moleskines and whatever indie brands I find — but I like these the most because they fit in the back pocket easily since they're not that thick, and the paper has a nice thickness. They're perfect.
The simple, minimal design of the wallet appealed to me because people will carry around these heavy wallets with all their receipts like George Costanza, but the Bellroy gives you all you need in this elegant and sophisticated package. I like this one in particular compared to other wallets Bellroy makes because there's a zipper, so I know things aren't falling out. I'll keep my keys and cards and cash in there because I'm paranoid about things coming loose. This satisfies the paranoia.
I'd been looking for the perfect T-shirt for a while, and I've tried lots and lots of different ones, but these are the absolute best. They just fit me perfectly as far as cut because they're fitted but not too tight. They don't have a superhigh armhole. If you closed your eyes and pictured in your head how a T-shirt should fit, that's this T-shirt. It's not some Justin Bieber superlong T-shirt. Even Uniqlo ones can get too boxy on me, but this is great. It's also tagless in the back, which is brilliant.
I literally keep this in my wallet and it's a portable phone charger anywhere I go — USB outlets are everywhere, too, once you start looking for them. It's durable and compact and super useful for traveling.
This little lens makes your phone a DSLR basically. Once you get the wider frame, you'd be surprised how much you can get into your photo. They also make a fish-eye and anamorphic lens, which is great for videos, but I think the wide angle is the coolest. The best thing is that you can upgrade your phone camera without carrying very much around.
I think these are just the perfect all-purpose pants. The cut is cool and elegant and fits me perfectly, but most importantly they stretch. I actually have three pairs. I love them so much. They look like classic pants, but almost function like technical pants because they're so stretchy.
You can wear these to go running or for a casual look, but they're actually perfect for traveling, too, because your feet expand in the air, and you want shoes that are very elastic. As the name says, these are uncaged, so there's no plastic on them — they're like wearing socks or pillows on your feet. I'll even throw them in the wash, which I don't know if you're supposed to, but I do and it works.