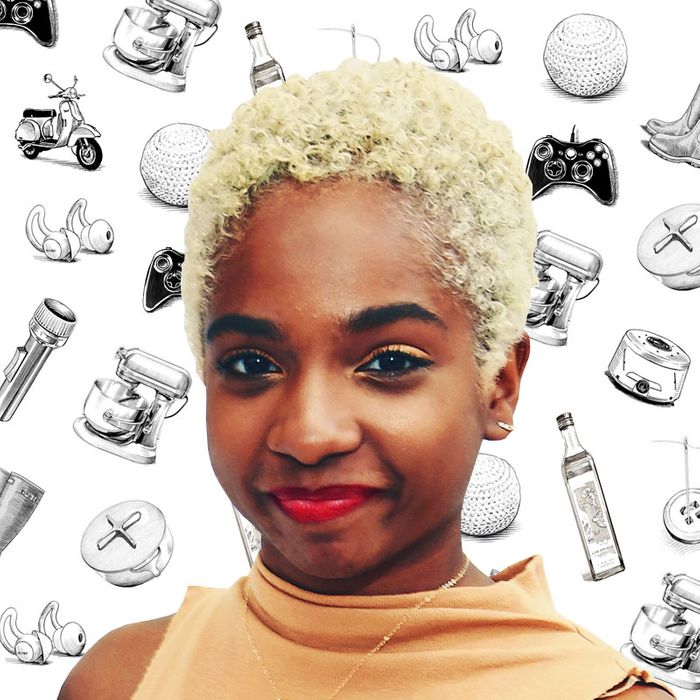 Photo: Dimitrios Kambouris/Getty Images for Flower Beauty, Illustration: Joe McKendry
If you're like us, you've probably wondered what famous people add to their carts. Not the JAR brooch and Louis XV chair but the hair spray and the electric toothbrush. We asked florist Ryan Norville — the founder of floral studio Oat Cinnamon — about the sunscreen, water bottle, and apple juice she can't live without.
I tend to gravitate toward wearing a uniform, so finding a good basic is everything to me. I discovered Baserange through a small Brooklyn boutique. They make basics that are so soft. Most of the things are cotton — I have a skin allergy where I can only wear natural fibers. I own two or three of these tanks.
This helps keep everything in one place in a beautiful way. One of the hardest parts about working from home and having all my supplies at home is that they can make my place look ugly. This is an organizer, but also décor. It's pretty and people are intrigued by it when they come over.
I've had several crises with laptops frying, but they've never been huge issues because all of my files and artwork are on the hard drive. I own a few LaCie hard drives, and they've literally saved my life.
I got the subscription during the pandemic because I was looking to cook more from home. I was so tired of making the same things over and over again. I'm a naturally good cook but I ran out of recipes. I'd see friends of mine who would cook amazing things; I assumed they were just better cooks than me, but they'd always say, "Dude, I got this from the New York Times." The subscription has been key to getting more creative in my kitchen. It includes weekly emails that tell you what to cook. During the week they'll send suggestions for things that are quicker to make. On weekends, the recipes are more experimental and require a little more effort.