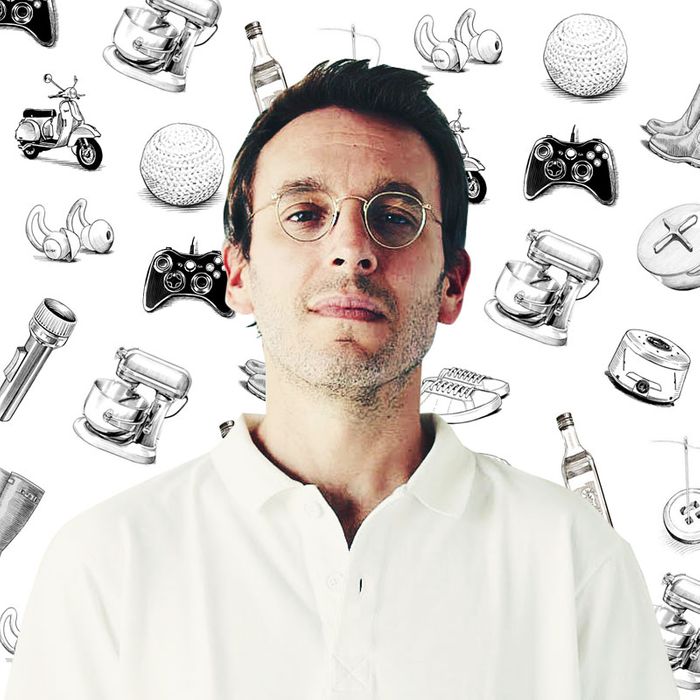 Photo: Courtesy of Scott Sternberg
If you're like us, you've probably wondered what famous people add to their carts. Not the JAR brooch and Louis XV chair, but the hairspray and the electric toothbrush. We asked fashion designer Scott Sternberg — the founder of Entireworld — about the water pitcher, sneakers, and alarm clock he can't live without.
I have four of these in my house. I do transcendental meditation twice a day for 20 minutes. It's a very tricky thing because you're not supposed to set an alarm clock, and you don't really want your phone around, and I don't wear a watch. So I use these tiny digital clocks to time my transcendental meditation. I only need to open my eyes a little bit to see the time and know I'm almost there.
I use this as body soap. I get it in the huge containers and then I put some soap in old Necessaire bottles. I've been using it forever. I like it unscented: To me, it's like, what does a scent have to do with cleansing yourself? When I clean myself, I'm looking for baseline me. I'm not looking for baseline me plus lavender.
It has the most zing to it and is almost, like, thicker or something. Kombuchas all have a bit of fizz along with the gut health stuff, but there's something about the mango that's even zingier. I figured this out after much market research and personal sampling sessions.
I drink a lot of water. I force myself to drink it directly from a bottle. I have a Korken at my dining room table — which has been my desk during the pandemic — and I swig water out of it all day long. I have a relatively small house that's built on a hill. My bedroom is downstairs and my kitchen is upstairs. The big unlock for me when I moved in was to have water bottles everywhere so I wasn't always walking to the kitchen.
I've had a Sonos system for a couple years. I got the Move about two months into the pandemic. Because it's portable, it provides the soundtrack to my backyard, which is like a secret garden. The house's previous owner really just killed the backyard, but I reactivated it once it was clear that you could hang with a friend outdoors if you were far enough apart.
I got it because it looked chic and used it like twice before the pandemic started. But it's actually a really great bike. It's made in Washington State. The color story matches the color story of my house, which is of course the most important thing. The idea of having a TV built into a bike and someone screaming at you to go faster once you turn it on, that's the end of the world to me. I read my iPad on the bike. Generally something not trashy but also not highbrow. This is going to sound highbrow, but I just read Kurt Vonnegut's Galapagos, a later in life Vonnegut novel, and it is somehow the best bike read.
I use this every morning in the shower. I should use it in the evening, but I'm always too tired. It's muddy in a good way — the texture is just awesome. It's very natural and has little chips in there to exfoliate your face.
These are like OG. I don't love that they're leather because I am a big animal person and try to be cruelty-free as much as possible. But I have to say that I can wear the same pair for years and years. I wear them until they have holes and are falling apart. They're my go-to house shoes — until we launch our Entireworld shoes.