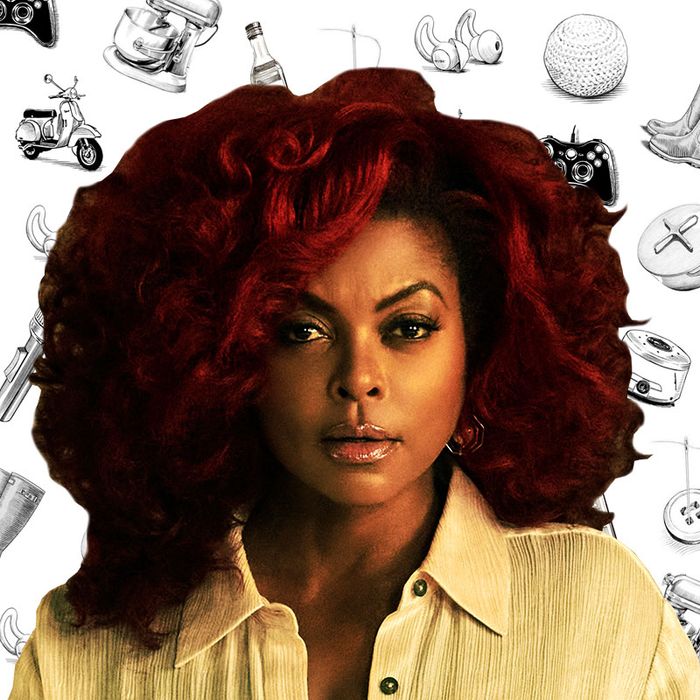 Illustration: Joe McKendry, Photo: courtesy of TPH by Taraji
If you're like us, you've probably wondered what famous people add to their carts. Not the JAR brooch and Louis XV chair but the hairspray and the electric toothbrush. We asked Taraji P. Henson — who recently launched a new collection of products for her TPH by Taraji hair-care line — about the nail kit, eye patches, and slippers she can't live without.
Addicted. I once got them in a gift bag, and then I took it back to my makeup artist on Empire and was like, "I need all of these." And she was like, "You know I've been putting those on you for the last six seasons." I was like, "Really?" When I first started using them, I irritated my eyes because I was using them every day. That's how much I loved them. My eyes got real dry and flaky underneath, and then I read the fine print, and it said, "Do not use every day." And I was like, "Oh, okay, got it." I can literally see the difference: I can see the puffiness shrink in the morning. I've even put one on one eye — because I'm a Virgo and I'm crazy — and left the other eye without it, and I could see the difference right away.
I've been playing with color a lot lately. With natural hair, you can really play with color because you don't have any other chemicals in it. The only chemical that you should be putting in your hair is bleach, so that semi-permanent colors can take. I never put a permanent color in my hair; the only thing that's permanent is the bleach, and by doing that, I can really be the hair chameleon that I am. I use about four different colors to make the shade of red that I wear. I remember my stylist saying, "Use Adore because they have all the colors and the pigment is great." But then of course I experimented and threw in this and that because that's just what I do. If you saw how many colors I have, you would be like, Damn, do you have a store?