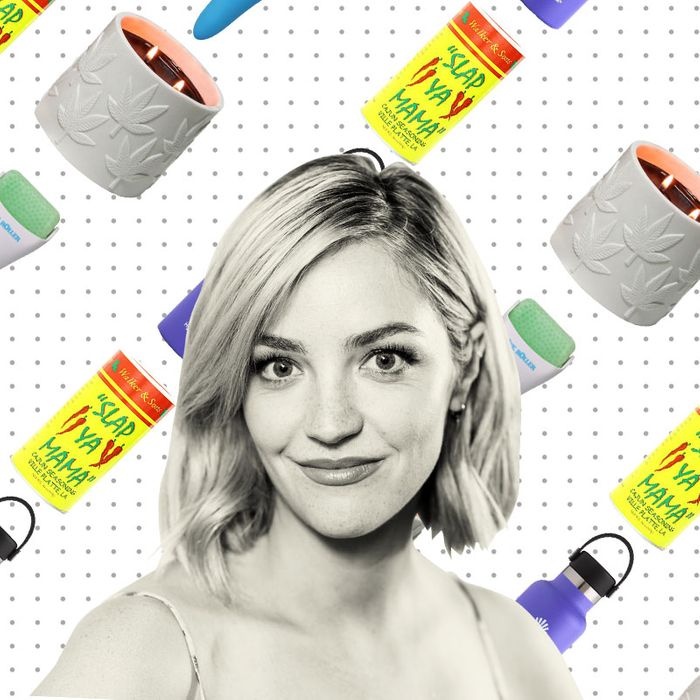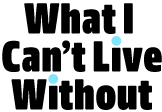 If you're like us, you've probably wondered what famous people add to their carts. Not the JAR brooch and Louis XV chair, but the hand sanitizer and the electric toothbrush. We asked Odd Mom Out actress Abby Elliott which items she can't live without.
It's the best thing in the world if you've had a lot of salt the night before and have to be on camera. Or if you've had too much alcohol and wake up super bloated, with your eyes basically shut (which happens to me more often than I'd like to admit). You roll it on your face for five minutes and you feel so much better. It's like dipping your face in a bowl of ice, only it hurts less and you can hit spots more precisely. It's like a cold face lift.
We got this Nespresso machine as a wedding gift from my husband's cousin, and it was so thoughtful. I didn't really drink espresso before getting it and was more of a coffee drinker instead. Now, I can't open my eyes without having taken a sip of espresso. I basically wake up in the morning, chug one, and that's what gets me up. I'm up to three shots of espresso a day. I'm completely addicted. It tastes great! It's hard to enjoy when you're half-asleep, but my second and third are very delicious.
My husband went to Australia and brought back a ton of Australian beauty products. My cabinet is completely overflowing with beauty products and that annoys him, but he knows me and knows what I love. This mask was my absolute favorite. It stings as if you're getting stung by a bee, only without the swelling. It doesn't sound very pleasant, but it does something similar to the ice roller — it brings blood to the surface and you just feel refreshed and like it's working. And afterward, you glow. I don't know if it contains actual bee venom [editor's note: It does], but It's like getting stung by a bee in a relaxing way.
My mother-in-law (the ultimate gift giver) gave me this, and I now wear it all the time. I'd been looking for a signature scent because it's such a classic thing that elegant ladies do. This scent is the perfect floral — not too overpowering, so you can wear it in spring and summer, and even winter as well.
So I'm totally obsessed with this. They make a hot sauce, too, but I love this particularly because you can put it on anything and it completely elevates the flavors. I put it on avocado toast and meat and salad; it's great on seafood and shrimp, too. I wouldn't say it's necessarily Cajun-tasting, but it's just the perfect blend of spices to kick things up a notch. It's salty and simple. I bring it everywhere with me.
It's a great alternative to smoking pot. It doesn't necessarily smell like pot, but it's nice and smoky, especially in the winter. It doesn't get you high, unfortunately, but the little container is really cute, and we keep that after the candle's out as a container for the apartment.
So in the summer, I fill this water bottle up with ice and water at night and drink it by my bed, and it'll stay ice-cold till morning. I originally discovered it doing Modo Yoga, which is in like a 100-degree room — they sell these there and the ice-cold water stays cold, even in those conditions! I turned my in-laws on to them and now we take them to the beach. And you can fill them with rosé, too, which is an added bonus.
Elin Hilderbrand is an author based out of Nantucket, and I've been trying so hard to get in touch with this author because I love her books. She writes these Nantucket-inspired beach reads about families and they're so addictive and fun (not just for summer, either). I really want to turn them into films. Elin, if you're reading this, call me.
The Strategist is designed to surface the most useful, expert recommendations for things to buy across the vast e-commerce landscape. Some of our latest conquests include the favorite shopping items of RuPaul, Carole Radziwill, Plum Sykes, Casey Wilson, Joanna Goddard, Aubrey Plaza, and Linda Rodin. We update links when possible, but note that deals can expire and all prices are subject to change.
Every editorial product is independently selected. If you buy something through our links, New York may earn an affiliate commission.